Maafushi Island in the Maldives could indeed be one of the most interesting islands that I have travelled to over the last couple of years.
For a country that is world renowned for its world class beaches and luxury resorts, few regard the Maldives as a prime backpacking destination. This stereotype is beginning to change. Here are the main websites we used for planning this trip to  Maafushi in the Maldives:
Welcome Backpackers
Maafushi Island has been recently drawing more and more tourists over the years ever since the Maldivian government started to allow local residents to open up guesthouses (and small hotels) on inhabited islands.
Prior to this, tourists only stayed on uninhabited resort islands which really restricted the backpacking industry within the country. Now, with things changed, some of the small islands in the Maldives have been starting to thrive and this has been a win-win situation for visitors and locals alike. Tourists get a taste of Maldivian culture and the locals get additional income from tourism.
Experience the Local Culture
Maafushi is regarded as one of, if not, the most popular "guesthouse" island in the Maldives. A couple of things make Maafushi a solid destination for tourists. First of all, you can access the island in under 2 hours with the affordable public ferry service from Malé, the capital of the Maldives.
We conveniently made it to Maafushi by public ferry and we would highly recommend this mode of transport for your trip. Another feature we liked about Maafushi, was the very "local" feel to the island. We noticed lots of local families walking around the island enjoying sunsets and the crystal clear water (which is ideal for swimming).
Maafushi has a super laid back vibe without the same touristy feel that most resort islands around the world tend to have.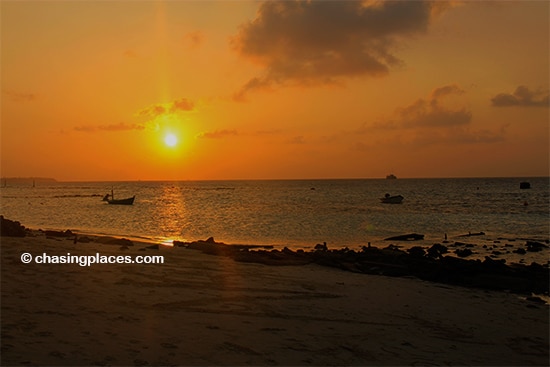 Perfect for Families
Maafushi is also small and very easy to navigate. If you are staying on one end of the island and you can't see the sunset from your balcony, a short five minute walk should easily free up more favourable vantage points.
Similarly, it takes very little effort to find restaurants and souvenir shops while staying on Maafushi. Road traffic is barely existent, so it's a great place to visit with kids as you can simply walk back and forth to the swimming area with little to worry about.
Excursions
One thing that surprised us was the range of excursions to choose from while we stayed on Maafushi Island. Despite its small size, Maafushi has plenty of accommodation choices to choose from. Most of these guesthouses offer an "activity menu" for tourists to look at in order to select what types of activities they would like to do.
Some noteworthy examples include:
visiting a nearby resort island for a day with a buffet lunch.
snorkelling at various spots with a picnic.
Sunset fishing trips followed by a large feast, where they cook your catch.
There are a few reasons why these trips are so popular on Maafushi Island. First of all, since guests tend to save large sums of money by staying in guesthouses opposed to resorts, they can put those savings towards activities which enables them to experience more of the Maldives. '
Another reason stems from the size of the island. Since Maafushi is quite small, after 2-3 days walking around and taking dips in the ocean, tourists start to begin to feel a bit restless. Excursions are the perfect remedy for island fever.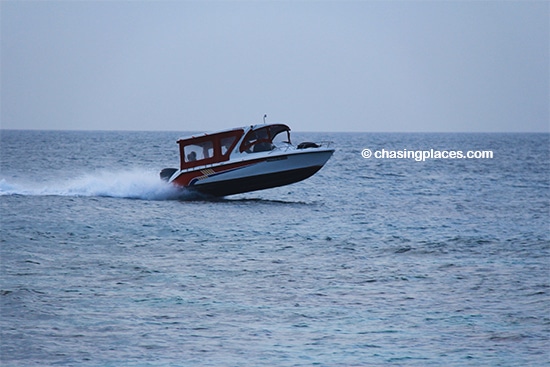 Travel Checklist: Do you have everything you need?
Food Choices
Maafushi has a range of restaurants to choose from with many being operated by guesthouse staff. To elaborate, most of the guesthouses on Maafushi Island will offer a basic menu with western breakfast choices and plenty of seafood choices for dinner.
Some of the choices can first appear quite expensive, but when you consider the fact that Maafushi is remotely located in the middle of the Indian Ocean it makes a bit more sense.
Our recommendation is to embrace the laid back island culture because some restaurants take quite a while to serve their dinner dishes. It also helps to pre-order your dinner before you head off for your excursion. The kitchen staff will appreciate it!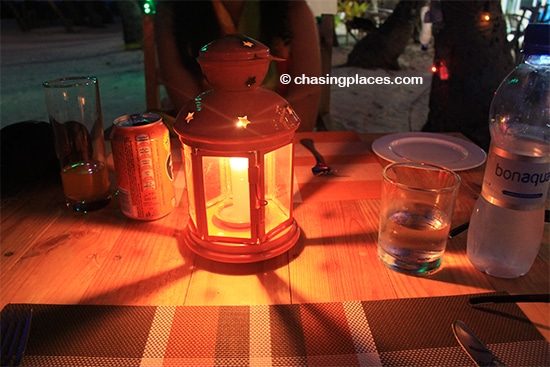 Swimming while on Maafushi Island
One of the most common questions tourist have before landing in the Maldives is what type of swimwear is suitable to wear on resort islands versus local guesthouse islands? Since the Maldives is an Islamic country it is important for visitors to respect the local belief system. We can only speak from experience.
During our visit on Maafushi, there was a fence set up along the main swimming area to make sure locals were not continuously exposed to the tourists as they swam. When we asked the employees at our guesthouse they informed us that it was okay to wear a bikini while in that specific swimming zone, but not "casually" around the rest of the island.
We saw shirtless men and bikini clad women in the primary swimming area behind the fence located along the north western tip of the island, but nowhere else. It's safe to say that it is not appropriate for women to be topless anywhere else on Maafushi Island.
Once you arrive on Maafushi, we suggest that you ask your guesthouse team where the best swimming spot is if you want to work on your tan. Through time, some of the island policies may change. Similarly, you will have a lot more freedom to wear what you want if you book an excursion away from the island.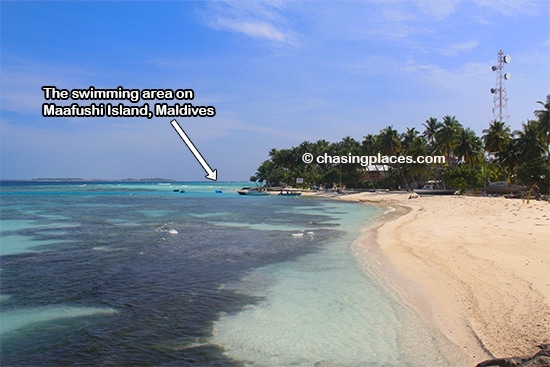 Where did we stay on Maafushi?
New properties have been opening up on Maafushi over the last few years.  I don't know if I have ever visited an island with such a competitive accommodation scene with so many great mid-range options to choose from.
When we were there we  mainly stayed at Island Cottage. We don't have a direct affiliation with this property or any property on Maafushi, therefore I can make unbiased opinions about the place.  Overall, we enjoyed our stay there.  Our room was spacious, clean, and well prepared. The staff were friendly and it's located in a quiet corner of the island. At the time of writing it had a score of 8.3/10 based on 141 verified guest reviews.
Would we go back to Maafushi Island?
We definitely plan to head to Maafushi again during our next trip to the Maldives. It is an excellent (and affordable) hub in the Maldives to arrange excursions and resort visits from.
Maafushi is perfect for families seeking a relaxing vacation at a reasonable price. It is surrounded by crystal clear waters and has surreal sunsets. Picture yourself saving hundreds of dollars per night on accommodation expenses and putting those funds towards island hopping tours to see some of the most spectacular beaches in the world. You do the math.
How to find the cheapest room on Maafushi? Guesthouses and Boutique Hotels
With the rapid bloom of guesthouses throughout the Maldives, it has left many wondering what level of quality to expect in terms of accommodation while on some of the local islands. We stayed at a couple of different guesthouses during our stay on Maafushi.
According to our experience, the rooms were very well kept and clean. The air conditioning worked well. The rooms were significantly larger than typical Southeast Asian guesthouse rooms. Most of the guesthouses have the choice to have breakfast included with your booking.
If you can find a guesthouse room for $50 USD or below on Maafushi or elsewhere in the Maldives, consider yourself lucky. Not too bad, however, considering that the cheapest resorts in the Maldives can start at around $200 USD per night.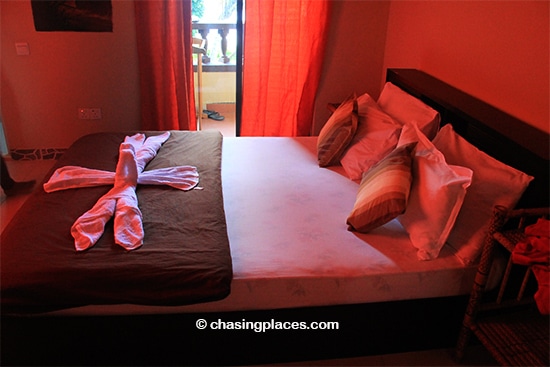 Based on our experience the best site to book your room on Maafushi is www.booking.com with 43 guesthouses/hotels on the small isle at the time of writing. With many refundable rooms available, book well in advance at no extra risk.
Many of our readers also like using hotelscombined.com, often described as the world's best price comparison site if they're travelling on a budget.  Either way you will have no problem finding the best-priced rooms on Maafushi. I have created links to their respective property lists for Maafushi to save you some time:
Top Rated Properties on Maafishi Island, Maldives Based on Verified Guest Reviews
Important: Mobile Users must swipe from left to right to see entire table. 
Criteria:
Properties rated based on 'overall' review scores from each respective website's verified guests.
Minimum of 50 verified guest reviews required to be considered eligible for comparison.
All star ratings and verified guest review scores are tallied at the time of writing, and therefore, are subject to change.
Article Updated on June 20th 2018