Some first-time visitors may not realize how big the Indonesian island of Bali is.  The island has become world famous because of its very rich culture, strong devotion to religion, tranquil countryside, dramatic coastline and free-spiritedness. You could literally spend weeks on the island and still would be surprised by it.  Because Bali is packed with so many attractions, planning for a short trip on the island can get overwhelming. While planning a short trip to Bali, it is important to first determine what kind of traveler you are. Bali is a very diverse travel destination, and it caters to different types of personalities.  To help you plan a satisfying trip to Bali, Chasing Places has come up with a sample 1-4 day itinerary that includes visits to the top sites in Bali. Of course, you can always customize this itinerary according to your priorities and time constraints.
1st and 2nd Day in Bali
Make your way to the Uluwatu Temple and Tanah Lot Temple, which are located on the same coastline.
Drop by Nusa Dua Beach which is known for spectacular five star resorts located on a beautiful strip of white sand.
 First night – stay at Uluwatu Temple for the traditional Indonesian dance
Second night – Make it to Kuta Beach for the mesmerizing sunset, and dine in a nice restaurant with live music.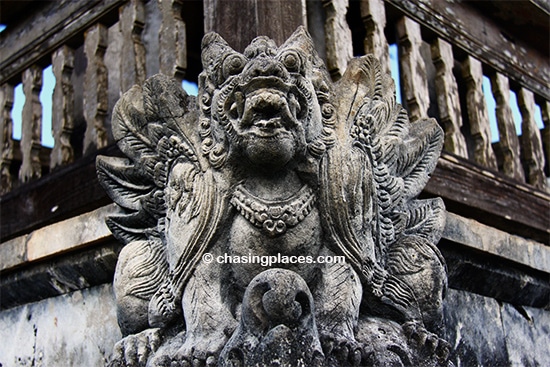 Additional Tips:
Start your day early. The roads on Bali are mostly narrow and clogged by big sightseeing vans. If you are not proactive, you will lose precious time in traffic.
If you are planning to visit temples, bring a sarong for each person in your group. The temple management requires visitors to wear sarongs when walking on temple grounds. You can also buy one or rent one at the entrance of the temple, but expect to pay more than the usual price.
Nusa Dua is a private luxurious gated neighborhood that boasts the most upscale resorts and perhaps the best beach on the island. Although most parts of the beach are only for the exclusive use of resort guests, there is one section that is open to the public.
Kuta Beach, arguably, offers the most beautiful sunset experience on the island. When Chasing Places visited, we enjoyed the remarkable sky display of wonderful colors that only the best sunsets are capable of.  During that time, the beach was not really packed, but it had quite a number of people. However, the entire experience, however brief, was still very serene, surprisingly romantic and captivating. We have received feedback from other travelers that Kuta Beach can become dirty especially during the busiest times of the year. So it is best to prepare yourself for such a scenario so as not to be disappointed.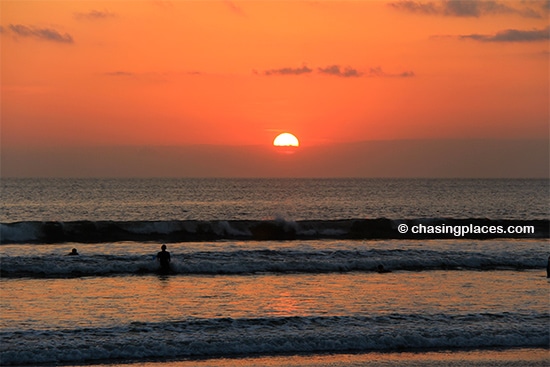 Important Decision: To Stay in Kuta or Not?
As you probably heard already, Kuta is the most bustling city on the Indonesian island of Bali. It is known for its busy streets, crazy nightlife and strong surfing and backpacking community. The truth is, not all tourists will appreciate staying in Kuta. If you are the kind that would like to immerse in the real Balinese culture and be in a more serene and quiet environment, Kuta is not for you. But before you totally avoid the place, take note that Kuta has also the best and most comprehensive collection of facilities on the island. It has some of the best and biggest restaurants and shops. For those who are looking to rent a vehicle during their stay in Bali, you need to also understand that Kuta has the largest variety of rental shops.  So in terms of convenience, Kuta can offer the most, over all other cities on the island. If you think Kuta is not the right spot for you, a good alternative is to book a hotel in Legian or Seminyak. However Legian is basically an extension of Kuta. Oftentimes, people do not distinguish between the two.
Seminyak is probably the best option if you want to be close to the action, but not in the thick of things. Close to Kuta, Seminyak is also situated on the same coast. Seminyak's beach area has more family-friendly hotels and lodging facilities. As you may have guessed, Seminyak is much quieter than Kuta, and is strategically located to give easy access not only to Kuta Beach, but also to other nearby attractions like Uluwatu Temple and Nusa Dua Beach.
Travel Checklist: Do you have everything you need?
3rd – 4th Day in Bali
Ubud
Go to Ubud and explore the town.  Ubud has a lot of quaint shops, trendy restaurants, bars and boutique hotels.  It is a great place to walk around and shop for souvenirs. Ubud has a strong art scene. You will see paintings and crafts made by local artists.
The Monkey Forest
Visit the Monkey Forest, which is a huge park filled with what you may have guessed – monkeys! The Monkey Forest is walking distance from Ubud Town.
Hire a driver or rent a car to drive around the surrounding countryside, the most charming and stripped down version of Bali. It will be hard not to be captivated by its lush rice fields and temple houses.
Balinese Dance Show in Ubud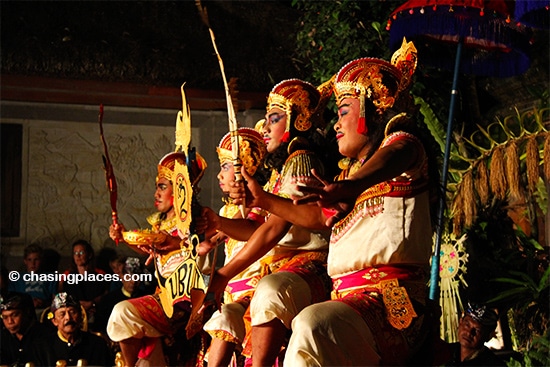 In the evening, go back to town to enjoy dinner and watch the cultural dance show, if you have not seen one. There are couple of places in town that offer such performances. We advise that you book your ticket in advance as this attraction is quite popular to tourists.
Ubud is widely known to be the cultural capital of Bali. Here is a more detailed article on Ubud.   Most people go on a day trip to Ubud, which is in the central region of the island, and come back to the east coast where Kuta and Seminyak are located. But if you do not have the time, we suggest you stay in Ubud, so you do not have to deal with the rush hour traffic in the afternoon.
If you have more days in Bali, you can either go back to the coast to visit other prominent beaches like Sanur, Geger (add link here) and the surfing hotspot Pandang Bai.
Or you can go up further north to marvel at Mount Batur or Mount Agung.  Some of the top activities to do while in this northern area are hiking to the top of the mountains or going for a guided biking tour on the trails around them.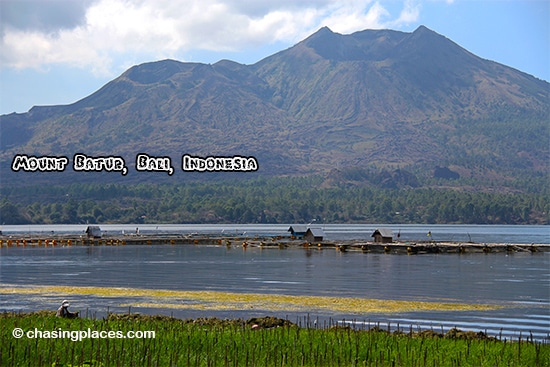 Getting around Bali (transport)
Bali does not have a good public transport system. One of the best ways to get around the island is to hire a car and a driver to take you to the different attractions.  The second option is to rent a car or motorcycle and drive around the island yourself.  Renting a motorcycle is the cheapest way to get around Bali. The Kuta beach area has several rental places, some of them double as guesthouses.
You will need an international driver's license to drive around the island. You may get away renting a vehicle without this, but take note that police officers' conduct checkpoints on the road.  And they often stopped foreign-looking motorists.
How to find the cheapest rooms in Bali?
Bali is loaded with accommodation choices to suit pretty much any traveler's needs. Bali gets busy during peak season, therefore you should book early to get a room at a nice place opposed to a place that just has "availability". Based on our experience visiting the island, it's hard to find a better booking site than www.agoda.com. Agoda has a massive range of rooms to choose from, but if you want to compare prices prior to booking try www.hotelscombined.com. Hotelscombined has saved us plenty of time (and cash) over the years due to their highly effective price comparison search options.
Is the Chasing Places travel itinerary for Bali helpful to you? Let us know what you think!