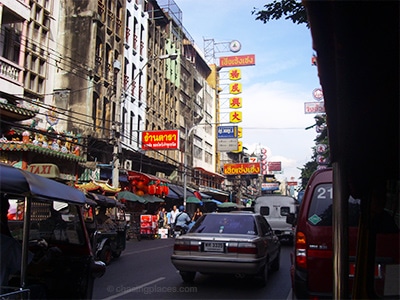 Bangkok, the bustling capital of Thailand that has a population of more than 11 million, is world-renowned for its electrifying atmosphere, raunchy nightlife, world class hotels and high rise buildings. It is a true cosmopolitan city that has maintained a unique identity, mainly because of its places, temples, canals and street markets.
For tourists who want to explore the wonders Thailand has to offer, they most often begin their journey in this capital. Bangkok is not merely a place for the big flights to land, but it is a place filled with interesting attractions that usually convince visitors to stay a couple of days.
Like other highly visited cities in the world, Bangkok has its own fair share of tourist traps.  And seasoned travelers know that one of the most disappointing things about traveling is when you realize you have fallen right into one. If you're a budget traveler or a tourist with strong principles, learning the common tourist trap-tricks and the ways to avoid them will certainly make your trip to Bangkok less of a hassle.
Avoiding Airport Touts
The Suvarnabhumi Airport is one of the biggest and most advanced airports in Asia and it is around 30 kilometers from the city center.  Most of the international and domestic flights land at this airport. However, Bangkok has another older airport called Don Muang Airport, which is used by airlines like Air Asia, Orient Thai and Nok Air.
There are many ways to get into the city from the Suvarnabhumi Airport. One option is the train service called Airport Rail Link, which is considered to be the quickest way to downtown. But if you seek convenience and do not mind a longer travel time, getting a taxi is a good option. You can find ordinary metered taxis lined up Level 1 of the passenger terminal. There is a ticket counter that accepts a set payment for the taxi, and the rate depends on the distance of your destination.  Tolls and expressways fees are not included.
It is important that you go straight to the official taxi stand. Avoid the touts lurking around Level 1. They frequently claim that they are legitimate and try to lead you to their taxis usually parked across the road.  These touts will try to give you a highly overpriced rate instead of using a standard meter, giving excuses like "heavy traffic" and "long distance."
The Touristy Tuk-Tuks
There are plenty of public transport options around Bangkok, including the BTS Skytrain, buses, metered taxis, MRT, express boats, and tuks-tuks. A tuk-tuk is a fast and loud three-wheeled transport option that is supposedly traditional and cheap. Because of their uniqueness in design, they easily attract tourists. Unfortunately, tuk-tuk drivers are notorious for overcharging foreigners. Their asking rate is usually 3 or 4 times as much as the real price. If you really can't resist the allure of weaving through the city's congested traffic with an open-air tuk-tuk; make sure to agree on a price before getting on.
Take note, there are some tuk-tuk drivers that are willing to lower down their rate but there's always a CATCH, and that is bringing you to a travel agency or a jewellery or clothing shop. By taking you to these establishments, a driver can get a fuel coupon and even a commission.  If you have an itinerary or you are pressed for time, this tourist trap can occupy useful time and put a damper on your travel mood.
Travel Checklist: Do you have everything you need?
Tenacious Shops and Travel Agencies
The shops that tuk-tuk drivers take you for a free or for a "cheap" rate, may seem reputable but a number of them will try to scam you by selling overpriced fake gems and poor quality clothes. If the driver takes you to a travel agency, the staff is usually friendly and accommodating. Some would even give you a bottle of water. They will ask you about plans of traveling around the Thai Islands and are willing to book buses for you. But these agencies will charge higher prices and are quite persistent about booking with them to the point of lying about some things. Although these agencies may run a legitimate business, you may realize that they are not giving you the chance to look into other options.
Want to Find the Cheapest Rooms in Bangkok?
Technically, the most reliable sites for booking rooms in Bangkok are agoda.com and booking.com. Due to their excellent customer service and refund policies, their international reputation is top notch.  Another strong alternative is hotelscombined.com – the world's best price comparison website for rooms. I have created links to their room lists in Bangkok below to save you some time:
Top Rated Properties in Bangkok
Based on Verified Guest Reviews
Important: Mobile Users must swipe from left to right to see entire table.
Criteria:
Properties rated based on 'overall' review scores from each respective website's verified guests.
Minimum of 50 verified guest reviews required to be considered eligible for comparison.
All star ratings and verified guest review scores are tallied at the time of writing, and therefore, are subject to change.