Everyday tourists book a flight to Southeast Asia and a few months later they land in Bangkok to start their journey throughout Thailand and its surrounding countries. Everyday tourists also gets scammed by Bangkok's 'seasoned' tourist touts, taxis and tuk tuk drivers. In this article, we hope to provide you informative, current and reliable information on how to safely get from Don Mueang Airport to Khaosan Road – the epicentre of Bangkok's backpacking culture.  Previously, Don Mueang International Airport was the city's largest hub for flights. Now in 2017, Don Mueang primarily has 'budget airlines' such as Air Asia landing and departing from its runways with the newer Suvarnabhumi International Airport mainly servicing the 'non-budget' airlines.  Many tourists still book their flights into Don Mueang because the budget airline carriers in Southeast Asia are immensely popular.  Therefore, if you don't fly into Don Mueang on your initial flight into Thailand from Europe, the Middle East or North America, there is a pretty solid chance that you will before you leave Southeast Asia.
Once you arrive at Don Mueang Airport technically there are a few options to get to Khaosan Rd., however based on our recent to Bangkok, we wouldn't recommend taking a bus or the train from the airport unless you are on a very, very strict budget.  This makes taking a taxi much more practical and efficient. You should have no problem finding your hotel in Khaosan after reading this.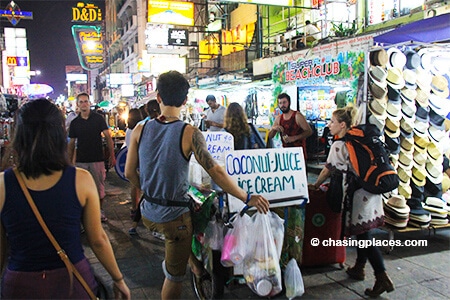 Here is a step-by-step guide on how to get from Don Mueang Airport to Khaosan Road:
1. The first step is booking your flight ticket to Don Mueang. Once you land at Don Mueang, clear immigration and customs.
2. Proceed down the escalators and follow the large taxi signs. You will come across some car rental agency booths and some tourism offices along the way. Walk by these to get to the appropriate taxi stand.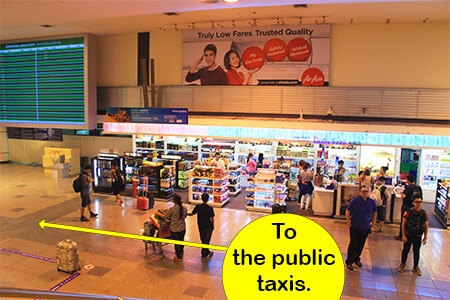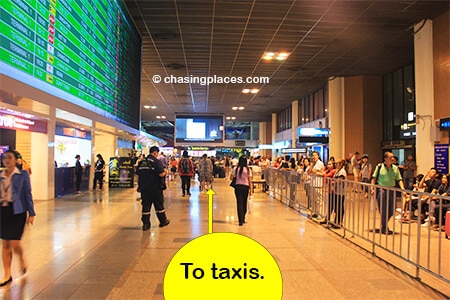 3. After you pass a few more signs, you will eventually reach the taxi stand area of Don Mueang International Airport. It has multiple lines and numerous local staff servicing the desks.  When we arrived, the line was quite long, but we were quite surprised by how quickly it moved.
4. As you wait in line, you will notice signs outlining the taxi service agreement. Regardless of where you are heading in Bangkok, the taxi driver will follow their taxi meter, but the passenger must pay 50 Baht additional, plus toll charges.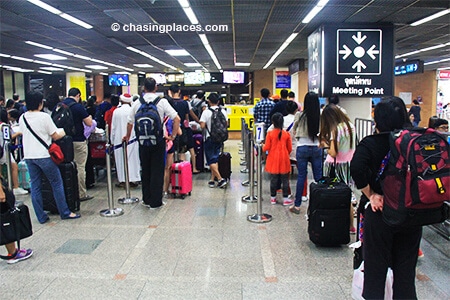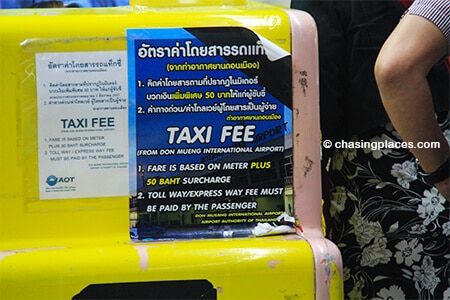 Travel Checklist: Do you have everything you need?
5. When you reach the desk tell the desk attendant that you want to go to Khaosan Road.  If you have a hotel booking voucher with your address displayed in Thai have it ready as this will make things significantly easier. There are over 2000 accommodation choices within the city, therefore, it is hard enough for taxi drivers to know where you are staying, without even taking into account the language barrier.
6. Once the desk attendant at Don Mueang International Airport knows exactly where you want to go, she/he will issue you a ticket that states the driver's licence plate number and his/her name. However, you do not pay anything at the airport.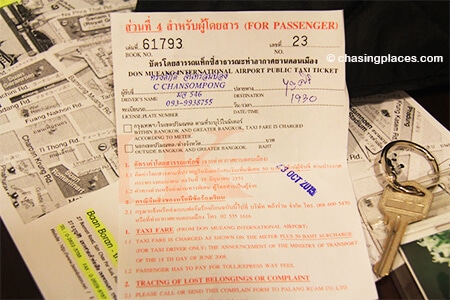 7. During our experience our taxi driver approached the desk in the airport and asked the lady working at the desk where we wanted to go. Once he was familiar with our hotel location, we then travelled a very short distance outside (approximately 50 meters) to his car.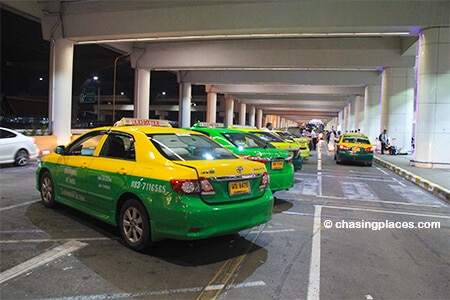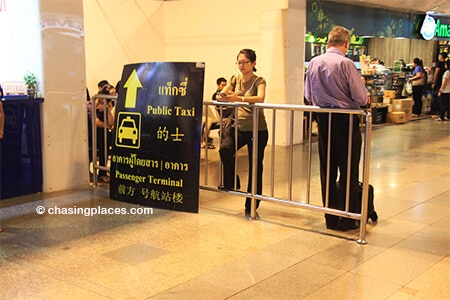 8. The taxi meter started at 35 Baht and our total journey from Don Mueang to Khaosan Rd. costed about 450 Baht. Keep in mind that we hit some heavy traffic along the way, therefore, it could cost you less than this if you are lucky enough to arrive during an off-peak traffic time.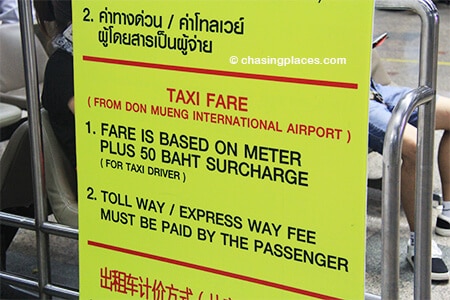 9. Pay your driver in Baht and include toll charges plus the 50 Baht premium and you're good to go.
And there you have it, a step-by-step overview on how to get from Don Mueang International Airport to Khaosan Rd.
Accommodation Information  – Bangkok
Where did we decide to stay in Bangkok?
Based on our experience visiting Bangkok always remember this: Try your best to avoid booking your room right on Khaosan Rd. due to its notorious street noise and pulsating music. Instead, we wanted to find a place that was walking distance to both Khaosan and the Grand Palace in a quiet area.  Eventually, we decided on Baanboran. It's important to note that we are not directly affiliated with this property or any property in Bangkok. In retrospect, we did indeed enjoy our stay there. It was clean and the staff were friendly. At the time of writing it had a score of 8.1/10 based on 164 verified guest reviews. Since this was a budget savvy choice, if you're looking for something more upscale consider these popular options in Bangkok:
Shangri-La Hotel Bangkok (rated 9.0/10)      Mandarin Oriental Hotel (rated 9.2/10)
The Peninsula Bangkok (rated 9.1/10)           JW Marriott Hotel Bangkok (rated 8.8/10)
How did we find the cheapest room in Bangkok?
Most of our followers that visit Thailand use one of three different booking sites: www.agoda.com (the most popular provider in Thailand), www.booking.com (the most popular site for European tourists) or www.hotelscombined.com (the world's best price comparison site). To save you some time I have created links to their respective property lists to save you some time:
Top Rated Properties in Bangkok
Based on Verified Guest Reviews
Important: Mobile Users must swipe from left to right to see entire table.
Criteria:
Properties rated based on 'overall' review scores from each respective website's verified guests.
Minimum of 50 verified guest reviews required to be considered eligible for comparison.
All star ratings and verified guest review scores are tallied at the time of writing, and therefore, are subject to change.
Flight Information – Getting to Bangkok
Is Don Mueang International Airport the only airport in Bangkok?
The answer is a definite NO. Suvarnabhumi International Airport, is one of the busiest airports in all of Southeast Asia. Therefore, depending on where you are in Southeast Asia you could potentially book your flight to either one of these two international airports.
How far is Don Mueang International Airport from Khaosan Rd.?
If you're making the trip from Don Mueang International Airport to Khaosan Rd. in a taxi the trip is approximately 30 km.
How did we find the cheapest flight tickets to Bangkok?
We have flown into Bangkok on 5 or 6 different occasions.  Each time we have used a flight comparison site to book our flights.  For these trips we used BookingBuddy. Since we fly all the time, we hate wasting time finding the cheapest tickets on individual websites.  With this site we can search up to 8 different competitive sites at the same time to get a feel for the prices of the trip. Here is a link to their price comparison page if you want to see how much flight prices are on your intended travel dates:
COMPARE FLIGHT PRICES TO BANGKOK – BookingBuddy
 What airport is nicer Don Mueang International Airport or Suvarnabhumi International Airport?
This is an easy answer.  Suvarnabhumi International Airport is undoubtedly the nicer airport.  It's much newer, has nicer airport lounges and it services world class airlines.
We always encourage our readers to ask questions and share their comments about the places we write about.