Next to Bali, the Gili Islands are the top beach destination for beach holidaymakers visiting Indonesia.  This island group is composed of three islands, with Gili Trawangan being is the largest. Perhaps due to its big size, Gili Trawangan has the most development and infrastructure. Fondly called "Gili T" by backpackers, this island has the most accommodation options, restaurants, bars and other tourist–oriented services. A lot of watersports and snorkeling tours also originate from Gili Trawangan.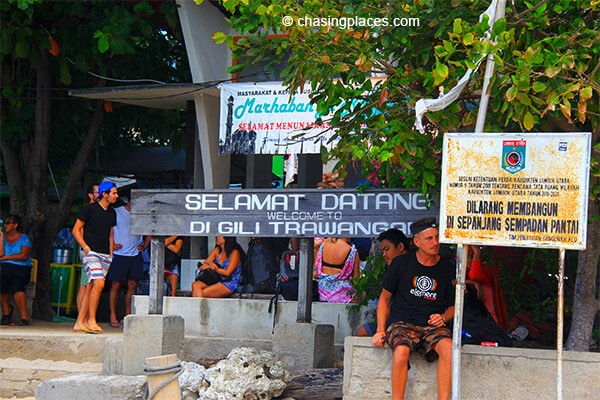 The other two islands in this beautiful archipelago are called Gili Meno and Gili Air respectively. Meno and Air also have their own accommodation options, albeit limited in comparison to Gili T.. Some visitors prefer to stay on these islands, because they are quieter and more laidback than the crowd pleaser Trawangan.
So if you end up booking your accommodation on Gili Trawangan, this does not mean that you can't visit the other two as well.  In fact, one of the most common things to do on Gili is to take a short boat trip and spend a full or half day on Meno or Air. Getting from Gili T to Gili Meno and Gili Air can be a straightforward day trip.  We were recently on the Gili Islands and here are the steps.
So here is a step-by-step guide on how to get from Gili Trawangan to Gili Air or Gili Meno:
Walk to the public port (ferry) office

. This office faces the beach and is located on eastern side of 

 Gili Trawangan

. There should be a sign on the building to indicate that it is the public ticket office.  The building is fairly small and 'rustic'. If you can't find it, just ask any local, and they should point you in the right direction. Please refer to our photos for assistance.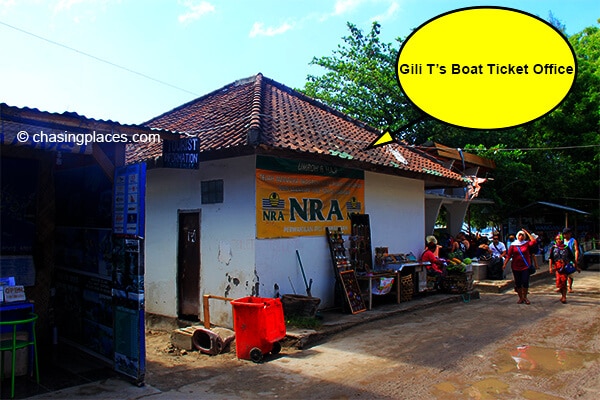 2. Walk into the building all the way to the ticket counter. During our experience,  a local lady who could speak English was working the counter.  Ignore the touts outside the building. It is better to talk to the attendant right away.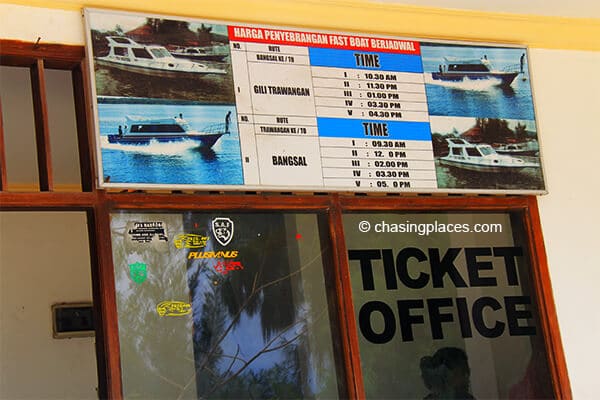 3. Pay your ticket. The public ferry to Gili Meno and Gili Air is more expensive than the one that goes from Bangsal Port on the mainland to Gili Trawangan. I do not understand why this is the case, but this is the reality for tourists visiting the Gili islands.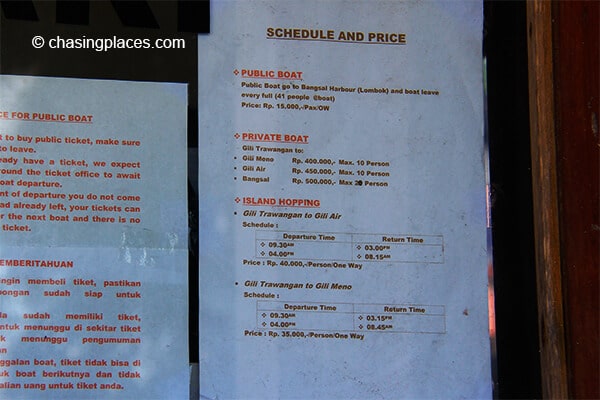 Travel Checklist: Do you have everything you need?
4. Wait for you your boat to arrive.  After paying for your ticket, the woman will ask you to wait outside for the boat.  Usually, the ferry admin wait until the boat has enough passengers (around 40) before it leaves. But do not worry as the wait usually does not take very long. (There are special circumstances of course, if it's not your lucky day). I would expect a wait time of 15-20 minutes during the day.
Fortunately, the small public ticket building has a fairly loud intercom system. The woman will announce both in Indonesian (Bahasa) and English that the boat for Gili Meno and  Gili Air is ready. Yes, that's right, the public ferry will stop twice, so passengers going to either island should be on the same boat.
5.  Be sure to board the right boat! Remember that there are two routes; one going to Bangsal Harbor and the other – to Gili Meno and Gili Air.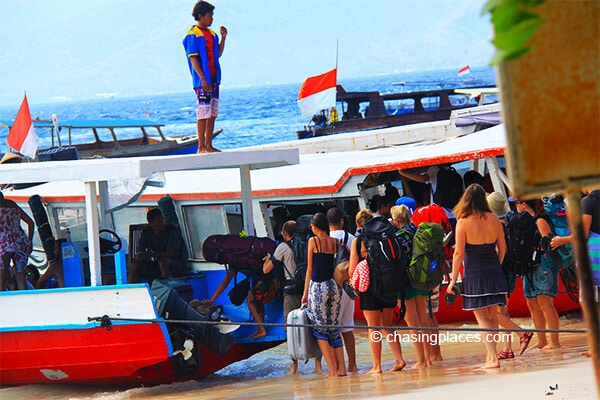 Private Speed Boat Transfer Option

:
If you wish to visit Gili Meno and Air on your own time,  one option is to book a private speed boat transfer. This will cost you more, of course, but this can easily be arranged.  Go to any tour office on Gili Trawangan and request for this service. It is common to negotiate the price and ask more than one tour operator.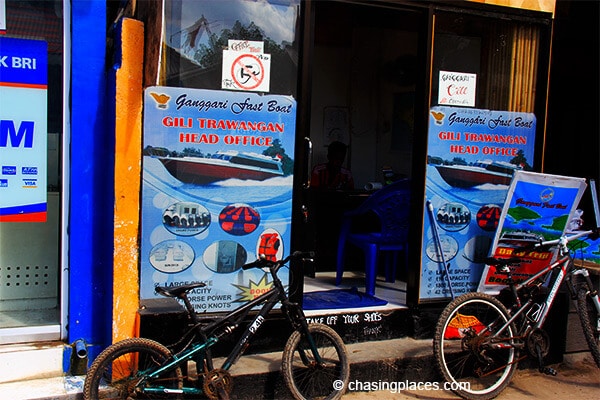 Something to Consider:
Another popular option for tourist, is to take a half day snorkeling trip from Gili T. Part of this trip itinerary is lunch break on Gili Meno.  This stop usually lasts for 1 or 2 hours. You can take this opportunity to walk around the island. For some, this is enough time as Meno is not that big.
Where Did We Stay on Gili Trawangan?
There is a wide range of hotels on Gili Trawangan. You can go on a budget and stay in hostels or have a relaxing stay at a nice resort. In our case, we stayed at a boutique resort called Gili Amor Boutique Resort. We are not directly affiliated with this property. The place was well-kept, and  it has a swimming pool.  The façade of the resort building was well maintained. The room we had was clean but not very big. The only knock I have of the resort is that they painted their wooden furniture with yellow lines, which came across as tacky. But the décor of the room was not something we were overly concerned about.  
The resort staff were friendly and they gave us welcome drinks. The room price came with free breakfast, which is featured in their menu. We had a choice to whether to get an Indonesian breakfast (which is composed of fried noodles or rice with meat) or a big western breakfast with eggs, sausage and toast.   Their breakfast was one of the best things about our experience at this resort. The location is also ideal. It is close enough to the beach area (200-300 meters) and main tourist strip (about a 3-minute walk), but it far enough from the bars that we were not kept awake by all the nightly party music. At the time of writing they had a score of 7.9/10 based on 144 verified guest reviews. We would recommend this property if it fits your budget.
How to find your room on Gili T?
We suggest three different websites: www.agoda.com, www.booking.com and www.hotelscombined.com. Here are links to their respective property lists on Gili T to save you some time:
How to find the right room on Gili Trawangan?
I would suggest using one of these sites: www.agoda.com, www.booking.com and www.hotelscombined.com. To save you some time, I have included links to their respective property lists for Gili Trawangan below:
Top Rated Properties on Gili Trawangan
Based on Verified Guest Reviews
Important: Mobile Users must swipe from left to right to see entire table.
Criteria:
Properties rated based on 'overall' review scores from each respective website's verified guests.
Minimum of 50 verified guest reviews required to be considered eligible for comparison.
All star ratings and verified guest review scores are tallied at the time of writing, and therefore, are subject to change.
Map of Gili Trawangan with Accommodation Options
COMPARE ALL ROOM PRICES ON GILI T  using www.hotelscombined.com (the world's best comparison site!)