The Gili Islands are one of the increasingly popular beach destinations in Indonesia. The Gili Islands make a good alternative to Thai sandy destinations. They have developed a good following among the Southeast Asia backpacking crowd. However, in recent years, more family-oriented and upscale resorts are being built on beach areas further away from the high traffic areas on the islands.
The main gateway or jumping point to reach the Gili Islands is Lombok Island, which maintains the Lombok International Airport, also known as Bandar Utara Internasional Lombok. This airport is close to the town of Praya, which is the southcentral part of Lombok Island. You can easily use Momondo or BookingBuddy if you're still in the planning stage of your trip.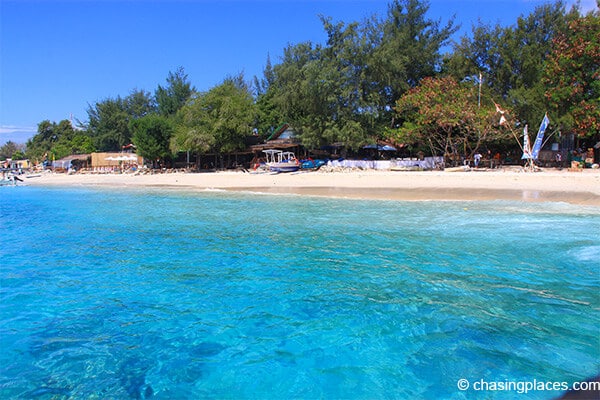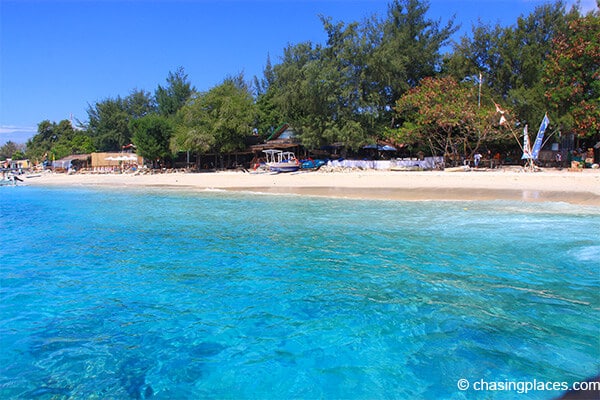 Here is your step-by-step on how to get to from Lombok Airport to the Gili Islands (Gili T) based on our very recent travel experience:
1. Book your flight to Lombok Airport via one of the following airlines:
Garuda – from Jakarta, Bali or Kuala Lumpur
Air Asia – from Kuala Lumpur
Silk Air – from Singapore
You can use one of these price comparison sites to shop around: Momondo or BookingBuddy
2. Get your luggage and walk towards the exit. Lombok International Airport's Arrival Area is small and has only one floor. It's hard to miss the exit.
3. Make your way to Bangsal Harbour by taking a taxi. 
Before you exit the arrival terminal, you will already see a few booths offering taxi transfers to tourist destinations including the Gili Islands. It is important to take note that transport offered by these booths are more expensive than the normal rate (perhaps because they have to pay more to set up their booths at the arrival terminal).
If you want to save money, get out of the arrival hall and talk to the taxi drivers directly outside.
4. Get ready for touts. Once you reach the exit, you will be greeted by a number of drivers who will do their best to convince you to hire them. They can be aggressive and annoying! The more aggressive ones are those who own private cars.
We are not saying that all of these private car owners are bad people, but we opted to take a legitimate taxi (blue color) for safety reasons.
You can ask the taxi driver to use the meter or bargain for a set price.
Estimated cost from Lombok Airport to Bangsal Pier is from 250,000 – 300,000 Rupiah (20 – 25 USD). The journey time is about 2 hours on average.  It took us about 1 hour and 45 minutes with moderate traffic.
5.  Arrive at Bangsal's Pier Gate.  Apparently, not all vehicles are allowed to go beyond the Pier Gate, which is less than 2 kilometers from where the transfer boats are waiting.
Our driver informed us that we had to give 20,000 Indonesia Rupiah ($2 USD) to the guard so we could be allowed to pass the gate. This kind of dealing is not official of course. But basically, if we didn't want pay, we would have had to get out of the car, and walk to the pier; or take one of those cart horses. It's your decision, and that depends on your principle and your luggage!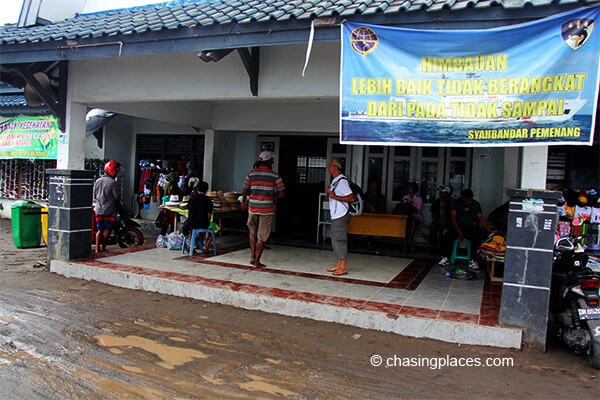 Travel Checklist: Do you have everything you need?
6.  Make your way to the ticket counter at Bangsal Harbour, which is inside a small scruffy cement building on the right hand side.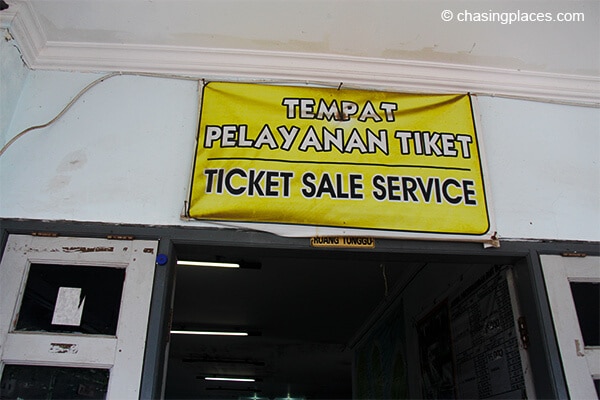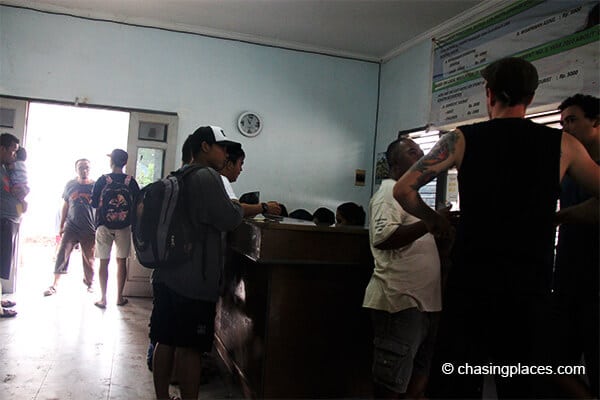 7. Determine your destination and buy your boat ticket. There are three Gili Islands. The biggest one is Gili Trawangan or Gili T, which is the main tourist spot. The other smaller islands are Gili Meno and Gili Air. Chances are you will stay on Gili Trawangan because it is the most developed, and has the majority of bars, restaurants and hotels to choose from. Be sure to double check your hotel booking to make sure you are heading to the correct island!
In terms of boat transfers, you have two choices. You can take the public ferry or a fast speed boat to any of the Gili Islands.
Public Ferry
The boat fare for public ferry is only 15,000 Rupiah to Gili T, 13,000 Rupiah to Gili Meno and 10,000 to Gili Air.
There are three main disadvantages of getting a public ferry from Bangsal Harbour to the Gili Islands, and these are
– It's very slow. It takes about 40 minutes to reach Gili T (the farthest island)
– Before the boat leaves, it needs to have enough passengers to depart.
– The announcement for passengers to board the ferry is in Bahasa Indonesia, so you might miss your boat if you don't ask a local to help you.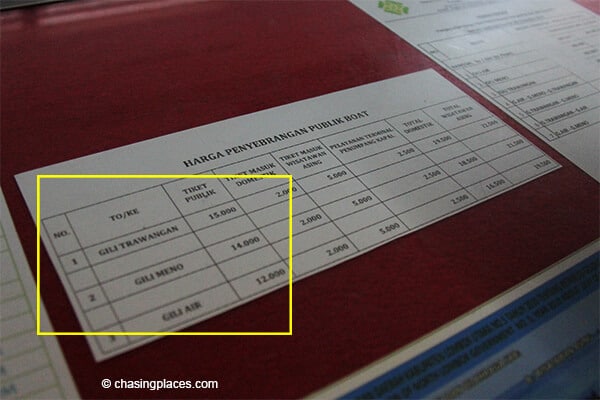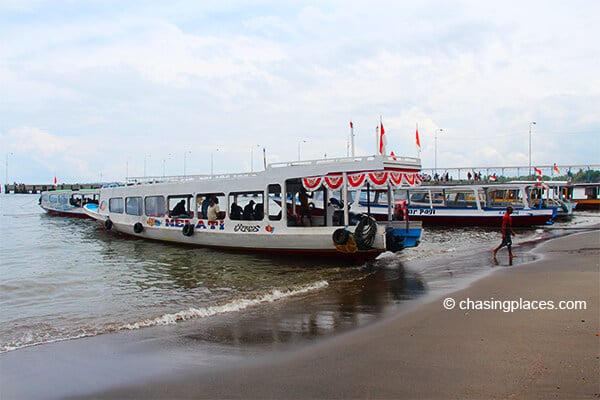 Speed Boat
Speed boats are run by a couple of private companies. They are faster but more expensive:
Estimated Speed boat cost per ticket per person: 80,000 ($6 USD).
Speed boat staff are more attentive to the passengers, and most tourists prefer to take this type of boat.
We took the slower public boat and it seemed to work out well for us.
ATTENTION: The PICTURE below shows the Schedule for the Fast Boat from Bangsal to the Gili Islands and vice versa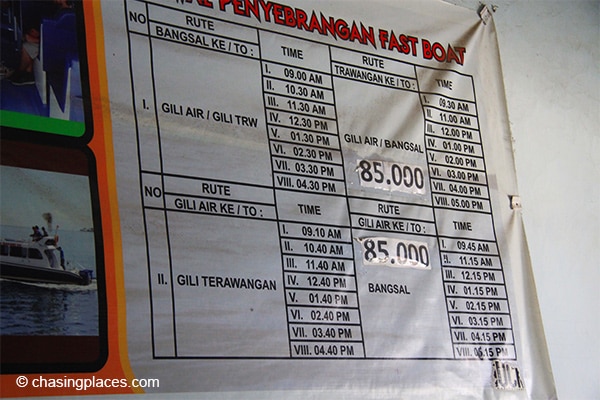 Take note that tourists might also be asked to pay a tourist and environmental fee on top of the ferry fare. This was our experience anyway. These fees are about 20,000 Rupiah ($2 USD) per person.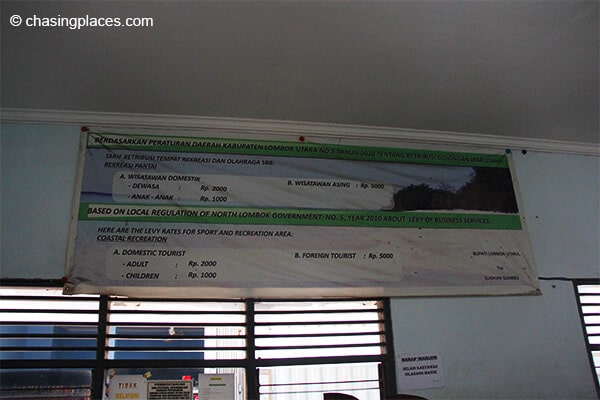 8. Wait for the boarding announcement.
This can get a bit tricky because the announcement is made in Bahasa Indonesia language. To make sure you get on the boat on time, wait outside of the ticket office instead of the waiting area. Be on lookout if local passengers are moving onto a boat when an intercom announcement has been made.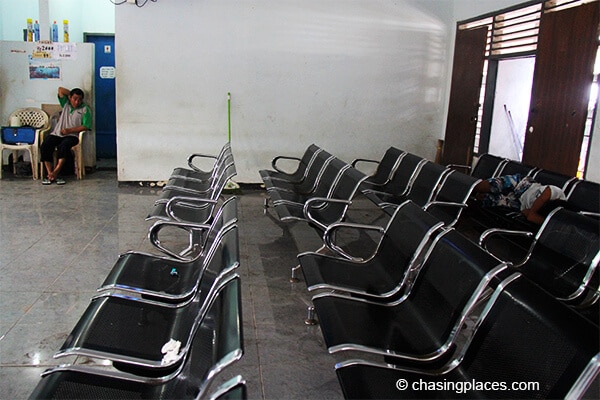 9. Arrive at Gili Trawangan, Gili Meno or Gili Air
Once you're at any of these islands you should be within walking distance to your hotel or guesthouse.
This is a step-by-step guide on how to get from Lombok (Lombok Airport) to the Gili Islands (Gili T, Gili Meno, and Gili Air) based on our very recent travel experience.  If you require more information about this journey, please feel free to comment at the bottom of the page.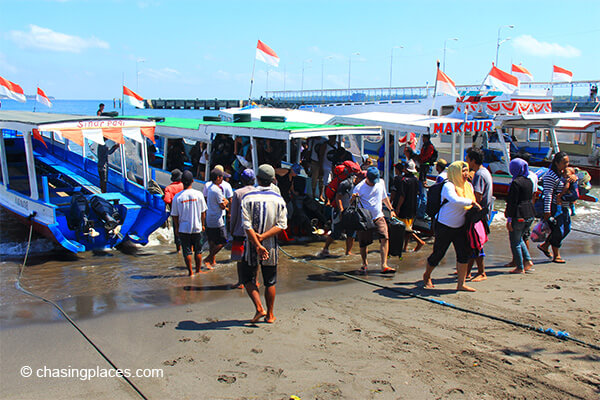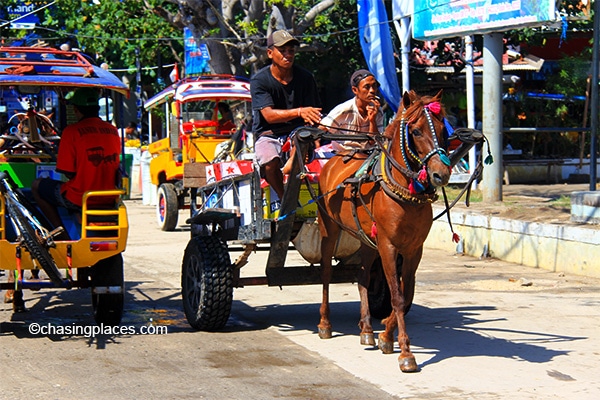 Accommodation Information – Gili Islands
Where Did we Stay on the Gili Islands?
One of the advantages of staying on Gili Trawangan compared to other Gili Islands is the extensive accommodation options available to visitors.  You can go on a budget and stay at a guesthouse, or experience luxury by booking a room at a beachfront resort. In our case, we decided to stay at a boutique resort called Gili Amor Boutique Resort. We chose this resort because it is within our budget range, and it has a very good rating of 7.9/10 on Agoda.com at the time of writing.
Gili Amor Boutique is a well-run resort that offers a swimming pool, breakfast inclusion and welcome drinks. The staff were nice and the room was clean. However, their room is relatively small in comparison to other rooms we have seen. The room is furnished with yellow-painted wooden furniture, making it look a bit tacky. But because space and aesthetics are not our main priorities, we were not too concerned about these things.  Their breakfast was excellent.
How to find the right room on Gili Trawangan?
I would suggest using one of these sites: www.agoda.com, www.booking.com and www.hotelscombined.com. To save you some time, I have included links to their respective property lists for Gili Trawangan below:
Top Rated Properties on Gili Trawangan
Based on Verified Guest Reviews
Important: Mobile Users must swipe from left to right to see entire table.
Criteria:
Properties rated based on 'overall' review scores from each respective website's verified guests.
Minimum of 50 verified guest reviews required to be considered eligible for comparison.
All star ratings and verified guest review scores are tallied at the time of writing, and therefore, are subject to change.
Map of Gili Trawangan with Accommodation Options
Flight Information – Getting to the Gili Islands
What is the closest airport to the Gili Islands?
The only major airport on Lombok Island is Lombok International Airport – known locally as Bandar Utara International Lombok.
Which airlines fly to Lombok (to reach the Gili Islands)?
At the time of writing, there were quite a few airlines servicing flights to/from Lombok.  A few notable ones include Air Asia, Garuda Indonesia, Singapore Airlines and Virgin Australia.
What's the best way to find the cheapest flights to Lombok (and the Gili Islands)?
I would suggest using a couple flight comparison sites.  In our particular case, we used both Momondo and BookingBuddy because they allowed us to check flight prices from various websites in a very short period of time. They saved us some cash in comparison to the flight prices we originally saw and saved us the time clicking random sites on the web.  Here is a link to their price comparison pages:
COMPARE FLIGHT PRICES TO LOMBOK – Momondo
COMPARE FLIGHT PRICES TO LOMBOK – BookingBuddy
How long does it take from Lombok Airport to the Gili Islands?
If you consider the ferry ride and the drive to Bangsal Harbour, it should take about 2.5 to 3 hours to reach the Gili Islands.  of course, this is subject to the traffic when you arrive and whether you take the speedboat or public boat at the pier.
Rental Car Information – Lombok Island
Is is possible to rent a car to visit the Gili Islands?
The answer is yes! According to our recent trip to the Gili Islands and our trip research it is possible to rent a car at Lombok International Airport in south central Lombok. From the airport you can drive directly to Bangsal Harbor which is the gateway to the Gili Islands (Gili Trawangan, Gili Air and Gili Meno). During our research we noticed that there isn't much selection, therefore we would suggest booking online well in advance, especially during peak season. Try using a large, reputable price-comarison site such as www.rentalcars.com to save some serious cash.
How far is it to drive from Lombok International Airport to the Gili Islands using a rental car?
During our trip to the Gili Islands from Lombok Airport it took about 2 hours with moderate to heavy traffic.  With your rental car I would expect it to take you roughly the same amount of time.  Since it might be your first time to Lombok, you might have to get used to the roads. Some of the roads are narrow, so it's best to consider the time, and not the distance to reach Bangsal Harbour. If you're comfortable driving there, then it could take you less than 2 hours if you arrive when traffic is light.
Which website should you use to book a rental car on Lombok Island?
Since Lombok is not completely developed yet in terms of tourism services, I would suggest that you use a large car rental website that you can trust. We always use www.rentalcars.com for our worldwide car rentals during our trips. It's the largest car rental site in the world and we have been really pleased with their prices and selection. During our trip, we found Toyota Avanza models available on this site.  This type of car offers plenty of room for families and traveling groups.  I have created a link below to save you some time with your car rental search below:
BOOK A RENTAL CAR IN LOMBOK – www.rentalcars.com
If you have any additional questions on renting a vehicle on Lombok Island or on how to get from Lombok Airport to Gili Trawangan or any of the Gili Islands, don't hesitate to ask us for help.  Have a safe and enjoyable trip!