Previously, tourists visiting the Maldives could only access resort islands away from Malé by speedboat or seaplane.  These options are still available and more convenient but they are also much, much more expensive than taking a ferry.
The good news is it's now convenient to book your flight to Malé and then take a cheap ferry to your resort/guesthouse.
During our recent trip to the Maldives we utilized the public ferry network to travel throughout the country.
And we highly recommend it!
This is especially true if you are trying to reach local guest house islands that are now open for tourism.
 Since we spent a considerable amount of time staying on Maafushi Island, we really felt it was necessary to secure a seat from Malé to Maafushi to avoid expensive speedboat transfer costs. This required quite a bit of online research. The last thing we wanted was to be scrambling around trying to find a seaplane or a speedboat to rush us back to Malé or the airport for our next flight connection.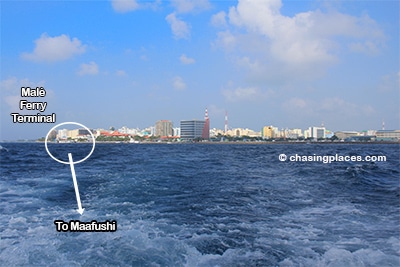 This is a step-by-step guide on how to get from Malé to Maafushi Island in the Maldives.
1. The first thing you have to do is book your flight to Male International Airport (a.k.a Velana International Airport). Then you have to take a ferry from the airport to Male. Once you have arrived in Malé and you have become familiarized with the city, head to the ferry terminal which is located at the south west corner of the island. Don't confuse this terminal for the one that services the airport and Hulehumalé.
2. Once you are at Malé's ferry terminal proceed to the ticket booking window which faces the water. Here some of the ferry times will be outlined, but they weren't overly clear when we were there. We suggest that you double check the time your ferry departs with the attendant inside even if you have seen the schedule online before. As of the time of writing these were the ferry times from Malé to Maafushi and from Maafushi back to Malé with corresponding prices:
Ferries from Malé to Maafushi
Sunday/Tuesday/Thursday
10:00 am (depart Malé) – 11:30 am (arrive at Maafushi)
(Cost of trip = 53 MVR ~ ($3.50 USD))
Weekdays (with the exception of Friday)
15:00 (depart Malé) — (short stop at Gulhi) — 16:45 (arrive at Maafushi)
(Cost of trip = 22 MVR ~ ($1.50 USD))
Ferries from Maafushi to Malé
Saturday/Monday/Wednesday
12:55 (depart Maafushi) – 14:25 (arrive at Malé)
(Cost of trip = 53 MVR~ ($3.50 USD))
Weekdays (with the exception of Friday)
7:30 am (depart Maafushi) — (short stop at Gulhi) — 9:15 am (arrive at Malé)
(Cost of trip = 22 MVR ~ ($1.50 USD)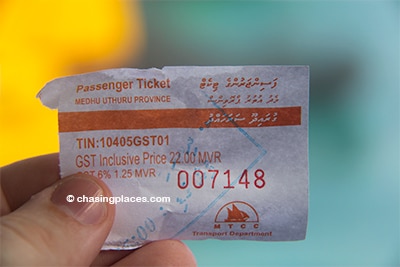 Important Reminder: The schedule posted above can change.  Please take note that since this is a public ferry, you cannot purchase the ticket in advance (as far as we know).
The main priority for this ferry system is the locals. In fact, this transfer method is not well-advertised to tourists as I suspect it is not encouraged. If you want to buy a ticket, go there fairly early (we went an hour early).  Seats are limited and it's on a first-come first-save basis. Please be low-key about buying tickets. Don't show up in a big group and be loud. This behavior can potentially annoy the locals.
3. If you are planning on going to Maafushi Island the same day that you arrive at Malé's ferry terminal, then it's a good idea to purchase your ticket well in advance to avoid disappointment. If you are staying for a night in Male first you can find your hotel here. 
4. Try to arrive at Malé's ferry terminal about 30 minutes prior to the scheduled departure time. When it's time to board the ferry be sure to ask one of the workers if it is the correct ferry servicing Maafushi Island as it isn't overly clear.
5. The trip should take between 1.5 and 2 hours depending on the weather, delays, etc.
6. Maafushi Island may not be the first stop on the journey (it wasn't during our visit to Maafushi as we first stopped (briefly) at Gulhi Island), therefore ask while you are on the ferry whether it is indeed Maafushi before you disembark.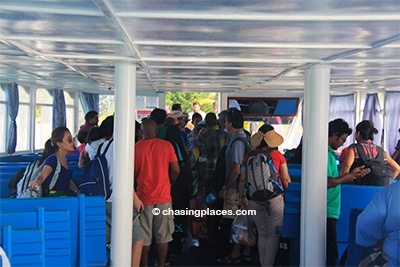 7. Once you arrive at Maafushi you will be most likely met at the ferry by one of the workers at your hotel/guesthouse.
We were met during our visit to Maafushi and the worker transported our luggage to our room. If this isn't the case for you just simply ask one of the locals for directions to your hotel.  Maafushi is small and convenient, so this shouldn't be an issue.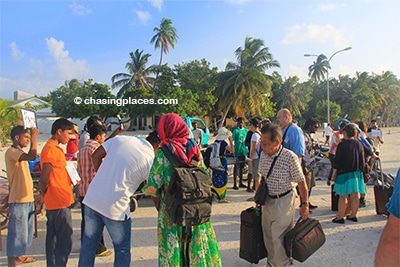 Travel Checklist: Do you have everything you need?
Taking the public ferry back to Maafushi Island, Maldives
This is a straightforward process .
Verify with your hotel the schedule of the public ferry leaving for Male.  There is always one early in the morning.
Go to the same spot where you got dropped off when you came from Malé to Maafushi.
We recommend that you arrive early because during our experience the ferry filled up very quickly. Although we are not sure what the exact capacity is on each particular ferry in the Maldives, there were no remaining seats left for the trip we made from Maafushi to Malé.
Take note that there is no ferry ticket counter on Maafushi Island. Purchase the ticket onboard the ferry.  They will only take cash – local currency. So make sure you have enough with you.
Travel Tips  for getting back to Malé from Maafushi:
It the seas are choppy, there could be delays/cancellations to the times listed above. Either way, be sure to pack some motion sickness medication just in case.
A zoom lens can come in handy to take pictures of the exclusive ocean villas along the trip.
Here are the main websites we used for planning this trip to Male and Maafushi in the Maldives:
World Nomads Travel Insurance. 24/7 coverage for 150+ adventure activities. Get a Quote
Momondo, Booking Buddy. We always use these 2 great price comparison sites to find the world's cheapest flights.
Agoda, Booking.com, HotelsCombined. We have relied on these 3 accommodation sites for over 10 years.
See the Complete List of all the Cost-Cutting Travel Resources we use here….
Where did we stay on Maafushi Island?
There are plenty of guesthouses and small budget hotels on Maafushi that receive excellent reviews from guests.  Most of the accommodation choices offer sea views. We decided to stay at Island Cottage. 
Island Cottage turned out to be a pleasant place to stay. It's located in a quiet corner of Maafushi Island. Our room was clean and quite large.  They served an average breakfast. At the time of writing it had a score of 7.8/10 based on 100 verified guest reviews. I can admit however, that there were some other places that looked better in comparison based on upkeep, location and services available to guests.  
Want the best price for a hotel or guesthouse room on Maafushi?
By far, the most popular booking site for the Maldives and Maafushi, in particular, is www.booking.com. Since they offer many fully refundable rooms at no extra risk, it makes complete sense to reserve well in advance if you are heading to a small island such as Maafushi. To save you time, here are the:
Top-Rated Properties on Maafishi Island Based on Verified Guest Reviews
   Important: Mobile Users must swipe from left to right to see entire table.
Criteria:
Properties rated based on 'overall' review scores from each respective website's verified guests.
Minimum of 50 verified guest reviews required to be considered eligible for comparison.
All star ratings and verified guest review scores are tallied at the time of writing, and therefore, are subject to change.
Another alternative is using a price comparison site to find your room. This guarantees that you will find best price on Maafushi or elsewhere in the Maldives. This price comparison site has won the World Travel Award the last two years for the "World's Leading Hotel Comparison Website." Therefore, there is no denying their reliability and effectiveness. We used www.hotelscomined.com extensively when we booked our rooms in the Maldives.
Flight Information – Getting to Maafushi Island
What airport should you fly into if you want to go to Maafushi Island?
During our trip to Maafushi we booked our flight into Malé International Airport, also known as Velana International Airport. This is the main airport in the Maldives that services the most international flights. If you're going to Maafushi, then this probably means that you don't want to spend a fortune on domestic flight costs once you're in the Maldives.  Keep it simple, fly into Male and then take the ferry to Maafushi.
How far is the international airport from Malé?
We completed this ferry ride a few times and we have clearly described the trip in our article entitled, "How to get from Male Airport to Male City."
How did we find cheap flight tickets to the Maldives?
We used two price comparison sites called Momondo and BookingBuddy. Since we flew from Kuala Lumpur to Malé.  Therefore, there were a few different airlines servicing that route.  BookingBuddy is set up in such a way that we could compare up to 8 different websites at the same time which we liked whereas Momondo searches all the sites at one time and then provides you with the cheapest fare. This allowed us to quickly discover that Air Asia was the cheapest airline (by far) for our flight. Here is a link below to their price comparison pages if you want to check out prices for flights to Maldives or another destination:
COMPARE CHEAP FLIGHT PRICES TO THE MALDIVES – Momondo
COMPARE CHEAP FLIGHTS PRICES TO THE MALDIVES – BookingBuddy
Should you take a seaplane to get to Maafushi?
Since Maafushi is regarded as a "guesthouse" island, it probably wouldn't make economical sense to fly domestically to get there. The ferry ride was roughly two hours. Save the cash and take the ferry.
Have a safe and enjoyable trip!