Visiting the Dubai Museum is one of the best things to do while visiting Dubai. This place will intrigue visitors especially history buffs, who are yearning to know more about the history of this once simple and humble Gulf city.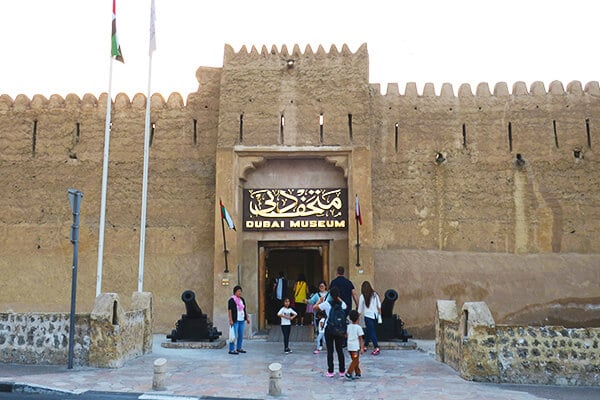 Simple and humble? No one would think of describing Dubai this way today! The city is a financial and commercial powerhouse, home to some of the most sophisticated engineering and architectural structures the world has ever seen. And they're building more!
But Dubai was once a Bedouin village.
And through the years, the city has flourished, thanks to its strategic position and the Dubai Creek, which allowed traders and merchants from all around the Middle Eastern Region to ship and sell goods.
This is just a peek into Dubai's success story that will be told at the Dubai Museum. Inside the museum, you will see cannons, fishing boats, traditional houses called barastis, and a cool archaeology section.
I'm not going to give too much away. Discovering Dubai's fascinating history is something more fun for you to do!
But to do that, you need to get there first.
Here are the simple steps on how to get to Dubai Museum using the train or public boat:
Dubai Museum is housed in the Al Fahidi Fort, which was built in 1799. This is one of the oldest surviving structures in the city.
This Museum was once the home for rulers in the area until 1896. It then became a prison, a garrison, and eventually, a museum in 1971.
Getting to Dubai Museum By Metro Train
Step 1:  Go to the nearest Dubai Metro train station from where you are staying in the city.
Step. 2: Purchase a one-way or return ticket or a day pass. Then take the train that goes to Al Fahidi Station.  Al Fahidi Station is on the Green Line, Zone 5.
Step 3.  Get off Al Fahidi Station, and walk a few minutes to reach the Dubai Museum. Here is a map illustration to help guide you: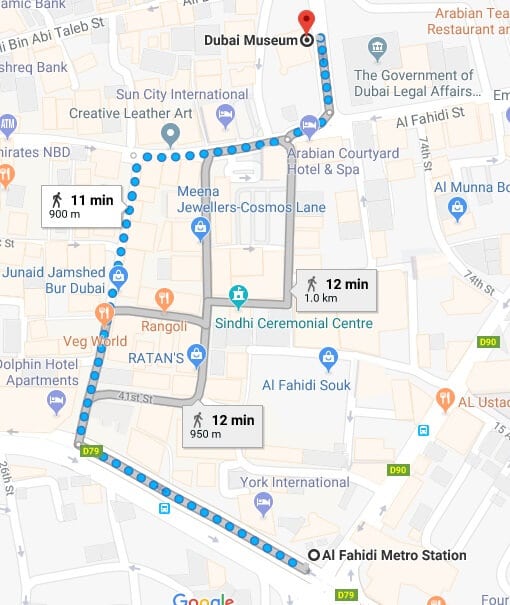 Dubai Metro Operation Times
5:50 am to 12:00 am (Saturday to Wednesday)
5:50 am to 1 am ( Thursday)
1:00 pm to 1:00 am (Friday)
Getting to the Dubai Museum By Traditional Boat
One very scenic way of getting to the Dubai Museum is crossing the Dubai Creek from the neighborhood of Deira using a traditional boat called an 'Abra'.  Learn more about the Abra.
At the affordable cost of 1 Dirham, you can easily cross Dubai Creek to get to Dubai Museum. This may not be the most straightforward way, but it's certainly the more memorable route I can assure you!
Here are the steps of getting to the Dubai Museum using the traditional boat – abra.
Step 1: Make your way to Deira – one of the historic neighborhoods in Dubai. You can get there by taking the Dubai Metro. The best station to get off is Al-Ras Station, which is on the Green Line.
Step 2: From Al-Ras Station, walk towards the Deira Old Souk Abra Station, which faces Dubai Creek.   Here is a map illustration to guide you: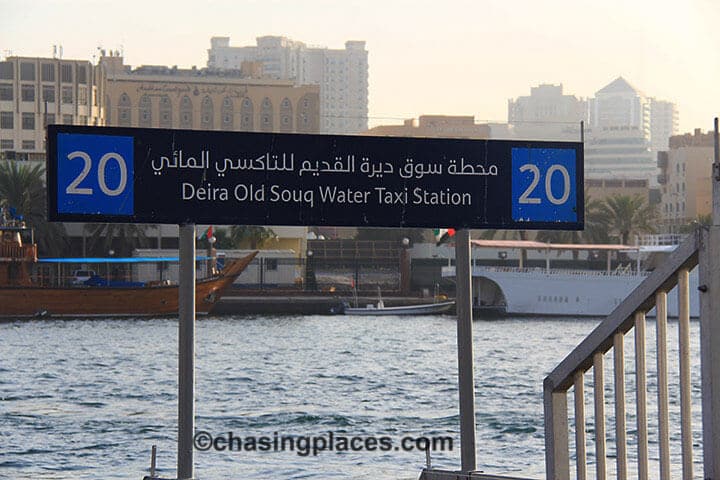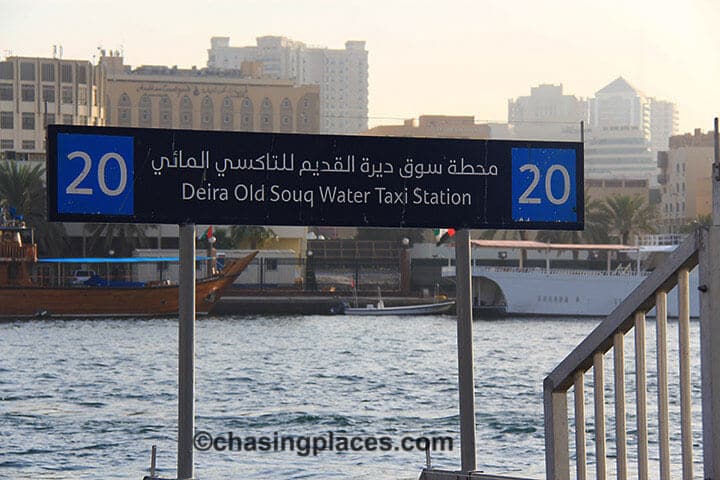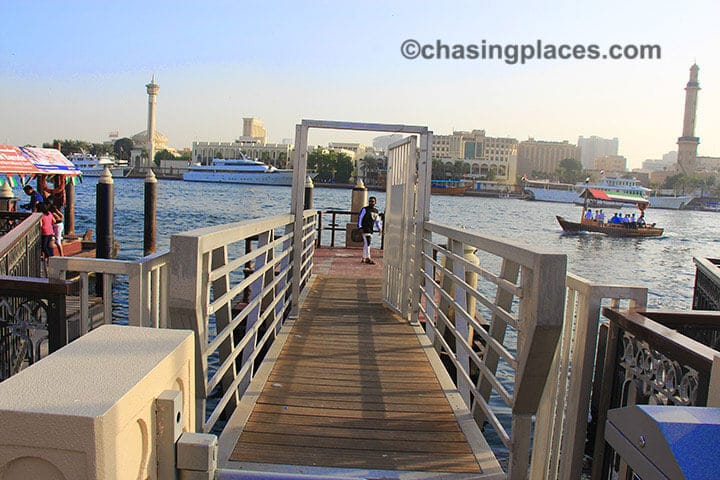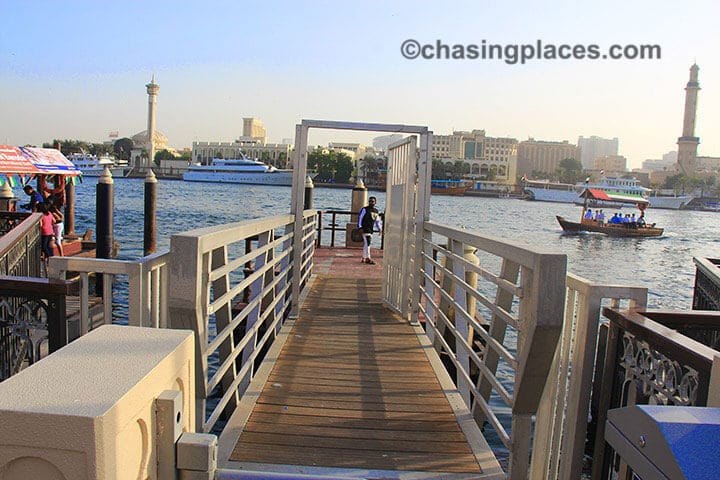 Step 3: Line up to get on an Abra. You may pay your 1 Dirham to the driver, who typically sits in the center of the abra.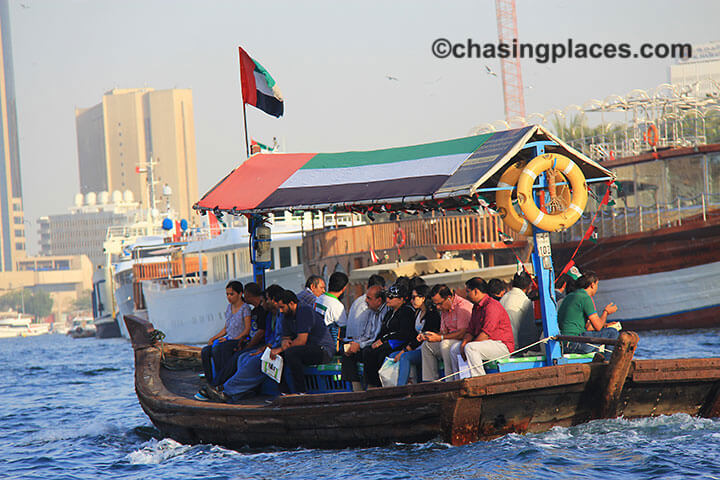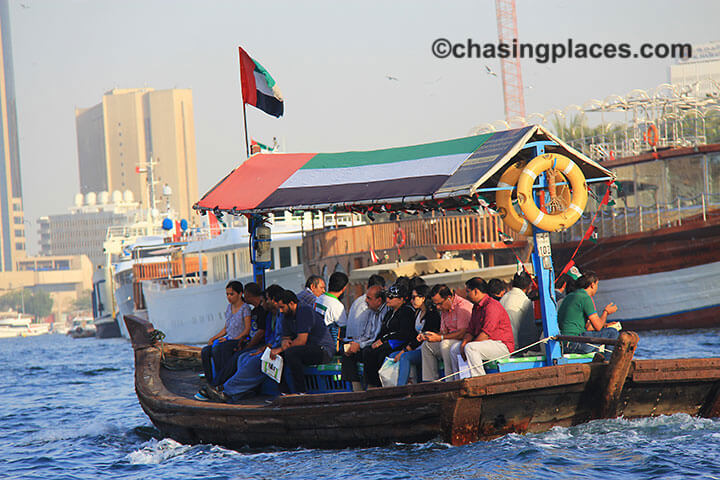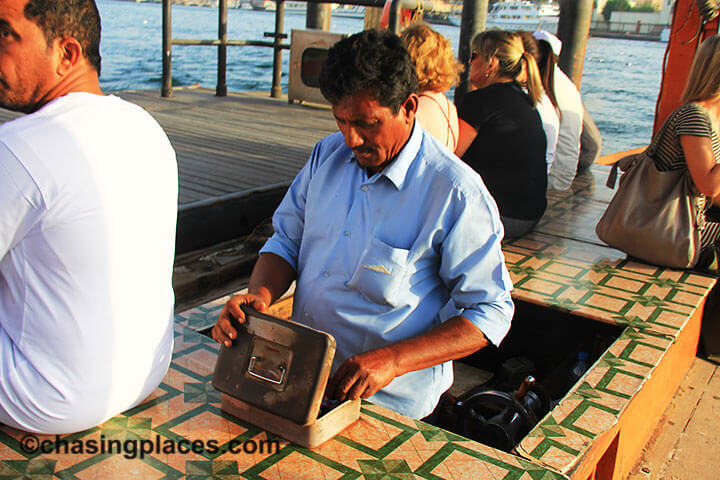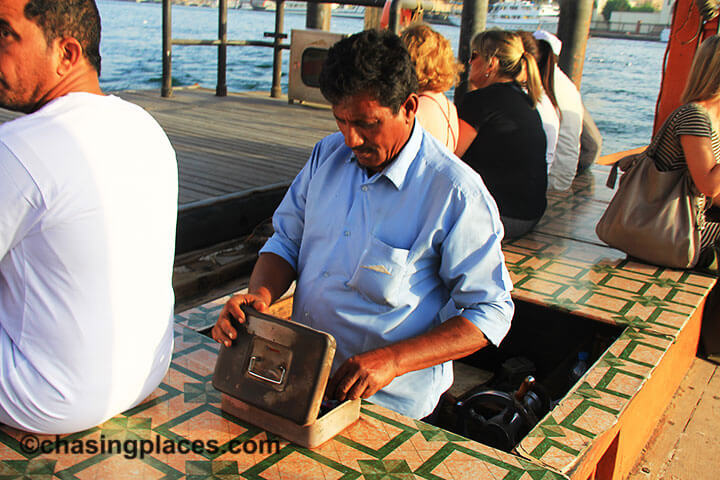 Step 4: Enjoy the ride! It is quite short, only about 6 minutes. Get off at the Bur Dubai Old Souq and Water Bus Station.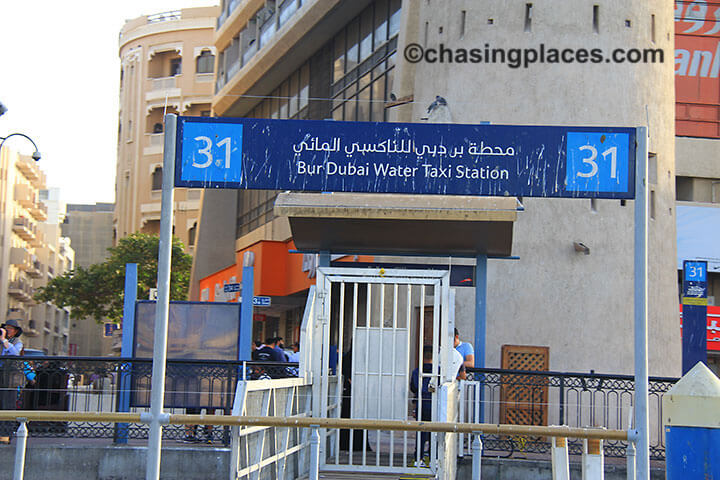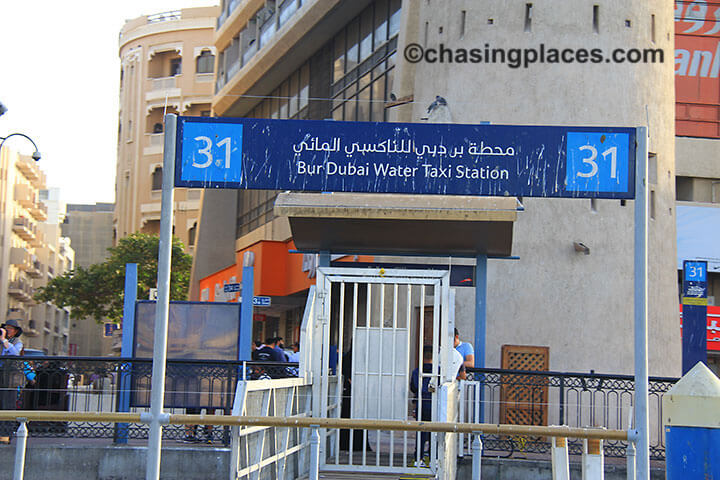 Step 5: From the Bur Dubai Old Souq and Water Bus Station, walk towards Al Fahidi Street, which will take about 7 minutes. You can even make a stop at the Bur Dubai Old Souq (Market)  if you want.  The Dubai Museum is on Al Fahidi Street – you can't miss it!
Here is a map illustration to guide you: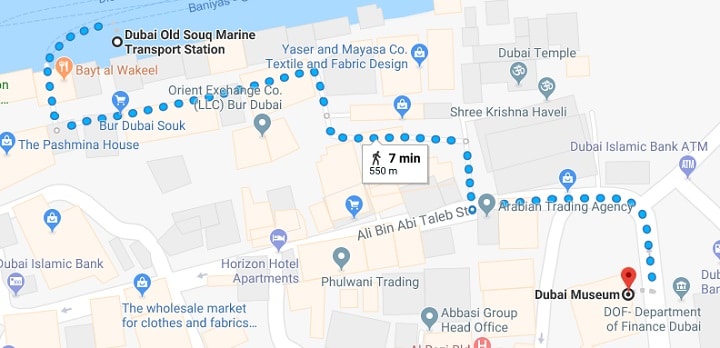 Practical Information:
Entrance Fee for the Dubai Museum: 3 Dirhams for Adults, 1 Dirham for Children
Opening Times: 8:30 am to 8:30 pm (Saturday to Thursday)
2:30 to 8:30 pm (Friday)
Travel Checklist: Do you have everything you need?
Nearby Attractions:
After visiting the Dubai Museum, take the time to explore the rest of the Al Fahidi Historic District. The District's attractions are all within walking distance.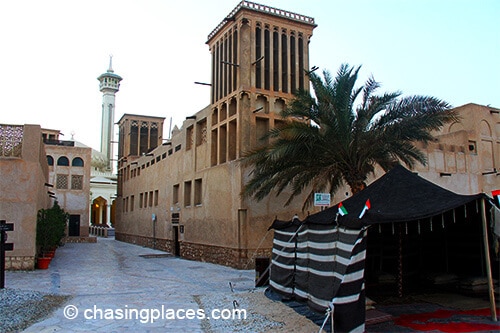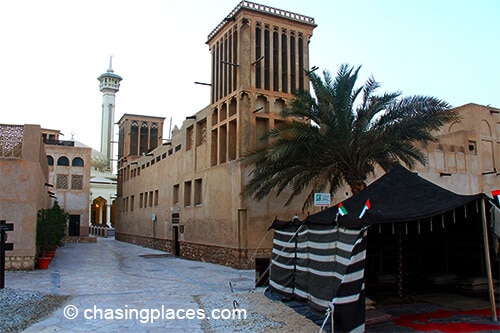 Al-Fahidi Historic District is a well-maintained, excellently restored heritage area, which was once called the Bastakia Quarter.  The quarter is populated by traditional sand-colored buildings and watchtowers – all make a great background for photo opportunities.  
Al-Fahidi is packed with attractions like The Sheikh Mohammed Center for Cultural Understanding, the Majlis Gallery, the Coffee Museum, and the Coin Museum to name a few.
Where Should You Stay if You Want to Be Near Dubai Museum and Al-Fahidi Historic District
Because of the Dubai Metro, it is rather easy, convenient and affordable to get around especially when it comes to visiting Dubai's famous attractions.  
During the second part of our visit to Dubai, we wanted to stay close to the historic districts of the city, so we opted to stay at the One Ibis Al- Rigga  in Deira. This hotel is within walking distance to Al Rigga Station (Red Line). From Al Rigga station, you can access  Al-Ras Station (Deira) and Al-Fahidi Station (Dubai Museum).
Thus, we found it very strategic to stay at the One Ibis.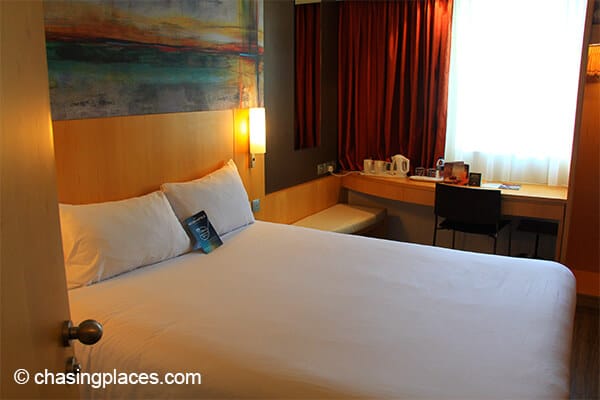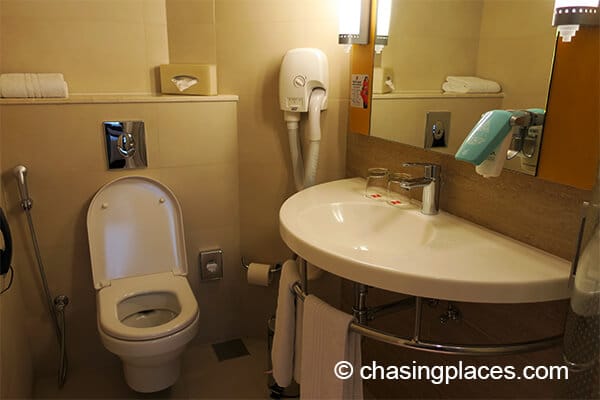 Here's a map illustration of One Ibis Al Rigga to Al Rigga Metro Station: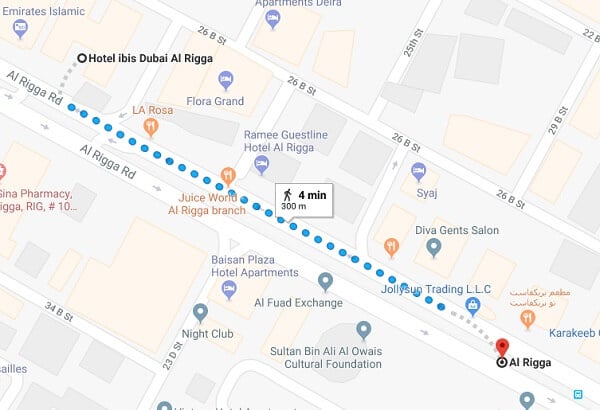 This is a step-by-step guide on how to Get to Dubai Museum By Dubai Metro Train or Public Boat. If you still have more questions on how to get to Dubai Museum make sure that you comment below, or send us an email.
Top Rated Hotels in Dubai Based on Verified Guest Reviews
Read More About Visiting Dubai