After being charmed by the 'traditional Japanese town-like feel' of Takayama, we knew that we would eventually end up in the tourist heavyweight magnet Kyoto. But we were not in a hurry and we had time to spare.  So we did not go straight away to Kyoto; instead, we took a small detour and made our way from Takayama to a city called Kanazawa.
Kanazawa is often compared to Kyoto, but it's smaller and more compact. But what this city lacks in size, it makes up for with its historical and cultural sites.If you ask me, Kanazawa is worth checking out, and it only takes a day or two to really enjoy what it has to offer.  These are just the top places you can see in Kanazawa for FREE.
And if you're in Takayama and would like to go to Kanazawa, the fastest and most convenient way to go about this is to take the TRAIN. Japan has a very extensive train network, and you can literally explore the entire country by using the train. To save money, many tourists opt to purchase a Japan Rail Pass – the transport pass that gives you access to country-wide JR railway networks and buses.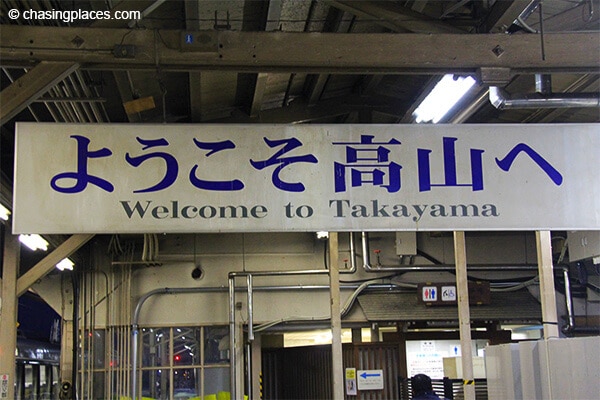 Here is a step-by-step guide on how to get from Takayama to Kanazawa:
1. Go to JR Takayama Station. This station is the center of the city and is right beside the main bus station, so it's hard to miss it.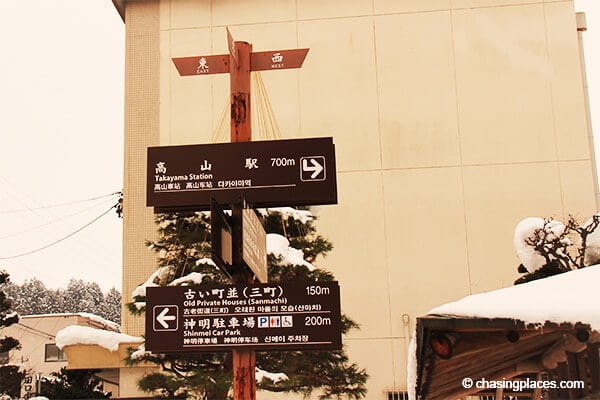 2. Take the Wide View Hida Limited Express Train to JR Toyama Station. There is no direct train line between Takayama and Kanazawa, so you need to go to JR Toyama, and change train lines from there.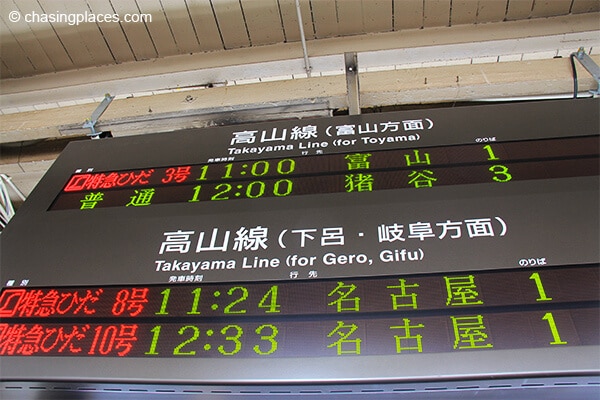 – The Wide View Hida Limited Express Train runs from Nagoya and passes through Gifu and Gero, which are also popular destinations.
– Another main reason to take Wide View Hida Limited Express Train is the panorama you will be treated to while on the train. You will get to see the spectacular mountainous landscape of the Hida region. And the train line is not called "Wide View" for no reason as it is equipped with large windows, offering uninterrupted views. This train ride it itself is an attraction worth experiencing!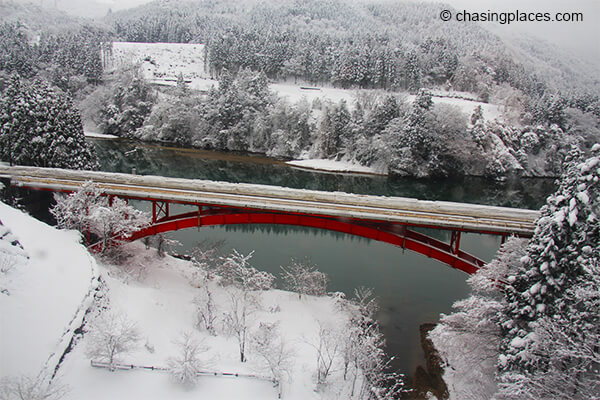 – If you have a JR Pass, you can take this train without paying an additional fee. If you do not have the JR Pass , you can still buy the ticket from the counter or from bilingual machines at the station.
 Ticket Price: 2,840 Yen – Unreserved Seat (price is subject to change)
 Travel time:  Approximately 89 minutes
Travel Checklist: Do you have everything you need?
3. Arrive at JR Toyama Station. Then make your way to the Hokuriku Shinkansen track.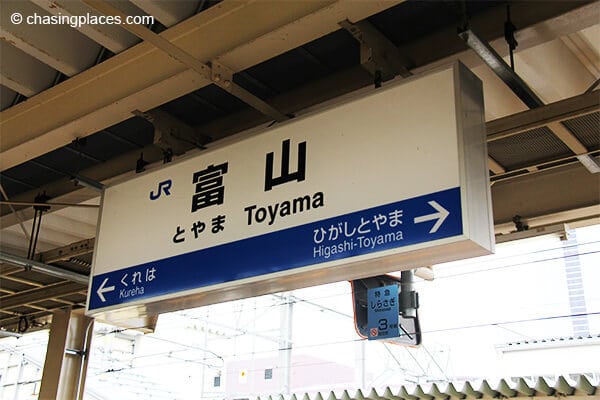 – Hokuriku Shinkansen is the bullet train line that directly connects Tokyo to Kanazawa.
– This is the fastest train service to Kanazawa (highly recommended to save you time).
4. Purchase your ticket if you don't have the JR Pass.  If you have a JR Pass, you don't need to pay an additional fee.
Depending on the time you are leaving, you can either take the Shinkansen Hakutaka or the Shinkansen Tsurugi.
– Hakutaka and Tsurugi are two of the four types of trains that run through the Hokuriku Shinkansen network.
Ticket Price: 2,810 Yen – Unreserved Seat (price is subject to change)
 Travel Time: approximately 23 minutes
5. Arrive at JR Kanazawa Station.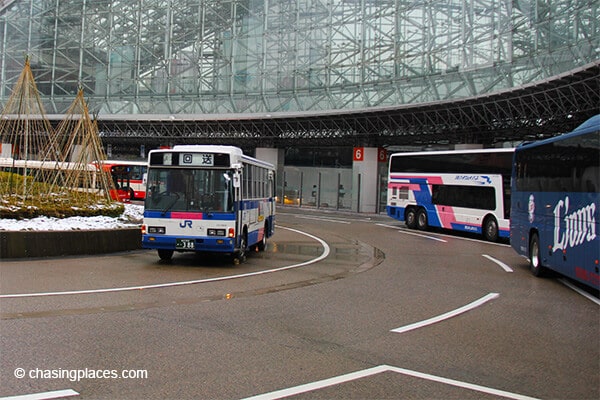 When you are finishing your trip from Takayama to Kanazawa you will be pleased to arrive at a very convenient spot because when you walk outside, you can find different bus lines that go to the key attractions and neighborhoods in the city. We stayed very close to the station during our trip due to the nice assortment of hotels right near the station.
Where Did We Stay in Kanazawa?
We had limited time to explore Kanazawa. In fact, we only had two nights, so we tried to make the most of it. Because of the time constraints, it made a lot of sense to book a room close to the train station. And this is the reason why we ended up at APA Hotel Kanazawa-Ekimae. We are not directly affiliated with APA Hotel, or any hotel in Japan.
Their room size is small but this is normal by Japanese accommodation standards. It was very clean and our room was well designed. Considering the size of our room, I am still wondering how they managed to have so many amenities in such a small area? It falls within the mid-range options in terms of price, but it had everything we needed because we never planned to stay more than two nights. At the time of writing, APA Kanazawa had a score of 7.8/10 based on 347 verified guest reviews on Agoda.com.
How to Book a Room in Kanazawa?
It is always good to book a room ahead of time so you don't have to take the risk of missing out on the hotel you want to stay in. To get the best deal, we usually book our rooms through Agoda.com and Booking.com – two of the biggest and most reputable hotel platforms online.  To save you time, here are the links for Kanazawa:
Top Rated Properties in Kanazawa Based on Verified Guest Reviews
Important: Mobile Users must swipe from left to right to see entire table.
Criteria:
Properties rated based on 'overall' review scores from each respective website's verified guests.
Minimum of 50 verified guest reviews required to be considered eligible for comparison.
All star ratings and verified guest review scores are tallied at the time of writing, and therefore, are subject to change.
If you want to compare the prices across hotel providers, you can also use Hotelscombined.com – the best price comparison site in the world. Below is a search box that you can use for Hotelscombined.  Happy room hunting, and enjoy your stay in Kanazawa!
COMPARE ALL ROOM PRICES IN KANAZAWA – www.hotelscombined.com