Often overlooked, Kanazawa is a real travel gem for those who want to avoid heavy tourist cities in Japan like Kyoto. Kanazawa is in fact, the capital of Ishikawa Prefecture. So by its own right, the city holds a strong political as well as historical importance. According to history, there was even a time that Kanazawa rivaled Kyoto in terms of cultural achievements. Of course if you have the time, you can easily see both Kanazawa and Kyoto and do your own comparison.  This is very much possible as Kanazawa is well connected by a fast and reliable train service.
Often described as 'little Kyoto', Kanazawa can easily be seen in a day or two. It is perfect for a short getaway as it is small and compact, with most attractions being a convenient distance from one another.
Another great thing about Kanazawa is that some of its major sites can be seen for free. Yes that's right. If you're budget has been taken up by spending it in more expensive Kyoto, Kanazawa's rich history and culture can be experienced without spending anything extra aside from transportation.
Here are the top 3 sites in Kanazawa that we enjoyed for free:
1. Kanazawa Castle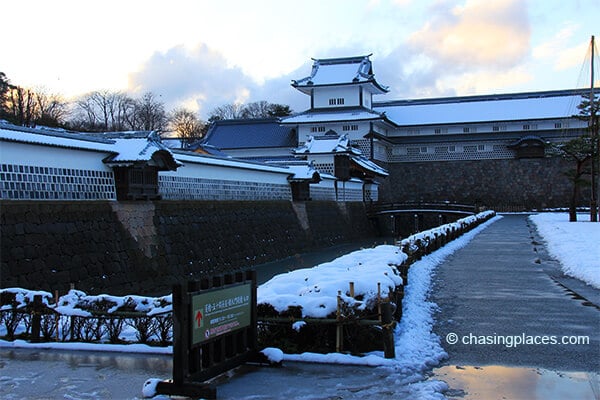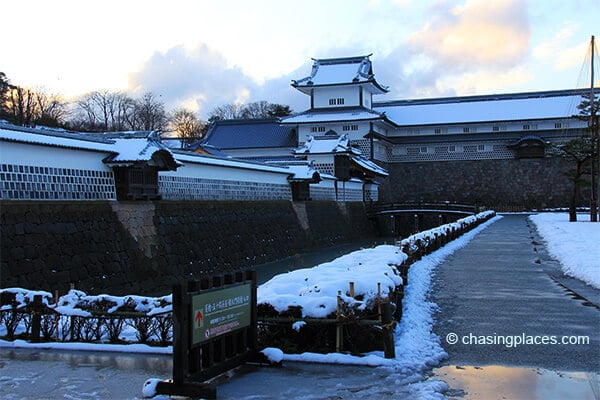 Kanazawa Castle was the home of the once powerful Maeda Clan, a lord of Kaga.
The most famous entrance to the castle is the Ishikawa-mon Gate, which is one of the only surviving original structures after the fires devoured the castle grounds in 1881. Unfortunately, aside from the gate and two storehouses, the structures that you see today are replicas.  But that does not take away from the beauty of the castle grounds.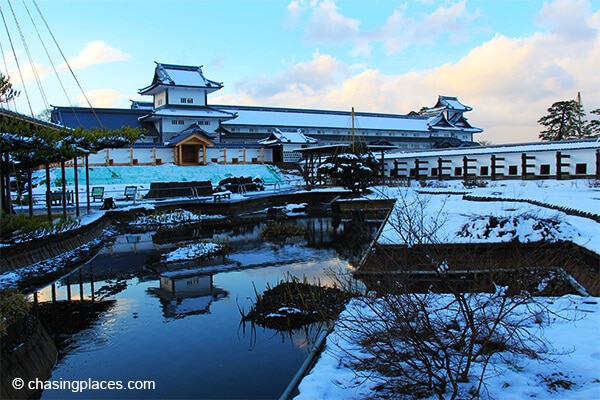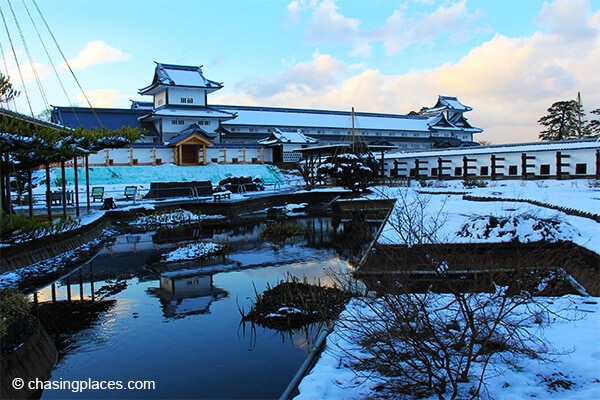 I especially enjoyed walking around the circular path that surrounds the castle's beautiful garden. There is a photogenic pond in the middle of the garden.
Make your way to the Kahoku-mon Gate, which was the former main entrance for the castle. Walk to its upper floor so you see some displays that showcase the history of the gate. Go to the two turrets, which are called Hishi and Tsuzuki Yagura. There is a long storehouse that links both turrets. The storehouse has displays of traditional carpentry. Take note that some parts of the castle are only accessible if you purchase a ticket. But what we saw for free was enough.
Castle Grounds Opening Times
From March 1 to October 15 – 7:00 to 18:00
October through February – 8:00 to 17:00
To gain access to all sections of the castle grounds, you need to pay a fee of 310 Yen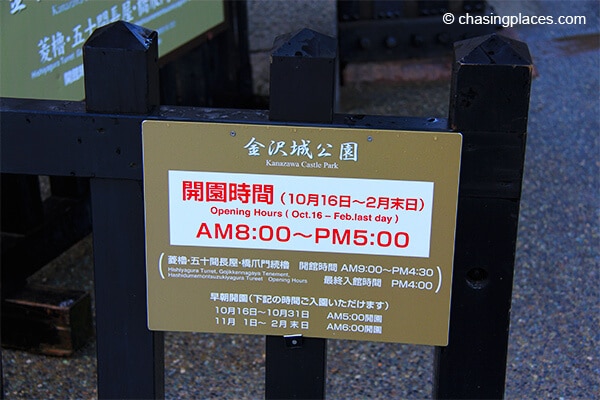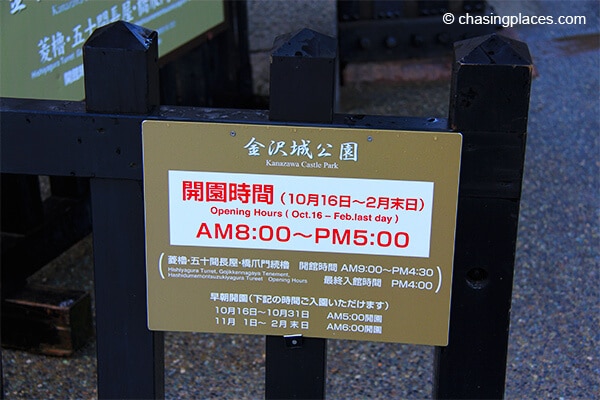 How to Get to Kanazawa Castle Park
Kanazawa Castle Park is located right in the center of Kanazawa. You can easily reach it by taking the popular Kanazawa Loop Bus, which is popular among tourists. When you board the bus, look for stop numbers LL9 and RL8.
If you have a Japan Rail Pass, you can take the JR buses, which run every hour from Kanazawa Station. To reach the castle, take the East Exit bus stop number 4.
Side Note: Just across from Kanazawa Castle is one of the city's most treasured destinations, the Kenrokuen. This spectacular garden is considered one of the best landscaped gardens in the country. There are many who claim that it is in fact, the most beautiful. But I guess carefully manicured gardens are hard to maintain, so taking a look at Kenrokuen will cost you. But if you have some spare money to spend, why not? After all, you are already in the area. The Ishikawa-mon Gate is the one that faces Kenrokuen, so many tourists use this gate as the access point for both attractions.
2. Nagamachi Samurai District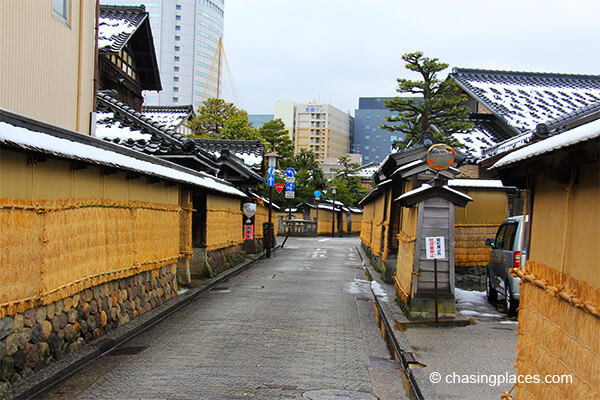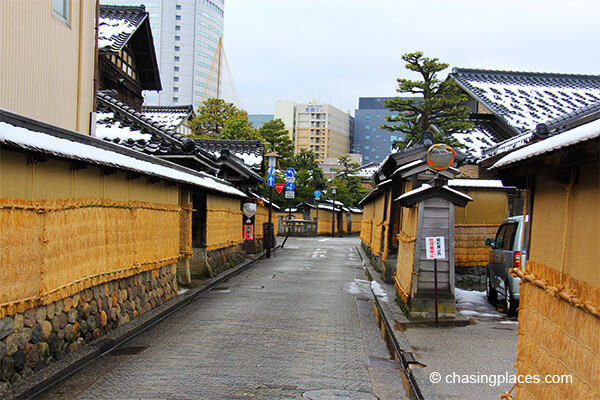 If you are like me who is fascinated with the Japanese Samurai heritage, then the Nagamachi District makes an interesting visit. This neighborhood was where the samurai and their families used to live.  Today the houses are well-preserved. There is no entrance fee if you just walk around the charming narrow lanes and over the pleasant water canals. It is a picturesque district with many historical houses.  If you want to see individual attractions, make your way to the restored samurai-museum turned residence or the Shinise Kinenkan Museum. This museum highlights the history of the merchant class after the reign of the samurai. In our case, we were content just walking around Nagamachi taking photos of the houses and soaking up the atmosphere. The whole time I was happy to stroll around the same streets where the brave warriors of Japan used to walk.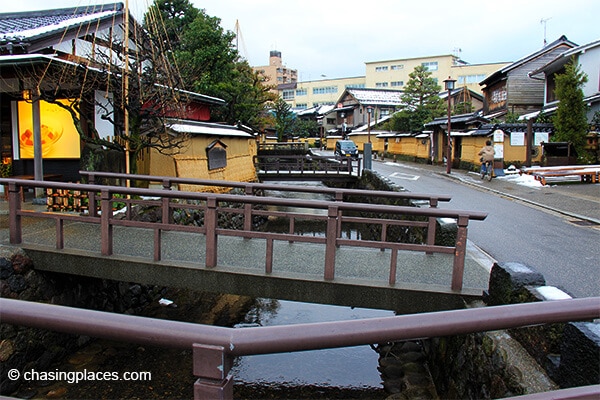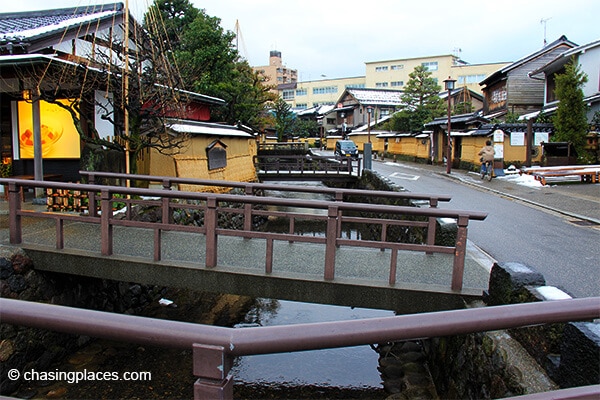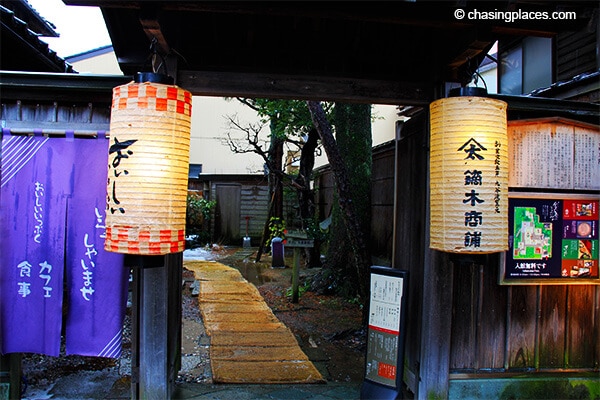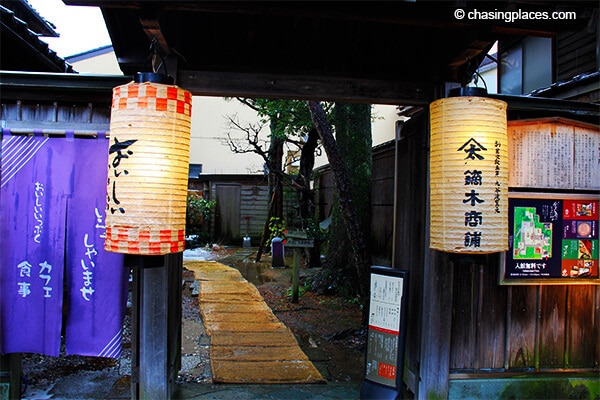 How to Get to Nagamachi Samurai District
In our case, we took the Kanazawa Loop Bus, which stops at Korinbo bus stop. From Korinbo, you only need to walk 5 minutes to get to Nagamachi. You can also reach Nagamachi by taking the East Exit local bus line from Kanazawa Station and get off at stops 7 to 11.  Travel time is about 10 minutes.
A third option is to take the JR bus, especially if you have the Japan Rail Pass. Nagamachi is close to stop number 4. Even though we have a JR Pass, we did not choose to take the JR buses because they were not as frequent and convenient as the Kanazawa Loop Bus, which was designed for tourist sightseeing.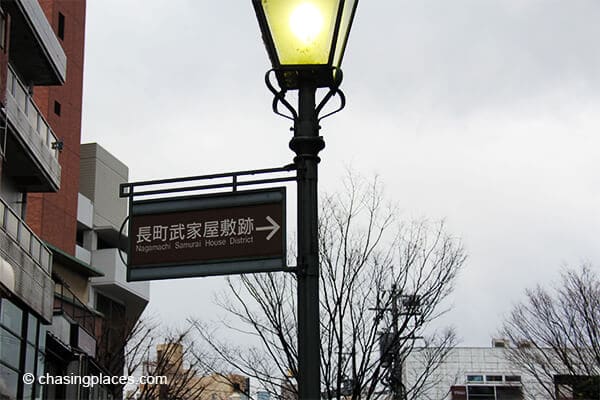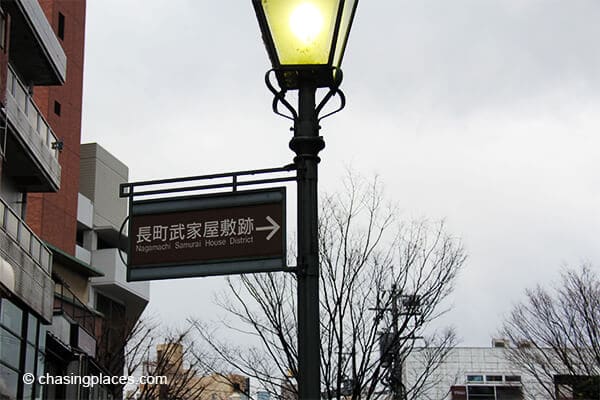 Travel Checklist: Do you have everything you need?
3. Higashi Chayagai (Higashi Chaya) District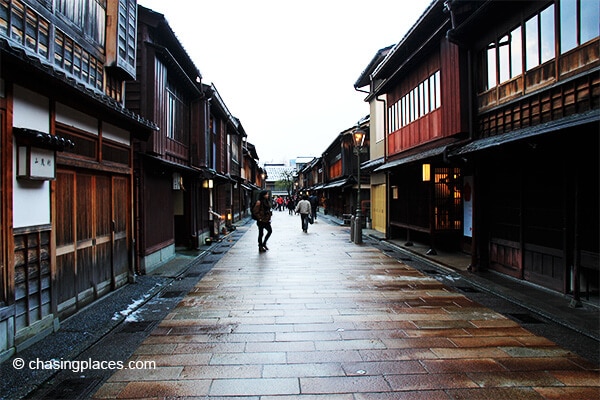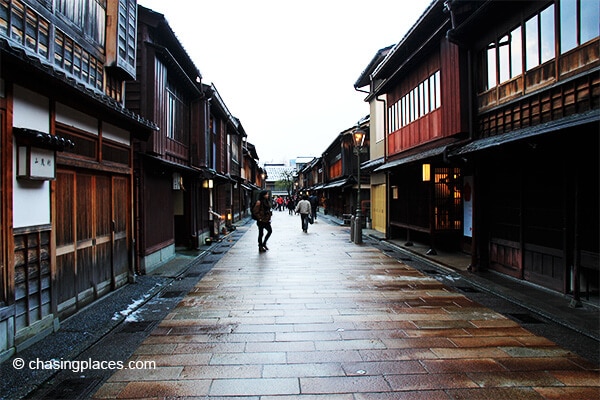 This is my favorite site in Kanazawa, and experiencing it is absolutely free. Perhaps you may heard of Gion, which is the famous geisha district of Kyoto. But what some people don't know is that Kanazawa also has in my opinion, an equally impressive geisha area called Nishi Chaya District.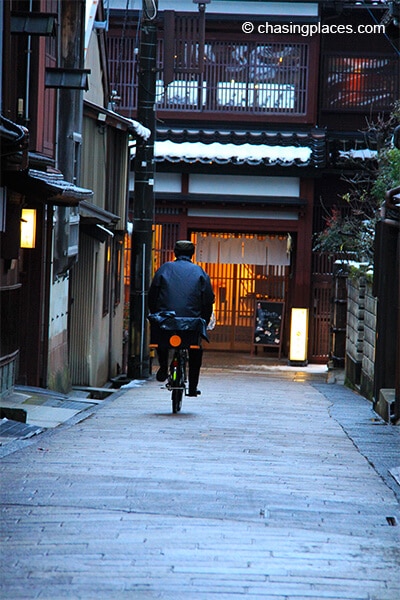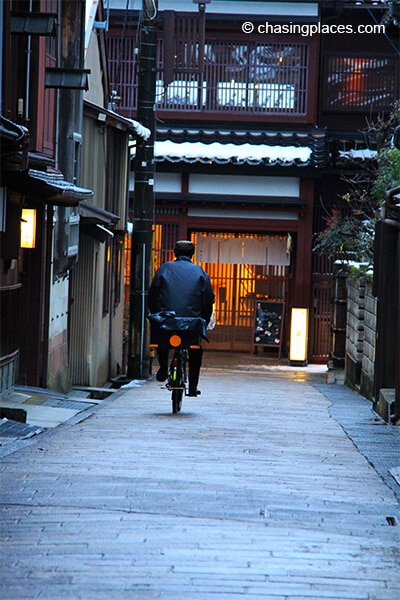 Higashi Chaya's atmosphere is incredible. Just walking around, you can tell that there is so much history trapped in those cedar buildings. Most of the residences were converted to shops, teahouses and restaurants, but Higashi Chayagai is much more laidback and less touristy than Gion. We saw many locals going about their day, and it is free of fake geishas trying to entice tourists for pictures. Thus, Higashi Chaya comes across more authentic. Evenings are splendid in Higashi Chaya, so it was perfect that it was our last stop for the day. The soft light coming from the lanterns of buildings give a very distinct vibe. It is as if I was taken back to the Edo Period and I was walking on the footsteps of geishas. Truly, a cool experience.
How to Reach Higashi Chayagai District
From Kanazawa JR Station, we recommend that you take the Left Loop of the Kanazawa Loop Bus as it stops at Hirokoji Bus Stop (number LL5). From Hirokoji, you just need to walk a few minutes to reach Nishi Chaya.  The travel time is about 15 minutes.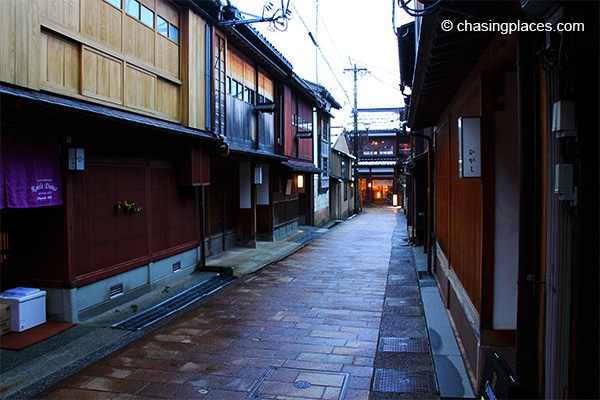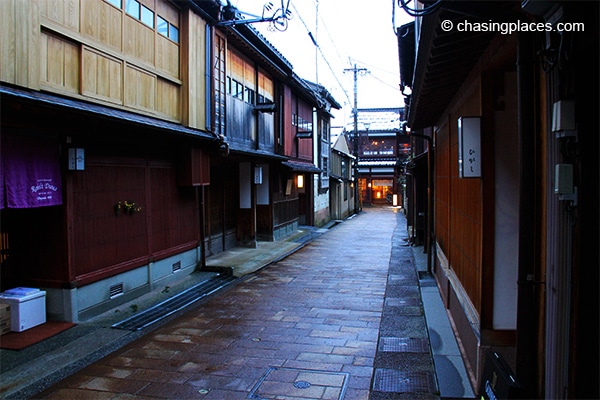 Where Did We Stay in Kanazawa?
Because we wanted to have convenient access to public transport, we decided to stay close to Kanazawa Station. This is the reason why we chose APA Hotel Kanazawa-Ekimae, which is only about 100 meters away from the train station. APA Hotel was comfortable and clean with its price falling in the mid-range level.  Like most mid-range hotels across Japan, their standard room is small. However, the hotel is quite large, having plenty of options when it comes to room sizes. We are recommending this hotel if you have similar preferences like us. At the time of writing APA scored 7.8/10 based on 347 verified guest reviews. Take note that we do not have a direct affiliation with this hotel.
How to find the cheapest rooms in Kanazawa?
To find the best hotels that meet your preferences and budget in Japan, we use these two main hotel providers: agoda.com and booking.com.  To save you some time, here are links to their respective properties in Kanazawa:
Top Rated Properties in Kanazawa Based on Verified Guest Reviews
Important: Mobile Users must swipe from left to right to see entire table.
Criteria:
Properties rated based on 'overall' review scores from each respective website's verified guests.
Minimum of 50 verified guest reviews required to be considered eligible for comparison.
All star ratings and verified guest review scores are tallied at the time of writing, and therefore, are subject to change.
If you would like to compare prices between providers, you can also check out the world's top price comparison site:
Below is a search box where you can compare all the room prices in Kanazawa.
Remember, if you have any additional questions about getting from Kyoto to Kanazawa just let us know!