There are many ways to reach the island of Koh Pha Ngan, known for its wild full moon parties and huge backpacking crowd. Thailand is doing a good job in making various modes of public transport easy and accessible to all types of travelers. Thus, it is not surprising that the country receives millions upon millions of tourists every year, more than other countries in the Asia Pacific region.  Koh Pha Ngan is one of the most popular destinations in the Southern Gulf region of the country. And if you happen to be in the early stages of planning your ultimate vacation on this island, let Chasing Places provide you with the most viable options.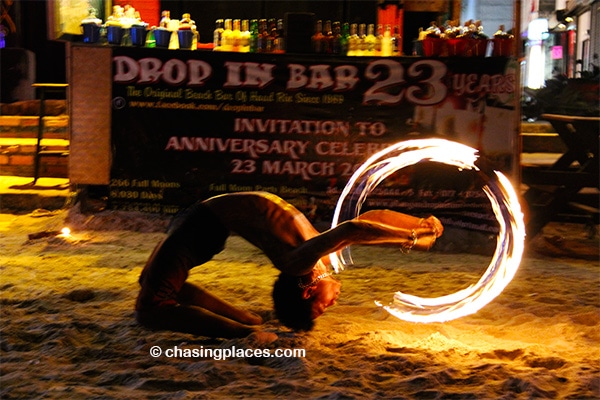 Perhaps the most convenient way to reach Koh Pha Ngan is by taking a flight to its neighboring island of Koh Samui. Domestic flights from Bangkok, Chiang Mai, Phuket, Kuala Lumpur and Singapore fly regularly to Koh Samui's international airport.
1. Once you have arrived at Koh Samui's airport, you can easily find a taxi to take you to the ferry docks of Mae Nam or Nathon. Here, you will find boats that goe to Koh Pha Nga's Thong Sala.
2. There are also boats that leave from Koh Samui's Big Buddha pier. These boats go directly to Haad Rin, Koh Pha Ngan.
3. Ferries depart frequently during the day to Koh Pha Ngan. The last ferry leaves at sundown.
Travel Checklist: Do you have everything you need?
However, flights to Koh Samui tend to be more expensive than flying to the mainland city of Surat Thani, so some travelers opt to touch down in Surat Thani, spend a night at a guesthouse there, and then find their way to the island via public transportation.
 Air Asia and Thai Airways fly frequently to Surat Thani from cities like Bangkok and Kuala Lumpur.
1. Upon landing, you can take a tuk tuk (local transport) out of the airport. The travel to Koh Pha Ngan can take several hours, so if you arrive at Surat Thani at night, you have the option to just stay the night at one of the hotels in towns.
2. From the town center, you will need to take a bus that goes to either Surat Thani Jetty or to Donsak Jetty. The buses to Donsak leave from the Talat Kaset bus stations 1 and 2.
3. Information about the jetties:
Surat Thani Jetty – is where the Songserm Ferry service to Koh Pha Ngan is based. Journey time for this ferry service is 3 ½ hours.
Donsak – is about 50 minutes away from Surat Thani town proper. This is where the Lomprayah high-speed catamaran is docked. If you take this catamaran to Koh Pha Ngan, it will only take 1 ½ hours to reach the island. There are also other slow ferry services that leave from Donsak, including the car ferry service called Raja
4. There is also a night ferry that leaves from Surat Thani to Thong Sala at 11 pm. This is a slow ferry but your ticket includes the use of a mattress to sleep while onboard. The night ferry arrives at the Thong Sala pier, Ko Pha Ngan at around 6:00 am.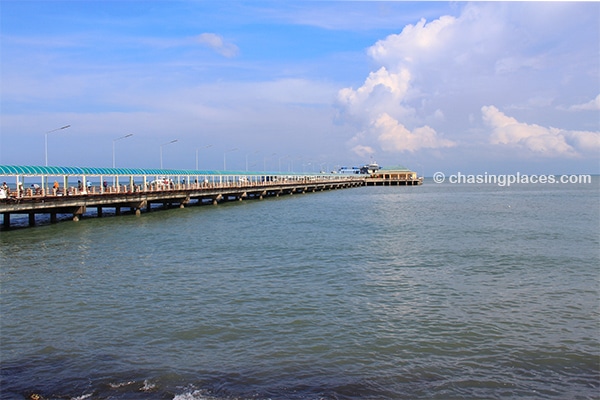 A Word of Reminder
You will find some tour company desks at both Koh Samui and Surat Thani airports that will offer a bus/boat combination package to Koh Pha Ngan. But take note, the price for such a package is significantly higher than the real cost.
Make sure that you have your most important belongings including cash, passport and electronic items packed in a small bag to carry with you at all times through the ferry ride. The larger bags of all ferry passengers are dumped on the outside deck separate from the sitting area. You wouldn't want to take the risk of putting anything valuable in your big backpack.  Keep an eye on your belongings at all times while on the ferry, as there have been several reported thefts on ferries before.  Falling asleep onboard, especially if you are traveling alone has its fair share of risks.
How to find the cheapest rooms in Surat Thani, Koh Samui and Koh Phagnan?
Based on our experience visiting this region of Thailand on multiple occasions we have used three primary sites for our room bookings: www.agoda.com, www.booking.com and www.hotelscombined.com.
Of these three Agoda would have to be considered the leading site due to their massive selection of accommodation choices. If you are planning your trip well in advance from North America or Europe for instance then booking.com provides excellent cancellation policies and customer service which comes in handy. We use www.hotelscombined.com all the time regardless of where we are going because we can quickly compare prices between top providers very quickly.  This can save some serious cash especially is you're visiting these isles during peak season (e.g., full moon party weeks). I hope that these recommendations can set you in the right direction. I have made links to their property lists to save you some time:
ALL ROOMS KOH PHAGNAN – www.agoda.com
ALL ROOMS KOH PHAGNAN – www.booking.com
COMPARE ALL ROOMS PRICES KOH PHAGNAN – www.hotelscombined.com