8. Bargaining at the Killaloe Farmers' Market
One of the most interesting weekend sites to check out while in the vicinity of Killaloe during the summer months is the Farmers' Market. Packed with fresh organic produce, delicious baked goods and a flea market there is no shortage of interesting home grown treats to sample. Check out our related article which provides additional details regarding this must-see attraction in Killaloe.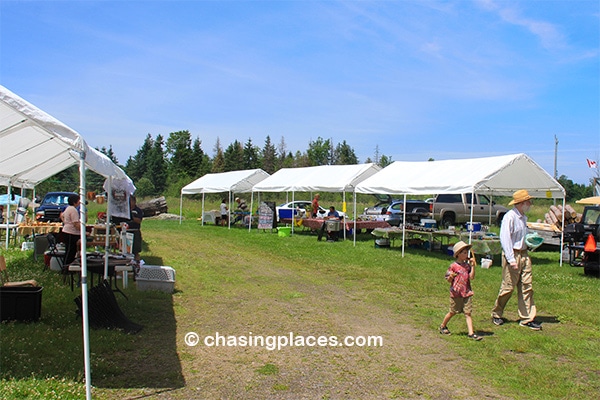 7. The Canada Day Fishing Derby
If you have small children then there is no better event to attend than the fishing derby in Killaloe. Typically, it is held every year from 8:00 am – 12:00 pm at Brennan's Creek the morning of the fireworks celebration.  If your son or daughter happens to catch something, be sure to get it weighed as prizes are given out!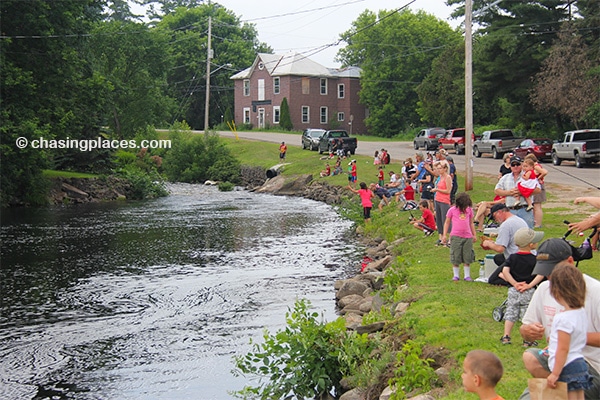 6. The Canada Day Fireworks Celebration
Year after year Killaloe continues to host an excellent Canada Day celebration on July 1st.  Without question, the July 1st long weekend is one of the busiest weekends in Killaloe during the entire year with heaps of domestic tourists in the area.  After the morning fishing derby, the action carries on in front of St. Andrew's school with live music followed by the exhilarating fireworks show. Don't forget to bring a comfortably lawn chair and a video camera!
5. Super Convenient Access to Spectacular Fresh Water Lakes
Canada is world renowned for its spectacular fresh water lakes and the region around Killaloe is no exception.  Literally a 5 minute drive from Killaloe is glistening Golden Lake.  Golden Lake is known for its wide range of fish species including bass, pike, white fish and pickerel.  Another popular lake for tourists is Round Lake which is roughly a 15 minute drive from Killaloe.  It's a beautiful body of water with some of the best swimming beaches in the area.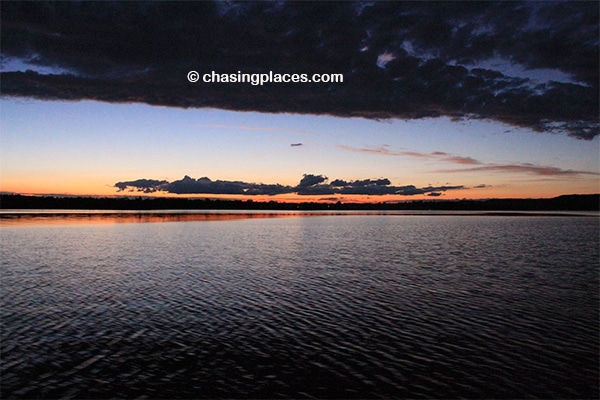 Travel Checklist: Do you have everything you need?
4. Skating and Playing Hockey at the Outdoor Rink
Killaloe is known for producing excellent hockey players. "Hockey genes" seem to naturally get passed down from one generation to the next in this area. It also doesn't hurt that Killaloe has an excellent outdoor rink that is open to the public during the winter months.  Public skating and "pick-up" hockey games are common after work and during weekends. Depending on the temperature, the Killaloe outdoor rink is typically open from December to early March when it's cold enough to sustain suitable ice conditions.
3. Chatting with the Hospitable Locals
While in Killaloe, consider dropping into one of the local small businesses or restaurants to find out what's happening in the village. The locals tend to be quite animated and extremely welcoming.  In other words, tourists are welcome!
2. Curling at the Killaloe Curling Club
If ice skating isn't your thing, then consider walking over from the Killaloe outdoor rink to the curling club. Foreign tourists from tropical climates should find this sport quite unique. With a bar in the facility, grab a beer or two as you watch the local players "sweep" and "slide."
1. Photographing the ever photogenic Brennan's Creek
Regardless of whether you visit Killaloe during the spring, summer, fall or winter, Brennan's Creek always seems to flow through the village in that same old charming way. One of the most photographed sites in Killaloe is of Brennan's Creek with the covered bridge in the background.  Try to capture the reflections on the water in the early morning or late afternoon for the best photos.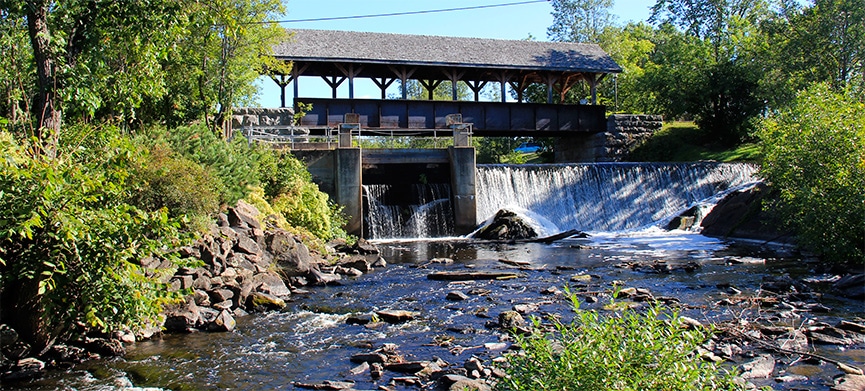 By all means, don't think this will be the last article from Chasing Places about Killaloe and the surrounding area. We have many more in the works!
How to find the cheapest rooms in Killaloe and the surrounding area?
Killaloe (with nearby Golden Lake and Round Lake) is an excellent spot to relax for a few days.  Based on our experience visiting this beautiful region of Ontario your best bet at finding competitive rooms prices are with two sites: www.hotelscombined.com and www.booking.com. Hotelscombined.com is particularly useful due to their price comparison tool.
Two particular properties that get superb reviews in this area are Greystone on Golden Lake and Sands on Golden Lake.   Both of which are ideally located on picturesque Golden Lake.
We hope that our suggestions have helped.  Please let us know if we have let your questions unanswered.