This is a step-by-step guide on how to get to Langkawi Island from Kuala Lumpur Malaysia. 
Langkawi is one of the most accessible beach/island destinations from Kuala Lumpur.  It lies on the western coast of Malaysia, on the shimmering Andaman Sea. This archipelago is about 30 kilometers away from the nearest point on Malaysia's mainland.
Most visitors tend to visit Kuala Lumpur, but little do they know that a tropical island paradise called Langkawi is just a 40-minute flight away. 
If you have a whole week to spend in Malaysia, we strongly recommend that you visit Langkawi Island as it's beautiful, laid back and so easy to get to. 
Learn more about Langkawi with our Complete Guide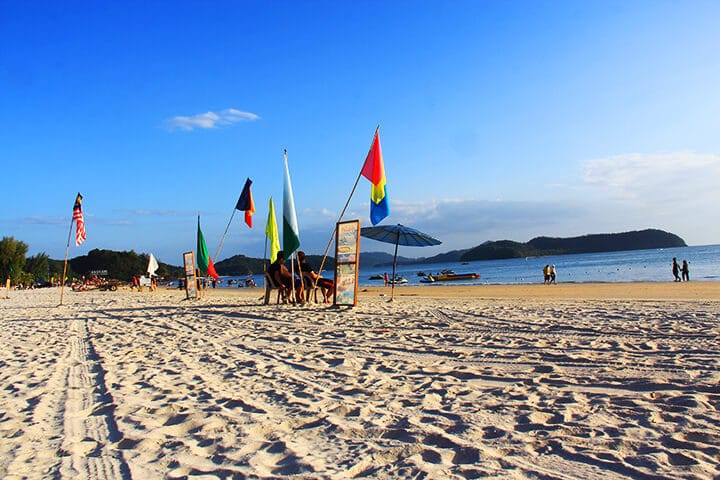 ---
So how will you get to Langkawi from Kuala Lumpur?
The most convenient way to get to Langkawi from Kuala Lumpur is to fly. As mentioned, from Kuala Lumpur International Airport,  you will only be in the air for 40 minutes and then you will land in tropical Langkawi. 
It's that easy! 
Here is a step-by-step guide on how to get from Kuala Lumpur to Langkawi?
Step 1: Book a flight from Kuala Lumpur to Langkawi. 
You can easily book a flight online to Langkawi. Malaysian Airlines (MAS) operates daily flights to Langkawi from Kuala Lumpur. If you're coming from an international destinations like Taipei, London or Osaka, you may connect with MAS 
Air Asia is a popular choice among international travelers going to Langkawi for a couple of reasons:
They operate daily flights, a couple of times in a day. They also have frequent flight deals to Langkawi so the flights prices are so cheap. 
You can also fly to Langkawi with Firefly and Malindo Air. Firefly is a subsidiary of Malaysian Airlines and operates from Subang Airport opposed to KLIA.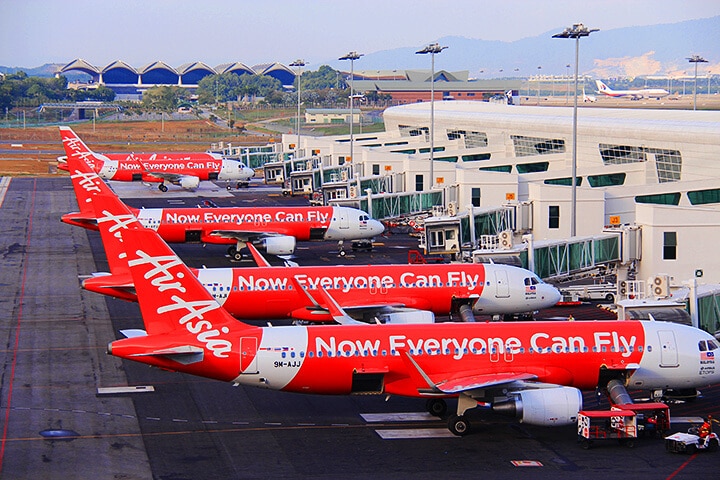 STEP 2: Make your way to KLIA 2 (Kuala Lumpur International Airport Terminal 2)
Air Asia domestic flights usually fly from Terminal 2. To get to KLIA 2, you can take a bus from KL Sentral. This is the cheapest option. You can also take either one of  the high speed trains from KL Sentral – The KLIA Express or KL Transit. KLIA Express is the fastest and most practical option.
If you're hotel is far away from KL Sentral, then you can also take a taxi or GRAB straight to KLIA.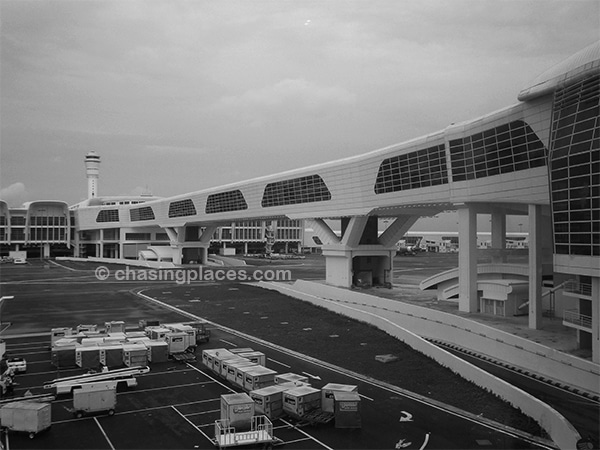 STEP 3: Land at Langkawi International Airport. The airport is in the Padang Matsirat Area.
STEP 4: Take a taxi or rent a car to reach your hotel or accommodation.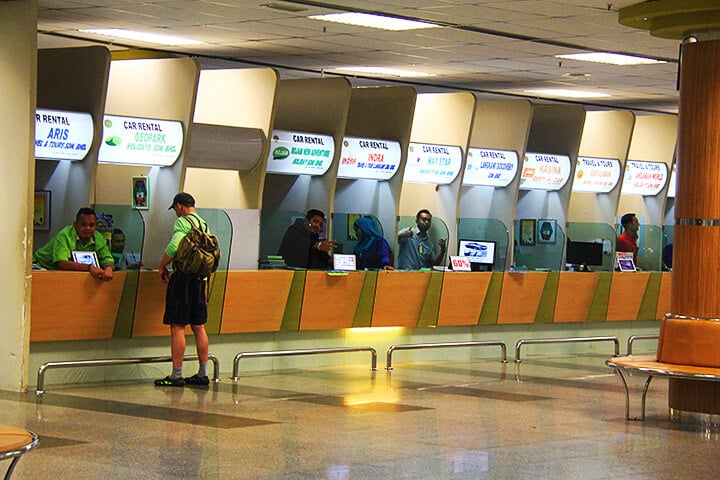 There are no buses and trains operating on Langkawi.  Taxis usually charge a fixed rate depending on your destination. You can also rent a car as it's easy to drive around Langkawi.
More information on how to get from Langkawi International Airport to Cenang and Tengah. 
---
Something To Think About: Traveler Tip:
Because AirAsia offers cheap flights to Langkawi, budget travelers should be able to afford flying to Langkawi. 
There are of course land transport options, and we will discuss them.  But if you're smart and proactive, you can easily find a cheap flight deal to Langkawi via Air Asia.  Flying there is the fastest and most convenient and it saves you a lot of headaches.  So this is our first choice to get to from Kuala Lumpur to Langkawi.
---
Getting to Langkawi Island from Kuala Lumpur by Train and Ferry
Aside from flying, you can also reach Langkawi from Kuala Lumpur by taking the train and ferry, although this option requires more time. This is a perfect route for those who have the time to spare, and would love to see a bit of the Malaysian towns and countryside before arriving in Langkawi.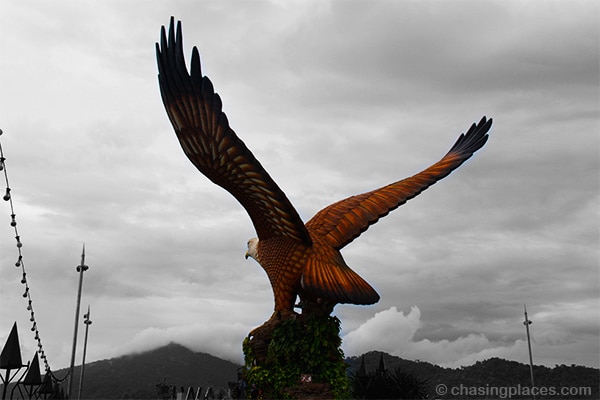 STEP 1: Make your way to KL Sentral, Kuala Lumpur.
STEP 2:Take the KTM ( the Malayan Railway Keretapi Tanah Melayu).
Take note that this is an overnight ride and you can sleep on the train.  But this KTM Route goes all the way to Thailand, so make sure you get off at the right station!
STEP 3: Get off Alor Setar Station in Kedah, or Arau Station in Perlis.
STEP 4: From Alor Setar/Arau Station , take a bus or taxi to the Ferry Jetty.
The taxi ride from either of the train station to the ferry jetty is approximately 25-30 RM. 
STEP 5: Take the ferry from Kuala Perlis Jetty or Kuala Kedah Jetty. 'Langkawi Ferry Line Ventures' is one of the ferry companies that operate these two routes. 
Ferry trips between Langkawi and either of the two jetties are done daily. 
Kuala Perlis and Langkawi trips start at 7:30am until 7pm.  
There is a 60-90 minute interval between ferry trips. 
Adult fare is  RM18 one way, while child fare is RM13 
          Langkawi to Kuala Perlis ferry ride lasts around 1 hour and 15 minutes.
          Kuala Perlis is slightly  close  to Langkawi than Kuala Kedah. 
Kuala Kedah and Langkawi: Daily starts at 7am until 7pm.
          There is a 60-90 minute interval between ferry trips. 
          Adult fare is  RM23 one way, while child fare is RM17 
          Langkawi  to Kuala Kedah ferry ride lasts around 1hour and  30minutes 
Take note that the ferry times and prices are subject to change. 
STEP 6:  Arrive at Kuah Terminal. You may take a taxi to reach your hotel or have transport already arranged prior to your arrival.  
The taxi cost will be about 25-30 RM. It may even be more if your destination is farther. What is important is you agree on the price with the driver before getting started. 
Langkawi is a beautiful island with so many things to do. Learn more about the things you can do in Langkawi.
If you find this guide useful, share it on Facebook to help other travelers. 
Keep on chasing places….