Before I completed this trip to the Maldives, I began planning well in advance (approximately 6 months).  Here are are the resources we used:
World Nomads Travel Insurance. 24/7 coverage for 150+ adventure activities. Get a Quote
Momondo, Booking Buddy. We always use these 2 great price comparison sites to find the world's cheapest flights.
Agoda, Booking.com, HotelsCombined. We have relied on these 3 accommodation sites for over 10 years.
See the Complete List of all the Cost-Cutting Travel Resources we use here….
Flying into Malé, the capital of the Maldives, is much different from landing at most airports around the world for a couple of reasons.  First of all, Malé International Airport could be one of the most picturesque airports due to the fact that it is located on an island (Hulhule), surrounded by crystal clear water. Secondly, you have to travel by boat to get to Malé after landing at the airport.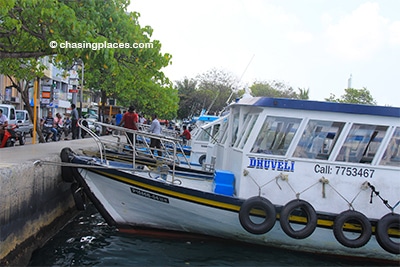 Getting to Malé after you land can either be one of the cheapest airport transfers in the world or one of the most expensive depending on which mode of transport you choose to take and how well researched you are.  During our trip to the Maldives we wanted to find out what is the cheapest way from the airport to Malé and that's exactly what we did!  Therefore, we want to share with you about how to get from the airport to Malé based on the step-by-step overview provided below.
 1. Once you land at Malé International Airport (also known as Ibrahim Nasir International Airport) proceed as usual  through immigration and customs.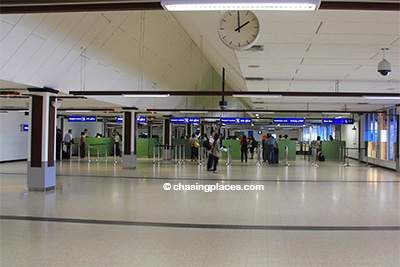 2. Once you are through the immigration check and customs at Malé International Airport, then you will immediately notice a staggering number of travel booths in the airport. These booths are managed by resorts, hotels and other tourist service providers, so don't get overwhelmed by the large number of them. Instead, walk past them to the quiet ferry counter located outside by the water.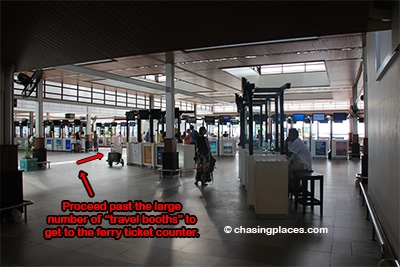 Travel Checklist: Do you have everything you need?
3. Purchase your ticket for the next ferry going to Malé from the airport ferry counter. The cost of the ferry ticket from the airport to Malé is 10 (MVR) Maldivian Rupees (less than $1 USD).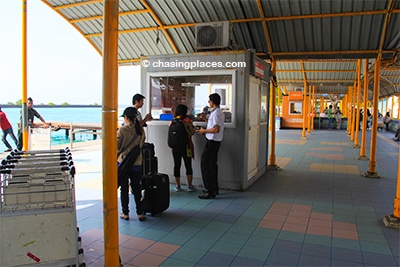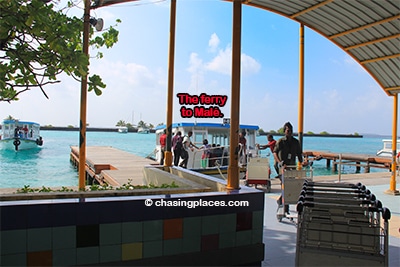 4. Load your luggage onto the ferry. The distance between Hulemale and Malé is very short, so the ferry ride shouldn't take you over 15 minutes. Once you arrive on Malé Island, either walk to your hotel or grab a taxi if you want to save the time and effort (remember the island is only roughly 2 kilometres long).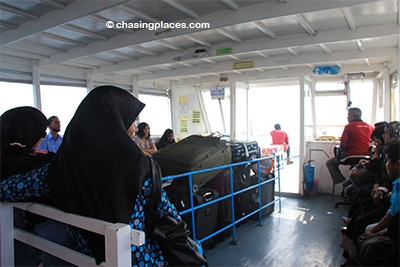 This is the cheapest way from the airport to Malé, but feel free to arrange a private boat from Malé International Airport if you are willing to spend more.
How to get the cheapest rooms in Malé 
and the rest of the Maldives?
Due to the cost of travelling in the Maldives, it's probably a smart idea to shop around before confirming your rooms. We found www.booking.com to be the best in terms of selection and price during our visit there. Another solid option is www.agoda.com. Depending on your budget, it might be a good idea to use a price comparison site such as www.hotelscombined.com for booking all your rooms to ensure you're paying a reasonable amount on these islands.
If you are heading to Male or the Maldives in general please feel free to comment below if you have any questions about our experience there.  In the meantime, safe travels!
Article Last Updated on Feb 12, 2018