The Gili Islands have been a popular Indonesian beach destination for quite some time now. The Gili Islands are mainly made up of three islands, Gili Trawangan, Gili Meno and Gili Air.  So what is so appealing about the Gilis?  These islands feature white sand beaches, without the nuisance of motorized vehicles!
When people say they stayed on one of Gili Islands, they are most likely referring to Gili Trawangan (Gili T), which is the biggest and most populated of the three Gilis.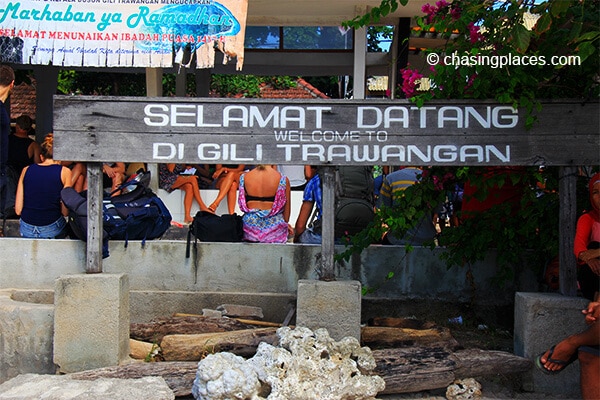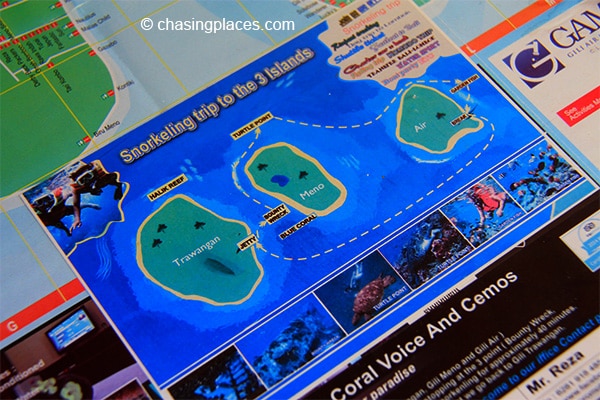 Gili Trawangan Beach
Yes, Trawangan does deliver when it comes to white sandy beaches.  The truth is, the Gili Islands have nicer beaches than what you will typically find in Bali.
The main beach stretches along the east coast. And the most crowded part of this beach is the one adjacent to the main street lined up with bars and restaurants.  Head more north or south if you want to enjoy the nicer and quieter parts of the beach. The west side of the island is the quietest, although the beach there is ideal for sunsets.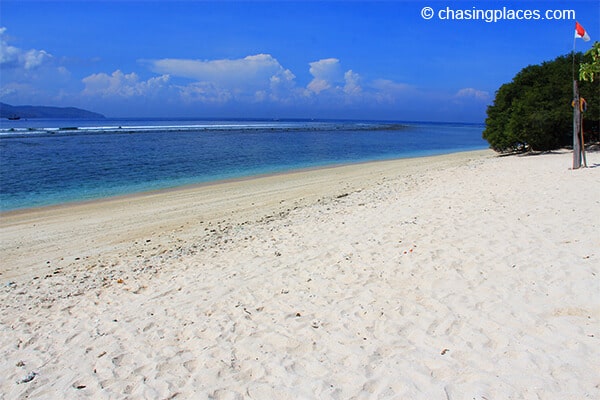 Why Stay in Gili Trawangan?
Although there are hotels and accommodation options on Meno and Air, Gili Trawangan, by far, has the most hotels and resorts, not to mention restaurants, shops, bars and activities. It's no wonder why most tourists prefer to stay on Trawangan.
When we were planning our trip to the Gili Islands, we initially wanted to stay on at least two of them, but we found out that the boat transfers are not as easy to access or as cheap as we originally had hoped. The public ferry, which is the cheapest form of transport, travels to all islands and runs only at specific times during the day.  There is the option of taking a private fast boat, but the cost for this transfer was beyond our budget.
We soon found out that the best Gili Island to stay on is Gili Trawangan, because we had more choices to choose from in terms of accommodation. Gili Trawangan also has a number of restaurants, bars and activities. This guaranteed that we wouldn't get bored even if we decided to stay for a couple of days there.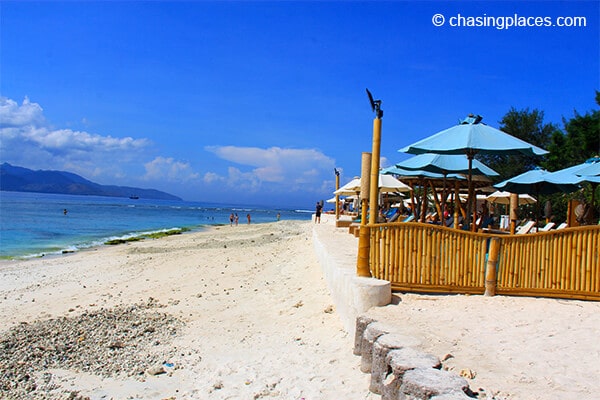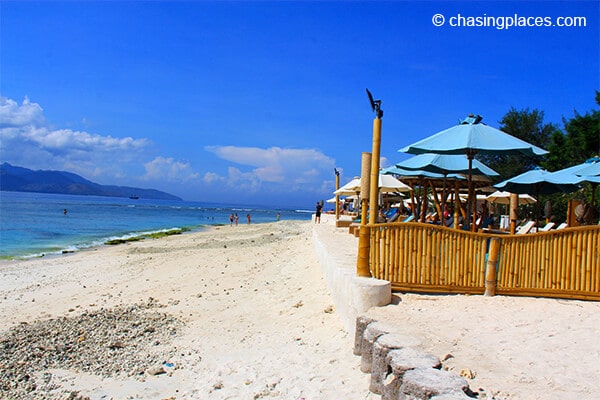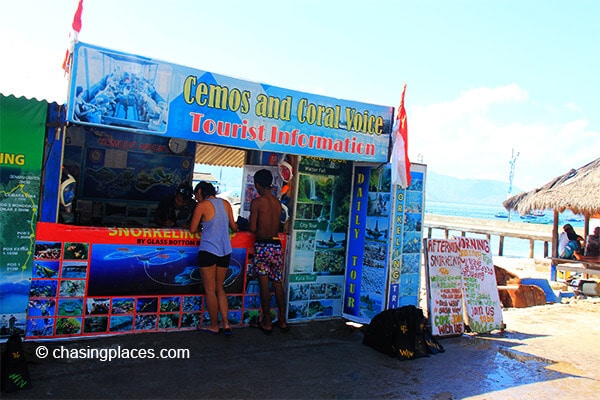 How to Get from Gili Trawangan to the Other Gili Islands?
In our case, we were still able to visit Gili Air, because it was part of our half-day snorkeling tour, which we booked while staying on Gili Trawangan. If you wish to stay a day or two on either Air or Meno, here is the most practical way to do it: Boat Gili .
Travel Checklist: Do you have everything you need?
What to Do on Gili Trawangan?
Like most popular Southeast Asian Islands, Gili Trawangan tries its best to give leisure options to visitors, thus, maximizing profit for locals.
Boat Tours and Snorkeling
Boat tours on glass-bottom boats is the number one activity on Gili T, because anybody can do it.  The tours are usually half-day (approximately 5 hours). They include snorkeling at two or three spots and a lunch break on Gili Air.  What is the best thing about snorkeling around the Gilis? It has got to be seeing the hawksbill and green turtles!!!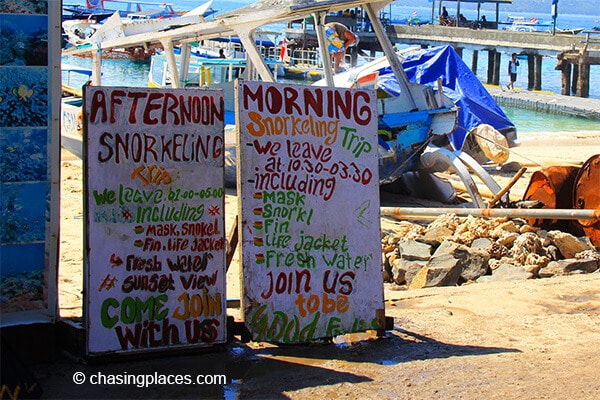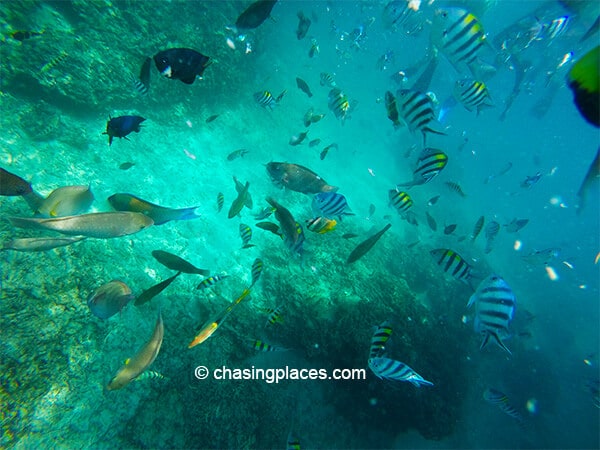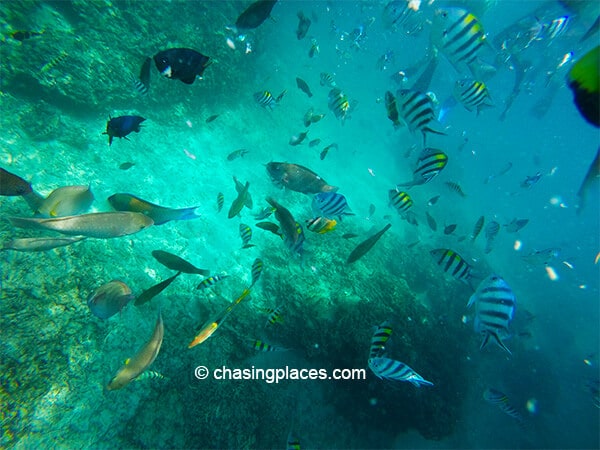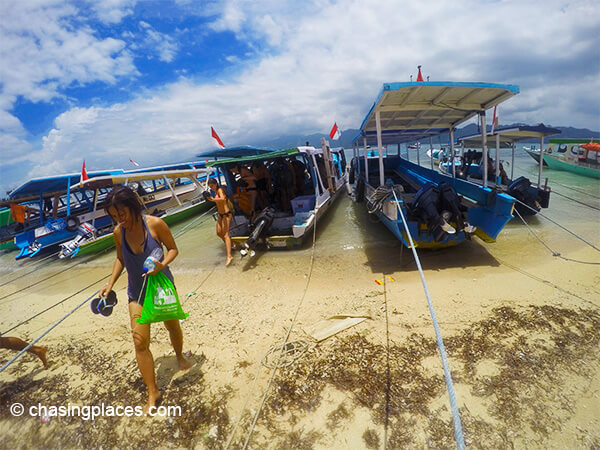 Diving
Diving around Gili is also very popular. In fact, there are a number of diving schools and resorts established on Trawangan. I would assume that divers tend to stay at this type of resort as part of the package.  Every time I saw divers on Gili T, they seemed to have developed a strong bond. There is definitely a healthy diving community on Trawangan that fosters friendship and camaraderie.  I am not a diver, but I have heard that Trawangan has one of the few freediving schools in Asia – Freedive Gili.
Popular diving spots around Gili include Shark Point and the Japanese Wreck.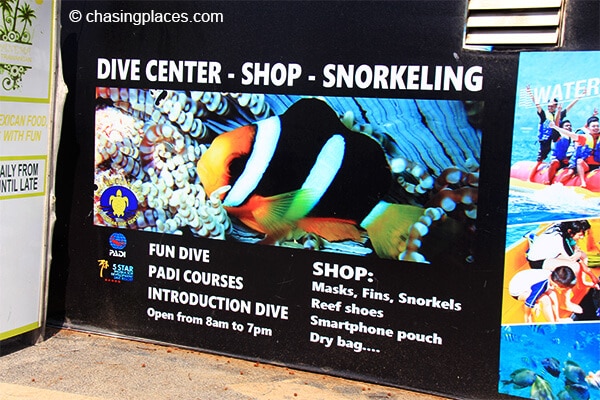 Cycling (or walking) around Trawangan
Motorized vehicles are not allowed on Gili T, but you can always explore the island on foot like we did! If that sounds too exhausting, you can always rent a bike.  But if do wish to ride bicycles, make sure you are skilled enough.  The main road on Gili T is not really wide, and bicycle accidents are definitely common.
Take note:  You cannot completely go around Gili T on a bicycle because parts of it do not have roads or a paved bike lane. You will need to get off your bike and walk on the sand from time to time. Most people do it so don't worry.
Partying on Gili Trawangan
Gili Trawangan is known for its electrifying nightlife.  There is still a steady crowd of 20 or 30 somethings coming here to enjoy the party scene. The beer is always flowing on Gili T, and the partying goes on up until 5 am. Bintang (the Indonesian brewed beer) is the most accessible beverage on Gili T. Some bars have foreign beer varieties like San Miguel, but it is limited.
The thing that I liked about Gili Trawangan's nightlife was the live music. A couple of bars on Gili T stage live bands almost every night. This is something that Thai islands like Koh Phangan or Koh Phi Phi do not have.  There is some variety on Gili T in terms of entertainment. It has beachfront, sand-floor dance clubs, sport-oriented pubs and bars with live bands, playing chart-topping songs.  This kind of variety is rare and definitely what sets the Gili Islands apart from some Thai destinations.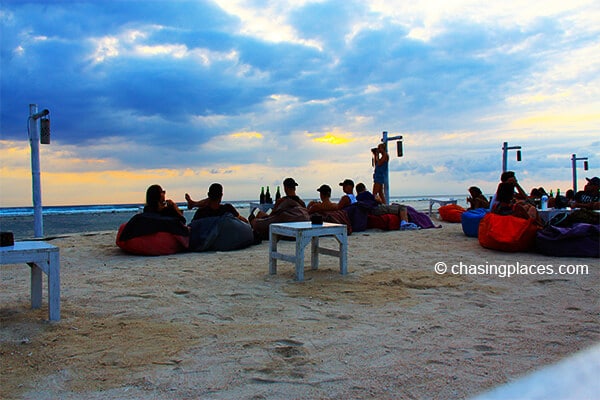 When to Visit Gili Trawangan
We visited Trawangan in October, and this month is already considered to be the low season for Gili travels. Nevertheless, the weather was perfect. And we noticed that there were more people during the weekend than during the week. This only proves that Gili T is a favourite short holiday destination for people in Jakarta and neighboring countries like Singapore and Malaysia. The Gili Islands are indeed a year-round destination
Important Things to Remember about Gili Trawangan
Motorized vehicles are not allowed on Gili T, so horse carriages are used to transport luggage and other bulky stuff. Tourists are encouraged to hire horse carriage owners who take care of their horses and not abuse them.  If you wish to be more practical, travel light! Remember that you also need to take ferries. Oversized luggage will only cause some inconvenience on your part.
Gili T is still populated with Muslim locals.  Therefore, it is unacceptable to walk around the local villages in a bikini or underwear. You may see tourists not following this unwritten rule, but please be respectful.
All-night parties are not conducted during the month of Ramadan as locals fast all throughout the day.
Indonesia has very strict anti-drug laws. Be smart!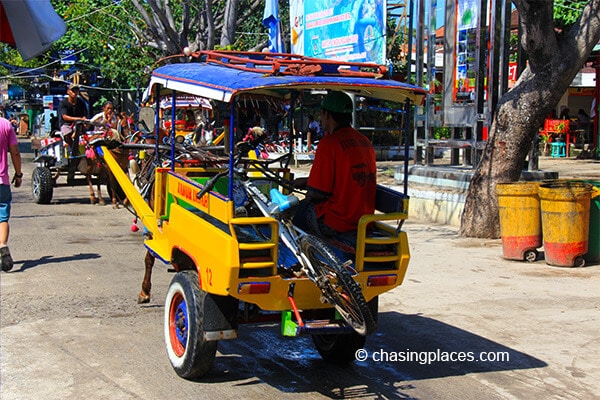 Where to Stay in Gili Trawangan?
As I mentioned, there are a number of hotels and resorts on Gili Trawangan. We stayed at a lovely boutique resort, which was about a 5- minute walk from the beach. The good thing about this hotel is it's also close enough to the island's main road – the liveliest spot on Trawangan. We chose this property because of easy access to the main road, over a quieter more serene spot.
Some of the best hotels on Gili Trawangan are on the western side of the island. This section is the quietest and the most serene part of the island. This section has fewer cheap eateries, and has bigger fancier restaurants.  Families visiting Trawangan tend to stay in this area, and I cannot blame them. The resorts take better care of their beach fronts. They have amazing well-maintained pools, lounge chairs, beach bars and recreational space for their guests to enjoy.  If you want a relaxing stay on Gili Trawangan, I definitely recommend that you stay on this side of the island. You can always go to the eastern section if you want to experience that world famous Gili T nightlife.
To save you time, here are the:
Top Rated Properties on Gili Trawangan
Based on Verified Guest Reviews
Important: Mobile Users must swipe from left to right to see entire table.
Criteria:
Properties rated based on 'overall' review scores from each respective website's verified guests.
Minimum of 50 verified guest reviews required to be considered eligible for comparison.
All star ratings and verified guest review scores are tallied at the time of writing, and therefore, are subject to change.
Map of Gili Trawangan with Accommodation Options
COMPARE ALL ROOM PRICES ON GILI T  using www.hotelscombined.com (the world's best comparison site!)
Alternatively, you can quickly compare room prices on Gili T using the search box below: