Planning Websites we used for this Trip to Boracay
World Nomads Travel Insurance. 24/7 coverage for 150+ adventure activities. Get a Quote
Momondo, Booking Buddy. We always use these 2 great price comparison sites to find the world's cheapest flights.
Agoda, Booking.com, HotelsCombined. We have relied on these 3 accommodation sites for over 10 years.
See the Complete List of all the Cost-Cutting Travel Resources we use.
Top Things to do on Boracay Island
Boracay Island is one of the top island destinations in the Philippines. It is arguably the most popular, but El Nido is catching up! Boracay's popularity is mainly due to its pristine white sand beaches, but it also has plenty of activities to keep any visitor busy for days.
Here are just some of the top Boracay activities you may want to try out:
Boat Tours
Boracay Island is surrounded by smaller islands like Crocodile Island and Crystal Cove that have some interesting sites of their own. Crystal Cove, for example, has its secret cave, where you can swim in during high tide.
Snorkeling is one of the most popular activities on Boracay, but I am going to include it here as all boat tours include some snorkeling time!
Boracay waters may not have those incredible reef sharks, but it has plenty of colorful fish species to keep you fascinated while breathing through your tube (snorkeling reference). Just take note that if you have snorkeled through beautiful coral reefs before; you will find that Boracay's are not considered to be world class.
Boat tours are a staple activity on Boracay, so it's not hard to book them when you get to the island. No need to book in advance or book through your hotel. You can just go out on White Beach, and you will find plenty of signs offering half-day or full-days tours. Prices are usually consistent during high season. But if you come during the off-peak season (Mid-July to October), ask around and bargain, and you should be able to get a good deal.
2. Windsurfing/Kitesurfing
These two are the most popular activities on Boracay Island, especially for those who are seeking a bit of action and thrills during their trip.  If you are staying on White Beach, don't be surprised if you don't see any of them. You need to head over to Bulabog Beach, as it receives consistent strong winds which are perfect for windsurfing and kitesurfing. If you don't bring your gear, no problem. There are plenty of businesses that rent out the needed equipment. And if you haven't tried windsurfing or kitesurfing before, you can easily sign up for lessons, provided you are willing to spend the cash.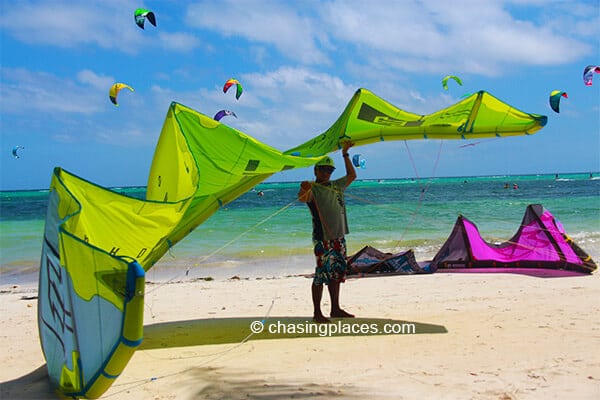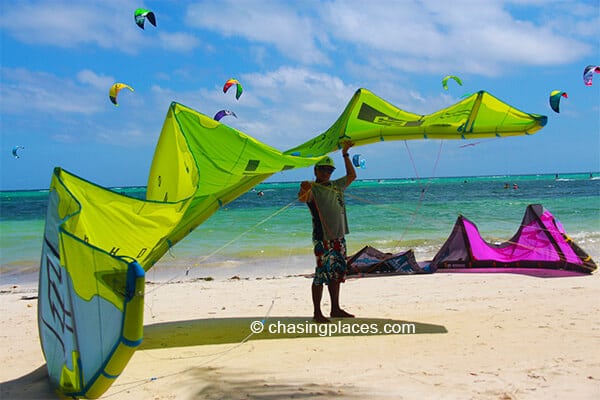 3. Diving
Although there are other prominent diving spots in the Philippines, there are still some good diving opportunities around Boracay Island. There are a couple of Diving Resorts operating on the island. I am not much of a diver; but it is easy to sign up for lessons once you get there.
4. Watching the Sunset
Some of you may think that this particular Boracay activity is not worthy of making this list because it's as simple as sitting on the beach, and watching the natural phenomenon that happens every day. I don't know why, but there's something magical about the 'Boracay' sunset. It is truly beautiful I think. The contrast of the white sand and the powerful orange-ness of the sun works. My recommendation? Do it. Get yourself a cozy spot on the beach and spread out a blanket (or any sarong) and get ready for the show.  Another option is to go to a beach bar, order a drink (San Miguel Beer perhaps?) and secure a chair.  We did just that, and it was awesome.
If you want a name – Jony's Bar is one of the nicest ones on White Beach to watch the sunset (and no, they did not pay me to say that! You can check out the property here if you want to see if it's location suits your needs.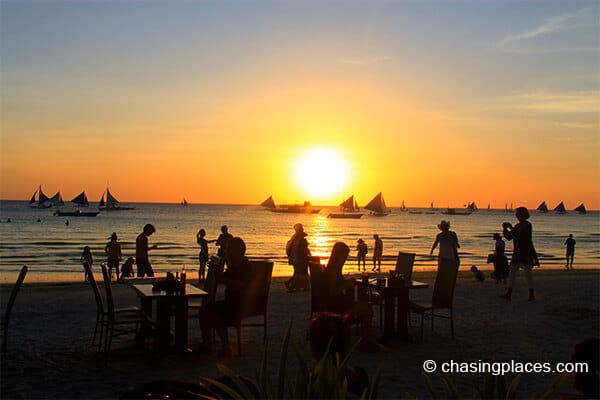 Travel Checklist: Do you have everything you need?
5. Sailing
Sailing excursions are very popular during sunset on Boracay.  And why not? It is so romantic! This activity is so popular that during the setting of the sun, boats with blue sails are visible everywhere. I don't know how I feel about them though. Some people think they are blocking the sunset view and some think they add character. You can be the judge.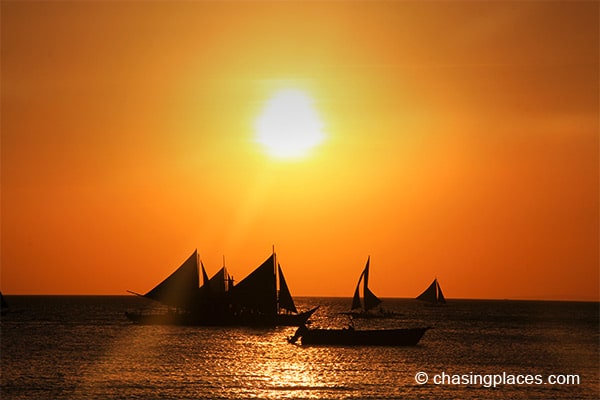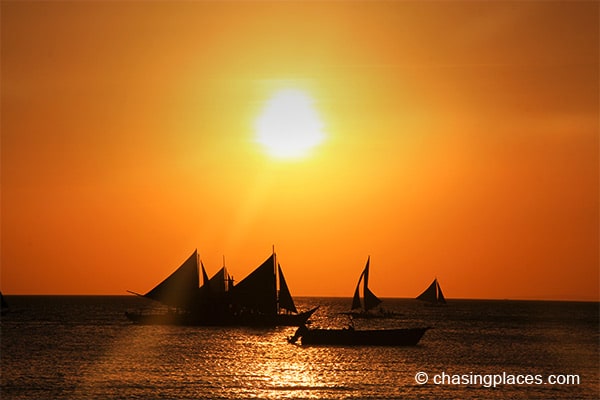 6. Beach Hopping
No matter how spectacular White Beach is (and believe it is), it is not the only beach on Boracay Island. Do not spend all of your time on White Beach, as there are a couple of sandy spots worth your attention.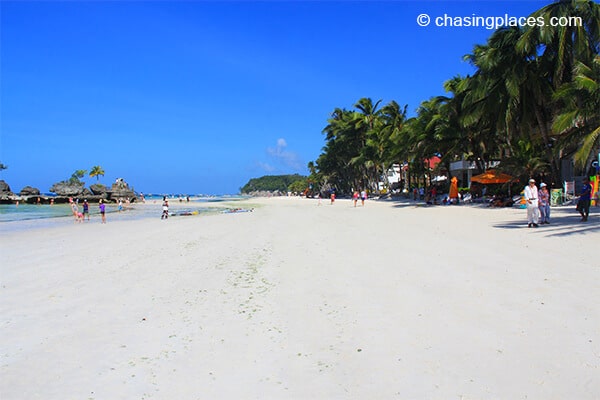 Mesmerizing Puka Beach is the second most popular beach. It is the best beach when it comes to sunbathing and reading a book, as it typically has less people.  (Read More about Puka Beach)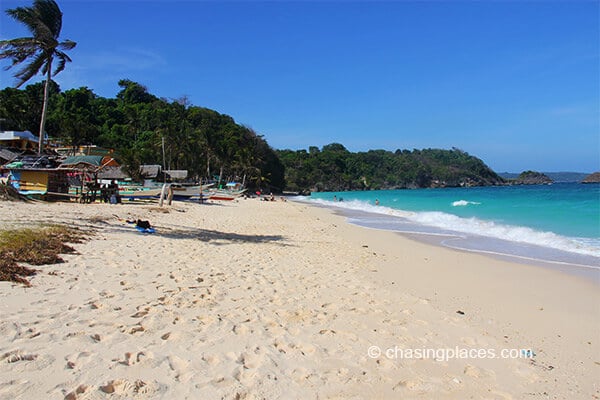 Remember Bulabog Beach, which I mentioned earlier? I know the name is hard to pronounce, but it's actually a pretty nice beach.  Even if you are not into windsurfing or kitesurfing, just drop by to check it out. It is walking distance from White Beach Station 2. You can also ask a tricycle driver to take you to Bulabog.
Bulabog is the wilder yet less popular beach.  The current tends to be stronger here, making it not exactly ideal for swimming. When we were there, we spent almost an hour just looking at the kite surfers and windsurfers do their thing. Bulabog is an awesome spot for relaxing and watching the action (Read More About Bulabog Beach).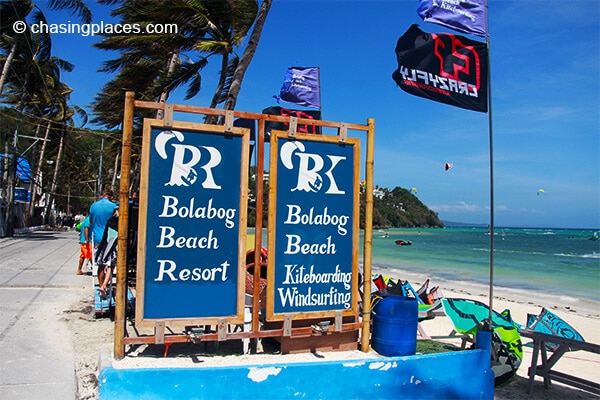 7. Nightlife
Boracay has gained the reputation of being a party island. It is true in many ways, especially if we compare it to other beach destinations in the Philippines. Some beachfront bars offer fire shows and live music. The full-blown clubs for those who would like to party are found along the main road adjacent to the beach. Just walk along the area between Boat Station 1 and Boat Station 2, and you won't miss them. Having gone to other Southeast Asian Beaches, Boracay's nightlife is not as wide-scaled as those in Bali and Phuket.
Boracay Island as a holiday destination is very versatile. Yes, it can be a party island if you want it to be, but it still does very much cater to people who want a more tranquil, low key vacation. That's why it's world famous.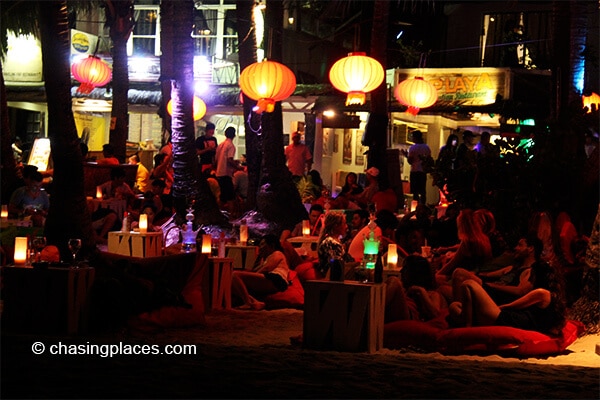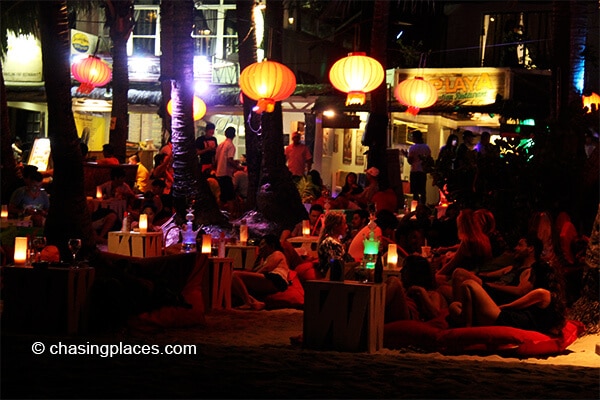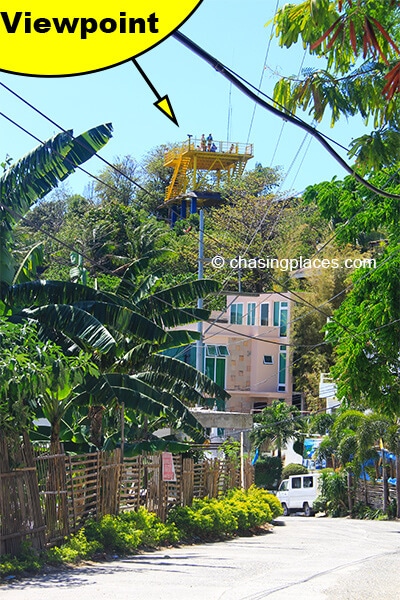 There are the 7 major activities on Boracay Island, but they are by no means the only ones.  Some other things to do on Boracay include riding ATVs around the interior part of the island, going up the viewpoint (not free), zip-lining and jet-skiing on White Beach.
You won't get bored on Boracay, unless you didn't do your homework about the activities available. But if you are just content hanging out on the beach, hey, that's not a bad idea either. It's Boracay after all.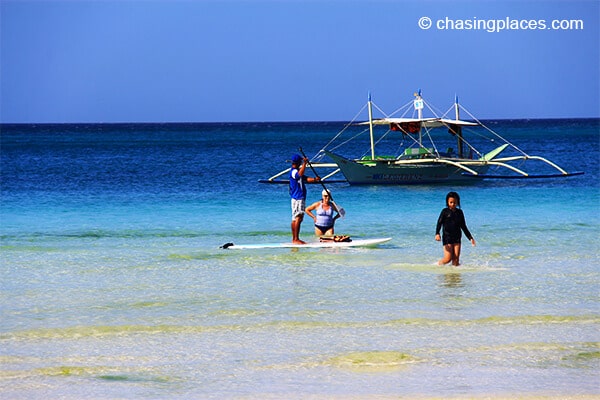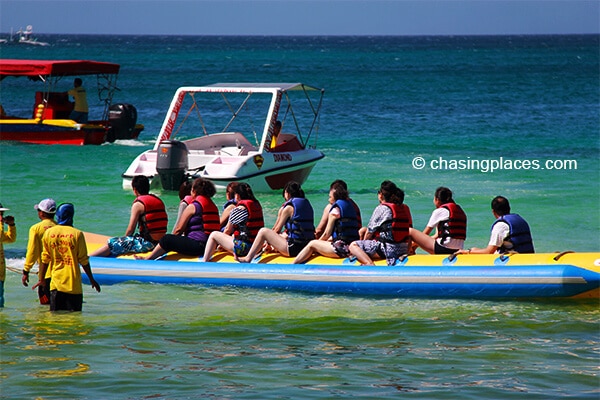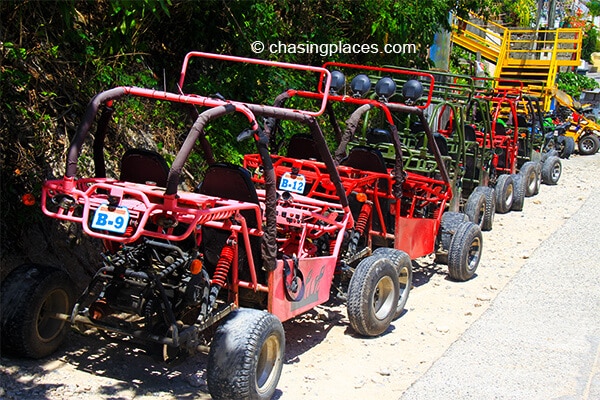 Where Did We Stay in Boracay?
We have been to Boracay a couple of times, but during our last trip, we stayed at Hannah Hotel. It is a family owned- property in a local quiet village just across the beach. Yes Hannah's is not beachfront but it's literally minutes away from White Beach.  Hannah Hotel is a boutique hotel that feels more like a cozy bed and breakfast. On the outside, it looks like a huge traditional Filipino home.  The receptionists we had during our stay were a brother and sister tandem. They were both nice and friendly…no complains.  We found Hannah Hotel's room rate to be reasonable and within our budget. Read Our Complete Review of Hannah Hotel.
How to Find the Best Hotel Deals on Boracay Island?
Boracay is not the kind of place where you can just show up, and find a room that is within your budget and that suits your needs.  A good way to get the best hotel deals is to check hotel providers like Agoda.com and Booking.com. These two have an extensive list of rooms on Boracay Island. They have maps, guest reviews and important room information that can help you find the best rooms for the best price. To save you time, here are:
Top Rated Properties on Boracay Based on Verified Guest Reviews
Important: Mobile Users must swipe from left to right to see entire table.
Criteria:
Properties rated based on 'overall' review scores from each respective website's verified guests.
Minimum of 50 verified guest reviews required to be considered eligible for comparison.
All star ratings and verified guest review scores are tallied at the time of writing, and therefore, are subject to change.
Boracay Accommodation Map
Top Rated Properties
You can also compare hotel rates using  www.hotelscombined.com
Questions about Boracay? Send us an email or contact us through Facebook.  Have a safe and fun trip!