Even though we had no plans to climb Mount Rinjani, we still wanted to see the neighboring towns surrounding the foothills of this beautiful mountain.  Based on what we had read and researched, the region around Rinjani was said to be a good enough reason to visit. We also heard about wonderful waterfalls in Senaru during our stay on the Gili Trawangan at Gili Amor Boutique Resort.
From the Gili Islands, we went back to the Bangsal Pier, and then made our way to Senaru, the gateway town to Mount Rinjani. (Read about our journey here.)
Finding accommodation in Senaru is much trickier than the Gili Islands. The choices are limited and many of the properties tend to get poor review ratings from guests. Therefore, during our visit to Senaru we either had to go for a boutique resort or a 'bare bones' guesthouse or homestay.  So my travel partner made the decision that I was very glad he made. We decided to stay in the most delightful resort in Senaru – Rinjani Lodge.
*****Before you read further, please note that Rinjani Lodge has not sponsored or paid us anything to write this review.  We are independent travelers. This is our honest experience staying at this property.
Why Did We Pick Rinjani Lodge?
Budget and Value
Rinjani Lodge, considering its location and amenities is definitely high value for its price. Perhaps it can't be compared to to booking a night at big chain hotels like Sheraton and Hilton, but the room design and the views blew our mind for the price.
Verified Guest Reviews
Rinjani Lodge has kept high and consistent guest review ratings on reputable hotel providers like booking.com and agoda.com. As of the time of writing this boutique hotel garnered a verified review score of 9.1/10 on both of these reputable sites.
Guest Review Rating is a very important thing that we consider when we book our rooms. What you have to look out for is not only how high the rating is, but also how many former guests actually voted. If a hotel/resort gets a high rating despite having hundreds of reviews, this shows that the property maintains it standard of service and value. Rinjani Lodge definitely fulfills this criterion because 9.1/10 is a very hard score to maintain in the accommodation business.
Location
Rinjani Lodge is perfectly located. It sits on the edge of a very scenic valley, hugging the foothills of Mount Rinjani, hence the name. This hotel is also literally less than a 10-minute walk to another spectacular place of interest in the area, the Senaru waterfalls, locally called Air Terjun Sedang Gila.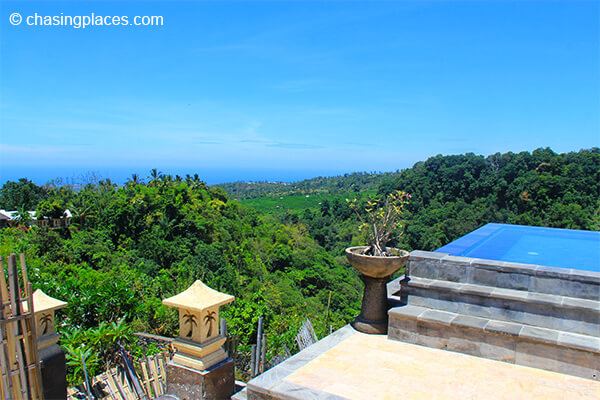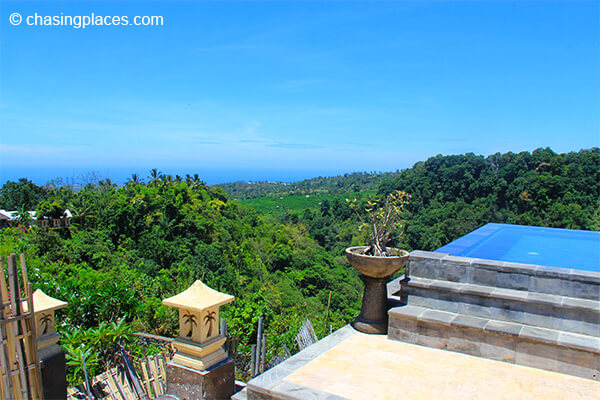 Why We Liked Rinjani Lodge?
The Spectacular View
The view from Rinjani Lodge is so breathtaking, you won't only have uninterrupted views of mighty Mount Rinjani, but you also will be able to see the surrounding hills, mountain ranges, jungle and rice paddies.  It literally is like staying in an amphitheater. We never got tired of looking at the panorama and I promise you, that you won't either!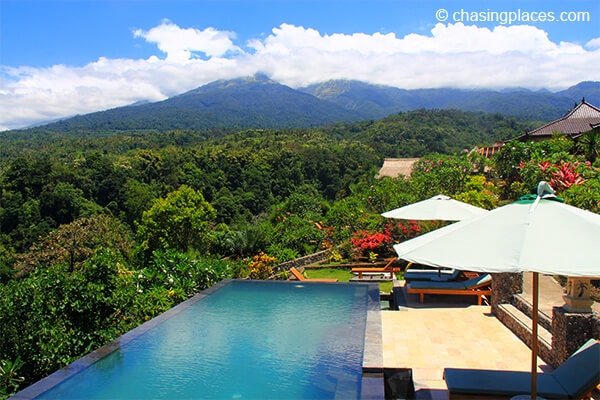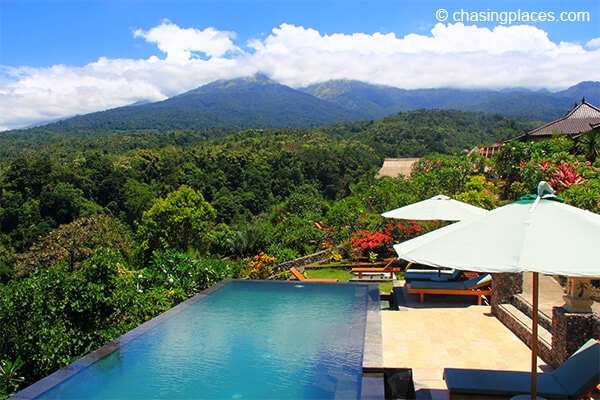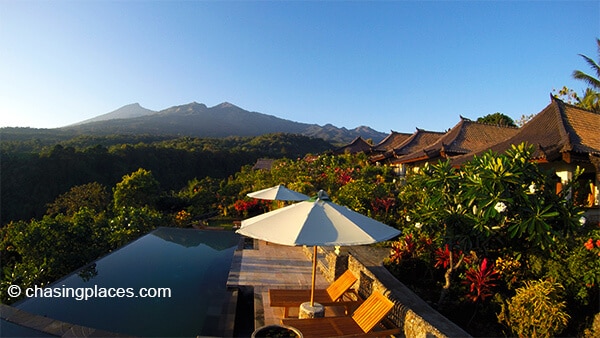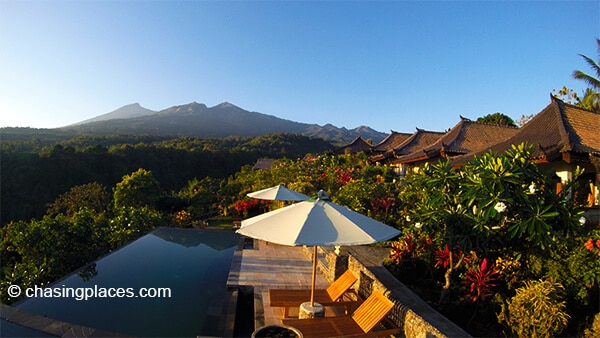 The Infinity Pools!
Yes, that's right! Rinjani Lodge not only has one infinity pool, but two! These infinity pools are just perfect as they match and compliment the panorama of the surrounding mountains and greenery. While you're dipping in the pool, you will feel like you're part of the stunning scenery. Their pools are among the best situated pools I have ever seen.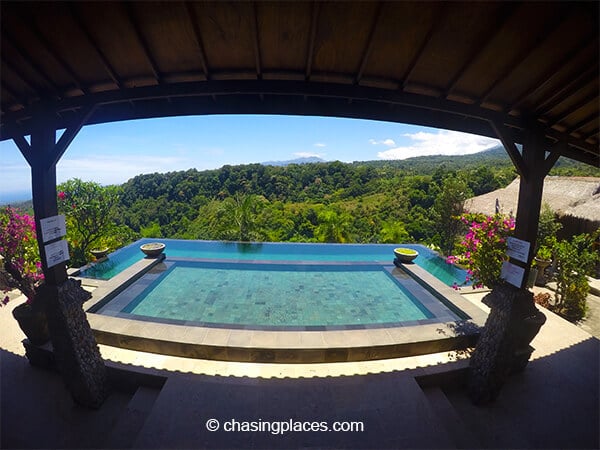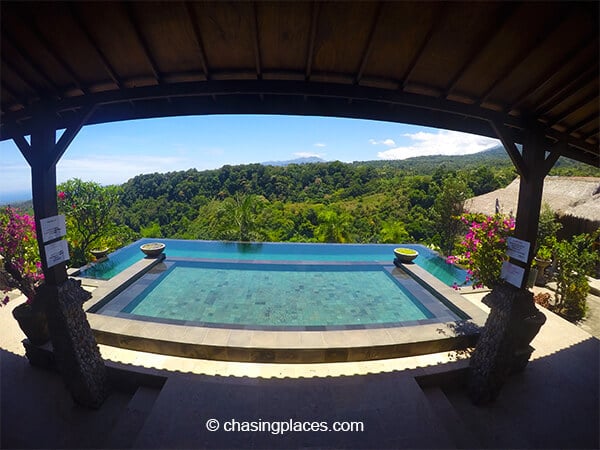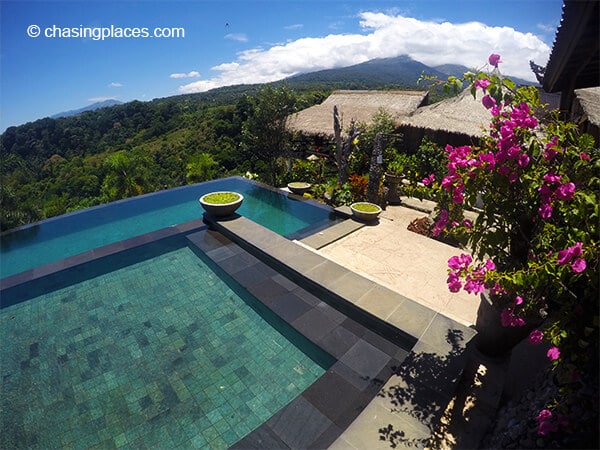 Interesting Story
So why two pools? We accidentally had the chance to speak with the owner (he is not there all the time so I was lucky). He told me that at first, there was only one infinity pool, which faces the resort's restaurant. But guests were complaining that diners (non-guests) were also allowed to use the pool, which is not that big. So to satisfy guests, the owner put up another infinity pool in front of the villas. Actually, the second pool has two sections (it could be argued there's three). The first one is rectangular in shape just like the original one. And then there's a smaller shallower square pool that extends from the rectangular one only that it's perched higher up.
Travel Checklist: Do you have everything you need?
Great Service
Another great thing about our stay at Rinjani Lodge was that their customer service was excellent. The staff are nice and friendly, and they can speak decent English.  They were nice enough to arrange a vehicle to Sembalun for us, even though this service is not really something they advertise.
The cleaners were up really early in the morning making sure the pools and surroundings were ready for their guests.
The owner came up to me while I was having my tea to ask me how my stay was going. I regret not getting his name but I complimented him for the way he was managing the resort. He was nice, friendly and humble. He told me there's still much work to do to make sure the guests love their stay. A very hardworking man indeed.
The Restaurant
The entrance of the resort leads people straight to a spacious restaurant. This restaurant is open to the public, which gives diners the chance not only to enjoy the meal, but also the great view. During our visit, there were some tourists who came to the restaurant to dine, and we could tell that they were really impressed with the setup. They even came up to us and congratulated us for booking a room at such a nice resort.
The menu of the restaurant features mainly Indonesian dishes. The dish portions were slightly smaller than typically North American standards. The more expensive meals cost around $9 US dollars and up, but there are other dishes that are around $5-7 USD.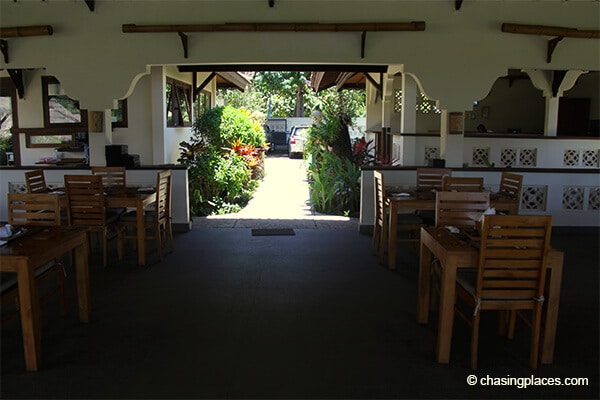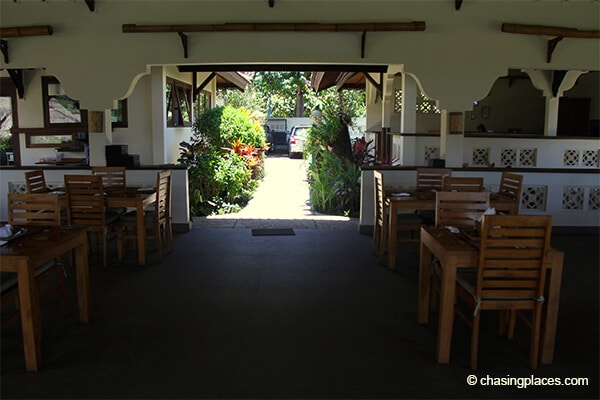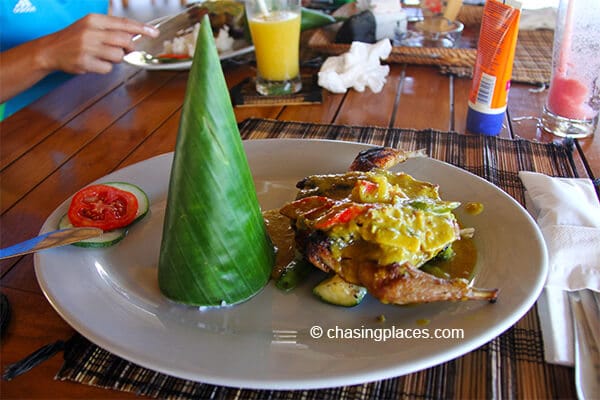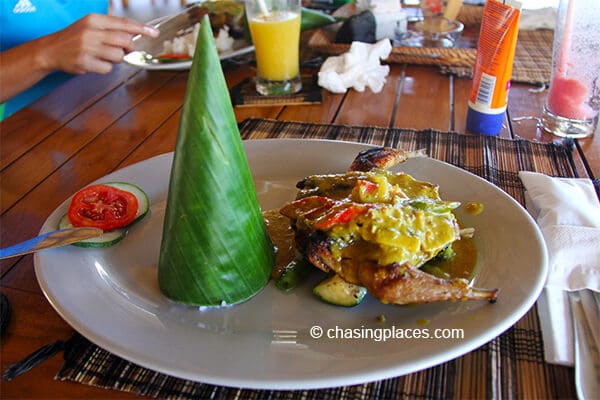 The Lovely Garden
If you swing to the left of the restaurant, there's a pathway that leads to the villas overlooking the valley. This walk is made even more amazing not only because of the mountainous vista but because of the well-maintained gardens along the pathway.   I am not an expert when it comes to flowers, but they all looked so vibrant and colorful. This greenery is truly a beautiful addition to the resort.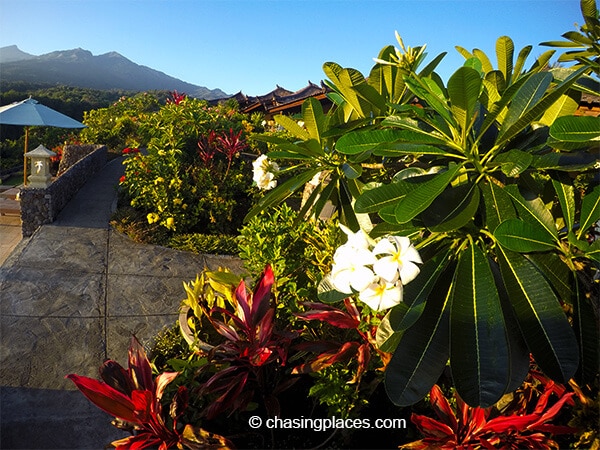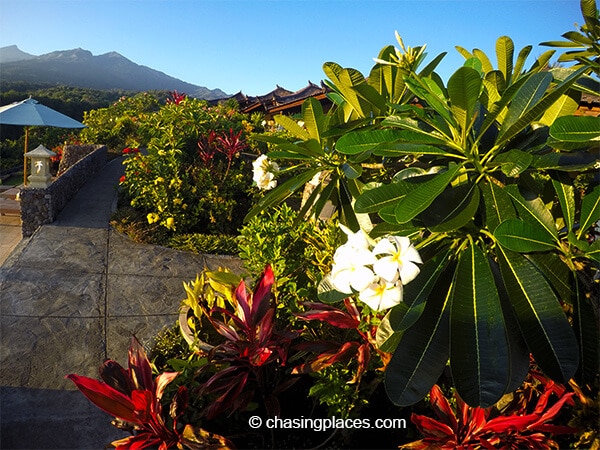 The Exclusive Villas
Rinjani Lodge is a boutique resort. At the time of writing it had seven villas that could accommodate 2-3 people. So it gives guests this exclusive, relaxing and cozy feeling. It did not feel like we were competing with people in terms of space.  The villa is made entirely of what is assumed to be local hardwood. They were all exquisitely designed with ceilings that feature traditional Indonesian carvings, which reminded me of Balinese architecture.  There is a patio equipped with comfortable chairs and a cushion bench for guests who wish to sleep outside. The center piece of the room is a king size bed with white beddings and linens. The interior of the rooms have bamboo beams that add style and flair to the rustic design. The lights are cleverly integrated within these horizontal bamboo beams so their modernity does not clash with the traditional look.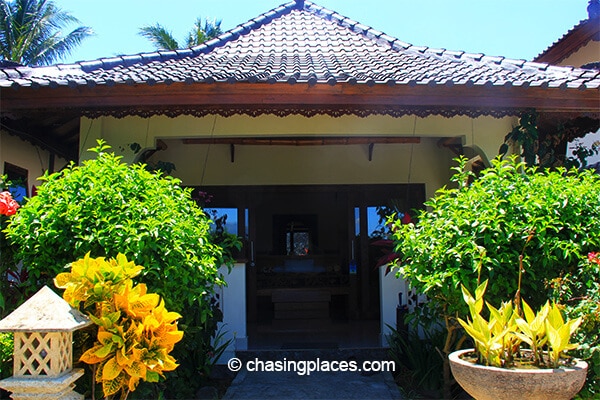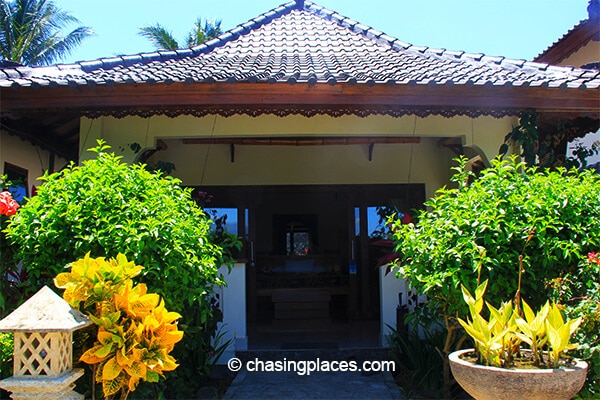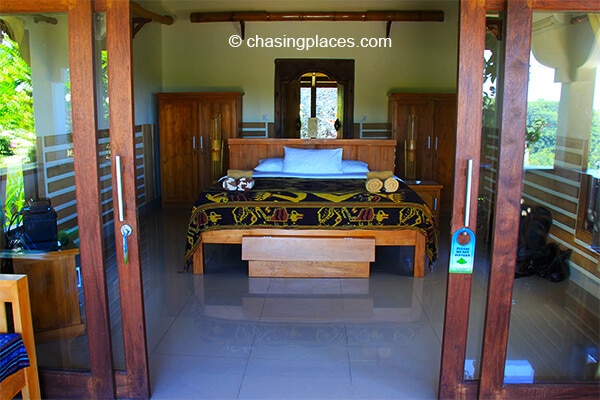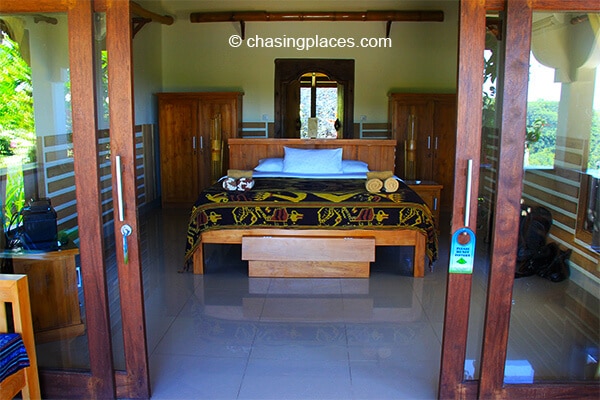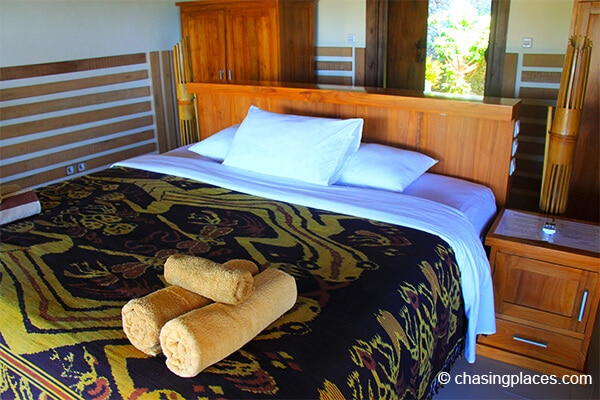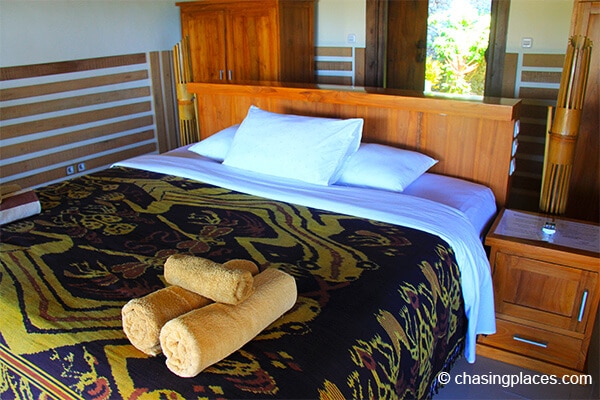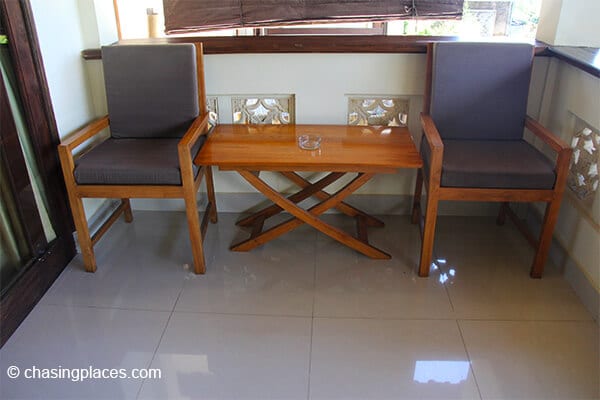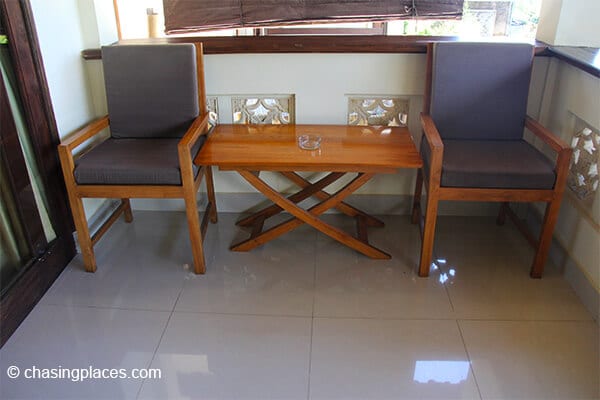 At the back of the room there is a wooden two-section door that leads to my favorite part of the villa- the outdoor bathroom. Yes! There is no roof to this bathroom just tall walls surrounding it. This section is spaciously equipped with a huge tub at the center and a lovely sink and shower area to the left and right side respectively.  We loved the material used for the floor and how the walls of the shower section was designed. There is ample space in between the wall and the bath tub, and it is filled with more plants, which successfully add up to the overall elegant look of the bathroom.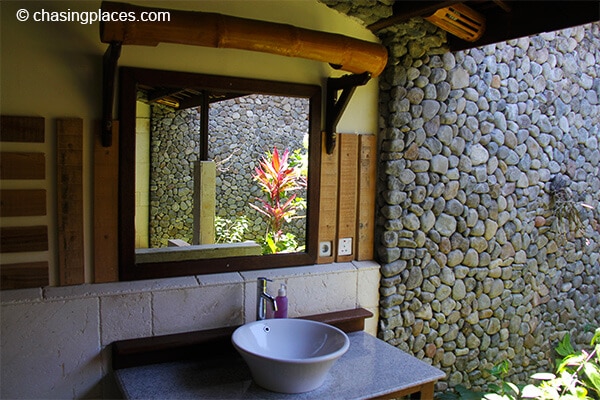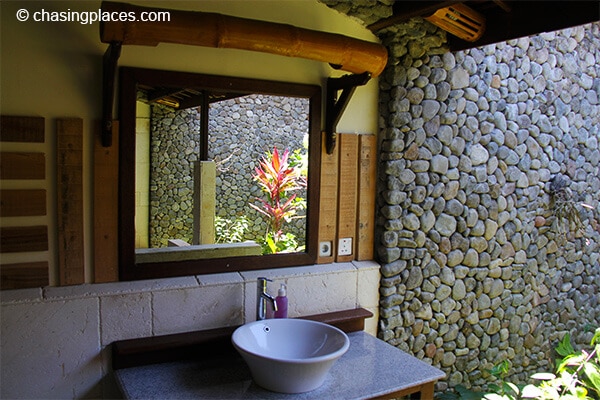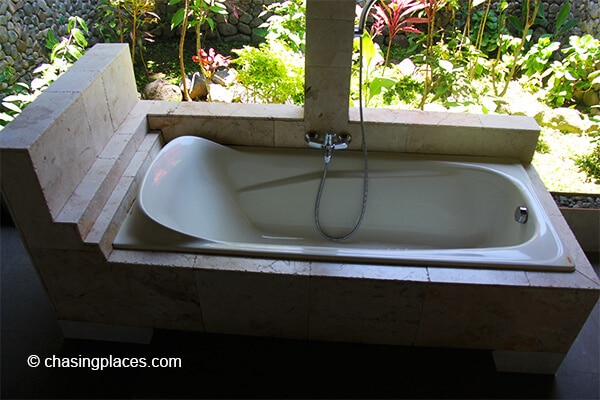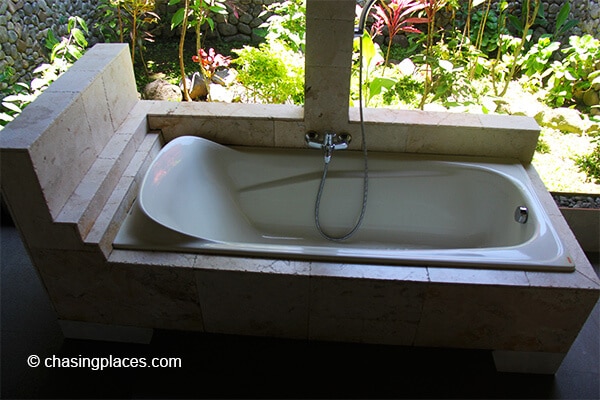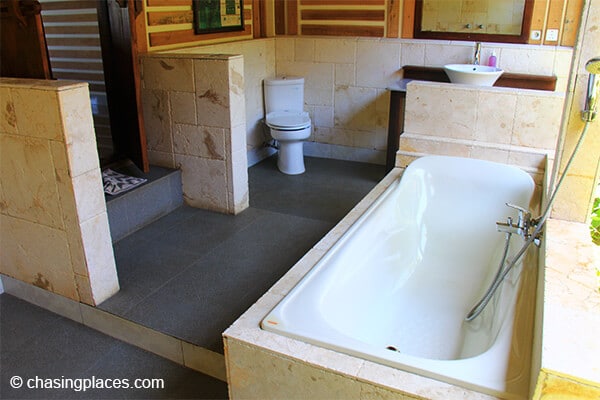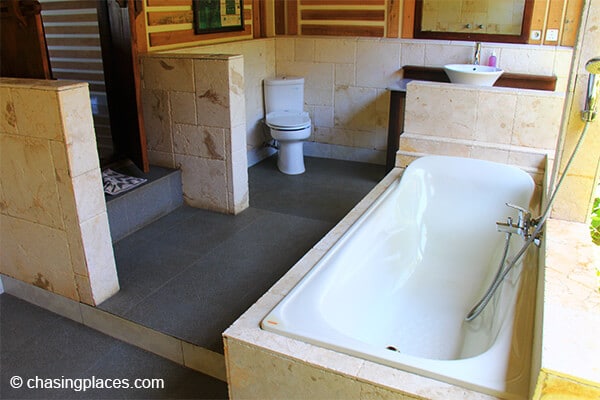 The downside to having limited villas is they can get filled up quickly. We only booked for one night, and wanted to extend, but we were told that they were fully booked for the next day. The good news is they are building around 4 bigger villas, possibly to accommodate families and groups.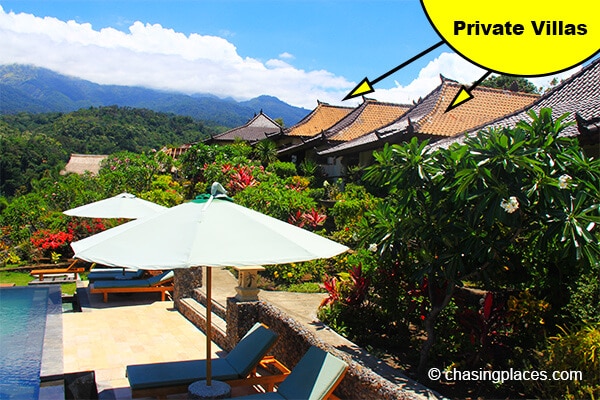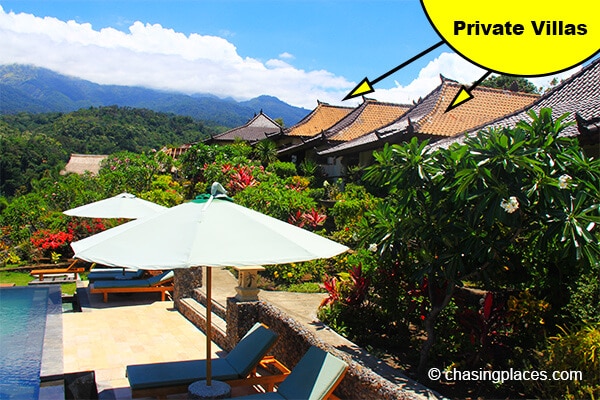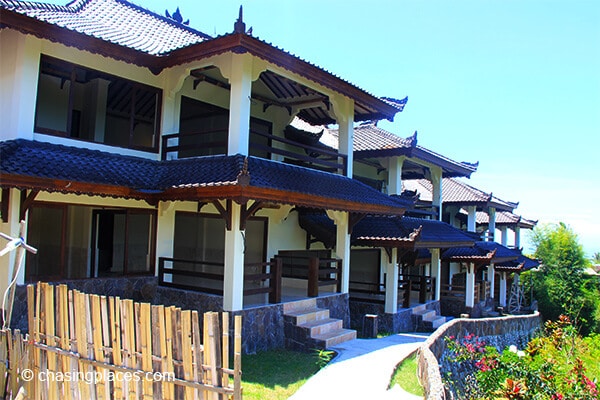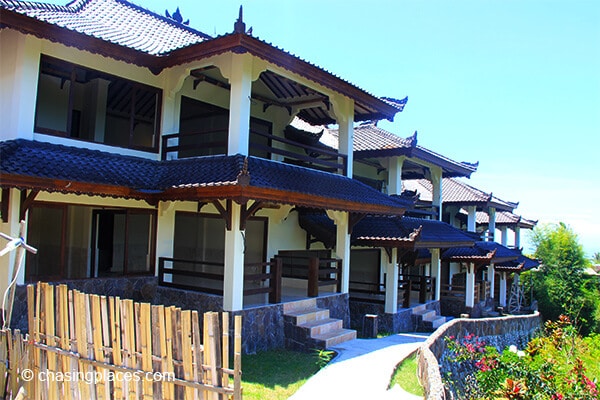 Even with additional villas, Rinjani Lodge is still a pretty small resort, so my advice is to book a villa in advance!
The Downside of staying at Rinjani Lodge
The restaurant at Rinjani Lodge is the only one that's close to 'fine dining' in Senaru. There are a couple of local eateries when you walk outside, but they are nowhere near the standards of the Rinjani Lodge restaurant.  Plus, they close early at night.
Breakfast is included in the room price, but it can be underwhelming.  It is not a buffet. They gave us four choices, two of which were western and others were Indonesian (fried noodles and noodle soup). The two western breakfast meals were not substantial while their Indonesian counterparts were more substantial, so they are the better choice, unless you don't want to eat noodles early in the morning.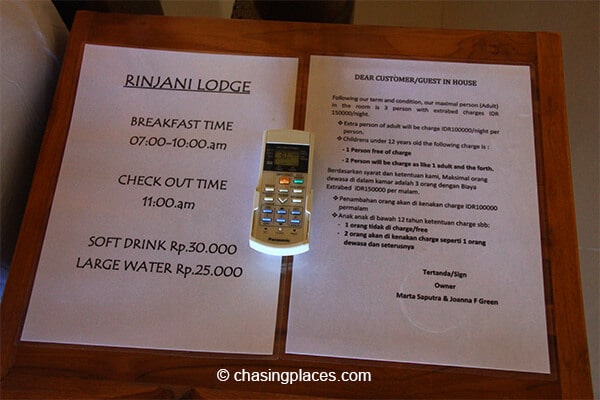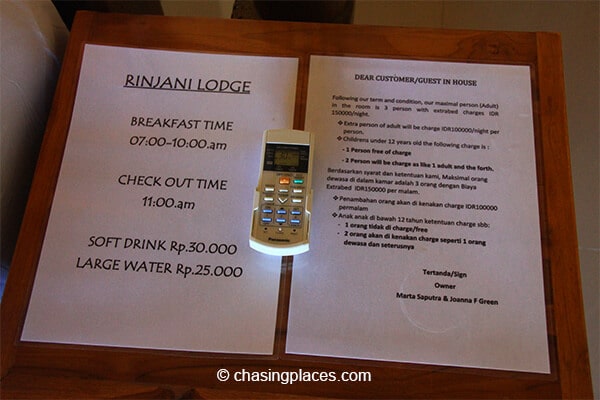 The Lodge advertises that they have Wi-Fi, but it is almost non-existent. Don't expect good reception, you are alongside the foothills of a mountain after all. I got a local sim card (Telekomsel) so I was able to check my emails using 3G. But I was not able to make use of the hotel's Wi-Fi as it was so weak at that time.
The owner told me about their problem with monkeys roaming around the lodge.  "They shouldn't be fed." he said.  I have no problem heeding his advice, but I did not see a single monkey during our stay.
Final Thoughts
I fell in love with Rinjani Lodge even if I only had a one night affair with it. I don't usually return to the the same hotel as I want to stay in as many as I can. Yes, I am unfaithful when it comes to my rooms. But Rinjani Lodge is an exception.  I would even dare to say that staying there is enough reason to visit Senaru Lombok. So if you crave for a relaxing mountain retreat, I definitely recommended this boutique resort. In fact, we met an Australian couple who were staying at Rinjani Lodge with the intention of doing absolutely nothing else but relaxing. Sigh! I can't say I blame them.