One of the main draws of the Thai island paradise of Koh Phi Phi is its collection of white sandy stretches. Aside from the very famous, yet highly protected Maya Bay on the smaller Koh Phi Phi Leh as well as the other sandy stretches on the surrounding tiny island, the main island of Koh Phi Phi Don also boasts its fair share of popular white sandy havens.
This article will primarily discuss the main beaches on Koh Phi Phi Don as they are the sites for most of the hotel and accommodation choices within the entire Phi Phi archipelago. Somehow, the major beaches on Koh Phi Phi Don have developed unique personalities, and thus they attract different sets of tourist crowds.
Booking your accommodation on a particular beach does not mean that you will restricted from exploring the others. In fact, all of these sandy attractions are very much accessible on foot or more conveniently by boat.  But as a visitor, it is helpful for you to know the character of each beach as this is one of the main contributing factors to consider when deciding which sandy spot to stay on.
Get to know the beaches of Koh Phi Phi, and decide for yourself.
Ao Lo Dalam
Ao Lo Dalam is one of the two beaches which are separated by Koh Phi Phi Don's narrow strip of isthmus.  It has always been known as the backpacker central of Phi Phi as most of the young travellers who intend to explore Southeast Asia's Banana Trail flock to this beach. But even Ao Lo Dalam is not escaping progress and development. Bigger hotels are being built to replace the smaller rustic shacks on this part of the island. But no need to worry if you're on a budget, as there are still a number of affordable accommodation options on Ao Lo Dalam.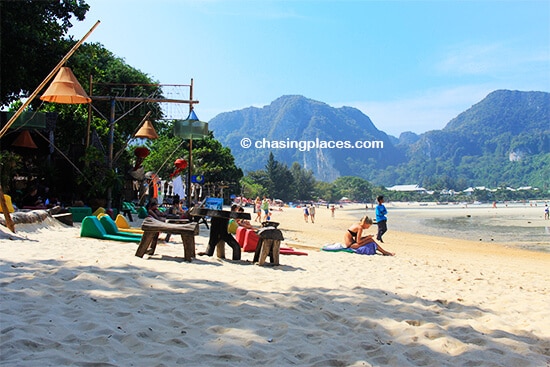 Ao Lo Dalam has nice powdery white sand, and this is not a fib! It also has stunning limestone karst formations.  But it also receives the greatest number of people.  During the day, there will be more people sunbathing here than any other beach. Because it is a party area and the most crowded one, Lo Dalam has the tendency to be dirtier than the other beaches.  I was quite disappointed seeing random cigarettes butts and alcohol bottles on the beach.
At night, around 7 pm, Ao Lo Dalam transforms into a party mecca.   The collection of bars on the beach with odd names like Slinky, engage into this constant battle to attract party revelers by blasting their speakers to the highest level. And we are not talking about reggae music here, what is being played is an endless series of club and techno music.  Aside from some serious bass in the background, the bars also battle it out with their own set of fire dancing performances.  If one bar attracts enough attention, they will pull out fire-themed games and tricks to keep the audience.  This war of club music, fire, and booze will go on until the wee hours of the morning.  Stay on Lo Dalam and you will have a better chance to meet a diverse group of people, some of which are very fun!  But you should also expect the sound of the bass drum to sing you a lullaby as you try to sleep.  If this doesn't sound enticing, find a place around Lo Dalam that is far enough from the bars that occupy the middle section of the beach.  Move more inland or stay in the farthest corners of the bay, and you will get a more peaceful night sleep.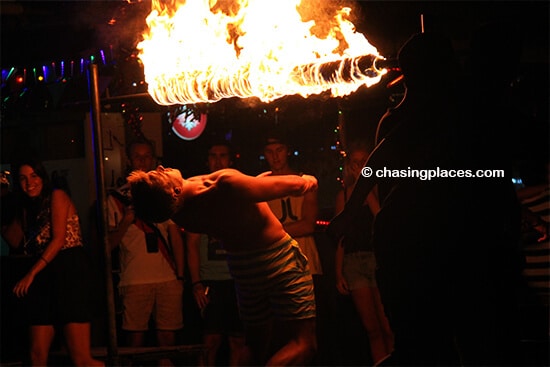 The accommodation choices in the vicinity of Ao Lo Dalam can be accessed here.
Ao Ton Sai
A big part of Ao Ton Sai, often referred to as Ton Sai Bay has been transformed into a port area for ferries and boats arriving and departing to/from Koh Phi Phi Don.  This is probably the least picturesque area on the island. Fortunately, the jaw-dropping limestone hilly backdrop counteracts the messy appearance of speed boats and long tail boats.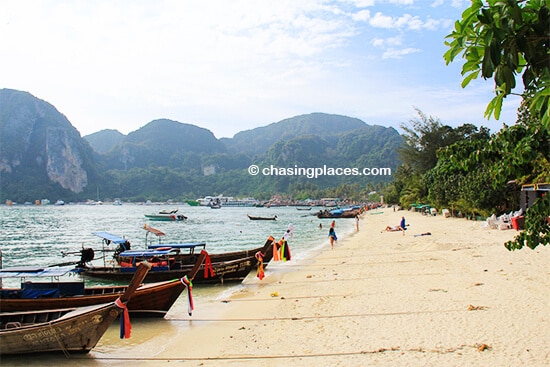 Ton Sai is home some of the bigger resorts of the island. You will easily notice these multi-level buildings dominating the shore. Some of them are concrete eyesores but I guess they want to build something higher and stronger after the tsunami incident in 2004.  From Ao Ton Sai, it is easy to access the more inland Tourist Village or Ton Sai Village, which is crammed with a variety of shops, dive centers, tour offices, restaurants and bars.  The promenade that faces Ton Sai is home to restaurants that specialize in seafood dishes. Here, you will find bars and restaurants with a more candlelit intimate setup.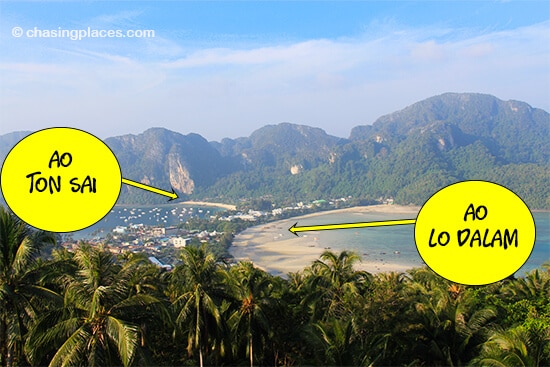 The accommodation choices in the vicinity of Ton Sai can be accessed here.
Travel Checklist: Do you have everything you need?
Hat Yao (Long Beach)
Hat Yao is more popularly known by its English name, which is Long Beach. Although it is possible to walk to the beach from the Tourist Village, the easier way is to take a long tail boat. Here are the steps to reach Long beach. Many would argue that Long Beach is the most beautiful beach on Koh Phi Phi Don. Having spent time here, I have to absolutely agree with this assessment. The sand here is pearly white and powdery, and the water has that clear Andaman hue.  Because it neither gets as many boats nor tourists, it is cleaner and more serene.  Hat Yao is not a good beach hub if you are looking for a swinging nightlife. Accommodation, dining and shopping options here are limited. Although, you can still find places to hangout in the evening, it is definitely more low-key than Lo Dalam and Ton Sai.  Because Long Beach faces south, it gives you a nice view of Phi Phi Leh. It is also home to a decent coral reef system, making it a great snorkeling spot.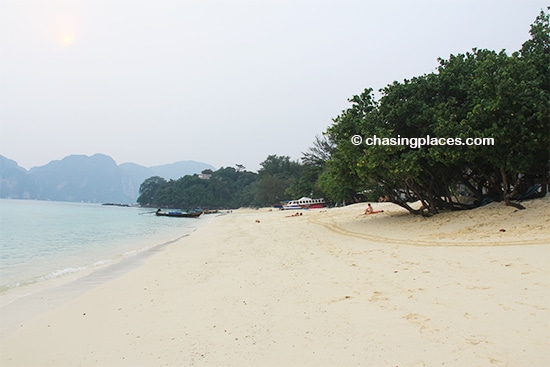 Just 200 meters from Long beach is rock that juts out from the water called Shark Point.  This is a common snorkeling destination for boat excursions offered on Ko Phi Phi.  As what the name of the spot suggests, this is where you can sometimes find black tip reef sharks.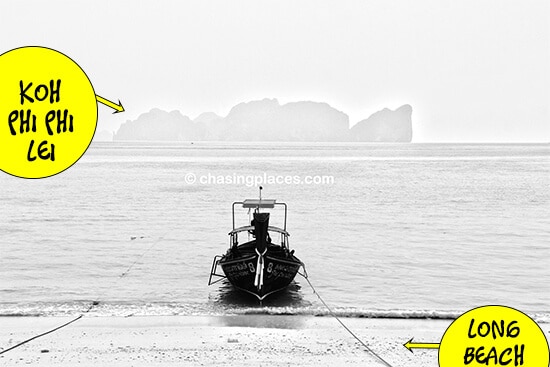 At the time of writing there were 5 accommodation choices either on or near Long Beach:
Phi Phi Long Beach Resort and Villa
Loh Moo Dee Bay
Just like its neighbor Long Beach, Loh Moo Dee Bay is a serene and peaceful beach.  It is arguably even less visited than Long Beach.  Sitting on the southeastern tip of Ko Phi Phi, Loh Moo Dee is only about a 15 minute-walk from Long Beach. If you don't like to hike, you can also hire a longtail to bring you there, albeit the ride is really short. This beach is blessed with white sand, and a field of trees, making it arguably, the most tropical looking among all of Koh Phi Phi Don's beaches. Loh Moo Dee features shallow water which is ideal for swimming and it also offers snorkeling opportunities.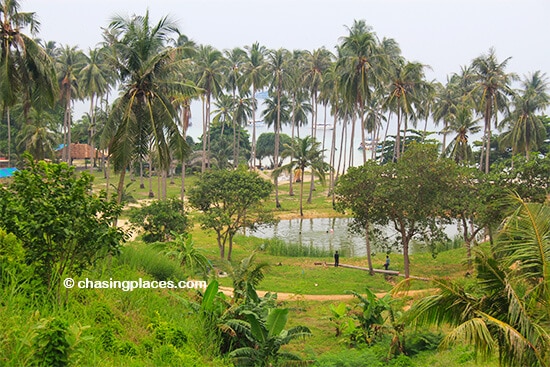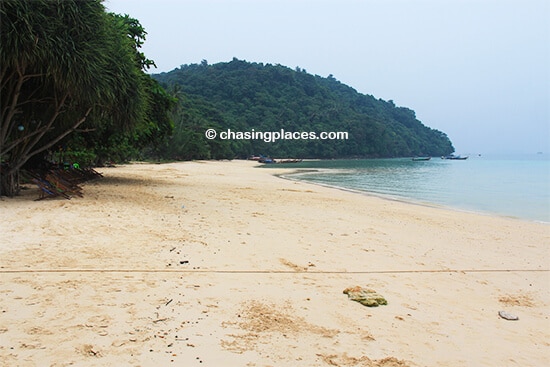 Laem Tong Beach
Laem Tong Beach is also a nice secluded choice if you want to prioritize relaxation over nightlife.  It's located along the northeastern shoreline of Koh Phi Phi. The sand here is beautiful and the big bonus of staying on Laem Tong Beach is that it has some of the nicest resorts on the entire island. Based on our research the Holiday Inn Resort Phi Phi Island and Zeavola Hotel consistently get excellent reviews from guests.
If you happen to stay on Laem Tong Beach be prepared for boat rides to Koh Phi Phi's nightlife areas.  But the cost of the boat rides are probably worth a good night's sleep!
Where did we stay on Koh Phi Phi?
We had a few priorities to consider when we booked our room on Koh Phi Phi. We wanted to be close to the main beaches but still far enough away from Koh Phi Phi's pulsating music at night. Eventually, we decided to stay at P.P. Casita. We don't have a direct affiliation with this property or any property on Koh Phi Phi, therefore our opinion is an unbiased one. Overall, it turned out to be a pleasant mid-range place to stay. The room we had wasn't the biggest or the fanciest, but it was clean and the staff was friendly at the resort.  The pool and the buffet breakfast were added bonuses. It took us about 4 to 5 minutes to walk to the beach from Casita and it was quiet at night. At the time of writing it had a score of 7.4 based 3424 verified guest reviews.  I consider this to be a fairly accurate representation of our experience there.  If you're looking for something more upscale then the Holiday Inn Resort Phi Phi Island and Zeavola Hotel might be better options. 
How to find the cheapest rooms on Koh Phi Phi?
When we were finding our room on Koh Phi Phi we used the three different websites that we thought would give us the best opportunity of finding the best prices: www.agoda.com, www.booking.com and www.hotelscombined.com. All three of these sites offer a wide range of rooms on Koh Phi Phi, but www.hotelscombined.com is unique because it's a price comparison site that enables you to search for rooms from multiple providers at the same time.  To save you some time:
 Top Rated Properties on Koh Phi Phi 
Based on Verified Guest Reviews
Important: Mobile Users must swipe from left to right to see entire table. 
Properties rated based on 'overall' review scores from each respective website's verified guests.
Minimum of 50 verified guest reviews required to be considered eligible for comparison.
All star ratings and verified guest review scores are tallied at the time of writing, and therefore, are subject to change.
Accommodation Map of Koh Phi Phi: Top Rated Properties
Hopefully, this unbiased overview has helped you to find the best spot to stay on Koh Phi Phi.  If some of your questions remain unanswered, feel free to comment below. We are dedicated about writing unbiased, yet informative articles about Koh Phi, Thailand and Southeast Asia.
Enjoy your time on Koh Phi Phi!