The Indonesian island of Bali has gained world recognition for its rich culture, intense devotion to religion, gorgeous landscape and stunning beaches. Over many decades, the Indonesian Island has also become the destination for souls who want to relax, reflect about life and do yoga retreats. Thus, luxurious resorts and retreat complexes have been popping like mushrooms all throughout the island. Many travellers underestimate the size of Bali, but the island actually covers a huge land area. It is truly a big island with many regions, districts and towns. And because it encompasses several areas, it is only natural for Bali to assume so many faces and characters.
The town of Kuta presents a different side of Bali. If the island were a big family, Kuta would most likely be its black sheep. Always vibrant and relentless, the district is the poster child for Southeast Asia's nightlife and party scene. Intense commercialism and mass tourism are what drive Kuta today. It is probably one of the most convenient spots to stay while in Bali, because everything is here. Banks, cafes, restaurants, moneychangers, internet shops and travel services are everywhere.  When it comes to shopping, the town's choices are varied. There is no shortage of souvenir stalls, and most vendors are willing to haggle, given that they are also in the habit of overpricing their goods.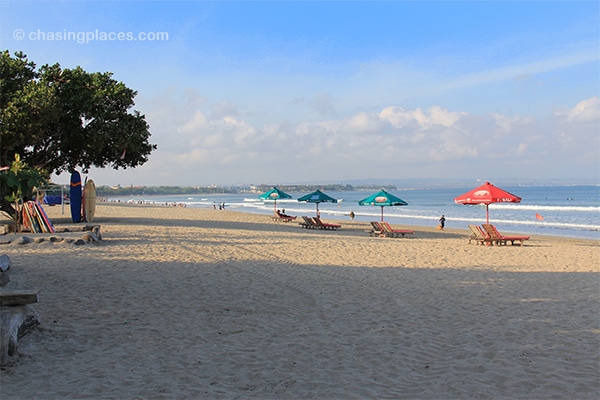 The hustle and bustle in Kuta during the day only intensifies at night. The town's seemingly endless number of restaurants, bars and nightclubs beckon tourists to party through the thickness of the night. What attracts me to Kuta's nightlife scene is the strong live musical presence. Unlike the party areas in some Thai islands which are dominated by DJ-played techno music, Kuta offers you more live band performances. This is proof of the Balinese and the Indonesians' (in general) love for music and singing.
When you come to Kuta at night, expect to see bars and clubs everywhere, blasting their own loud stereo in hopes of capturing the attention of passersby who can't make up their mind. Expect neon lights blaring and drunken groups of men (young and old) stumbling around and having the time of their lives.  Expect a crowd of folks speaking foreign languages blocking the sidewalk. If you happen to be Caucasian, expect local touts pestering you about a taxi ride using their best imitation of an Australian accent.
Make no mistake about it, when you come to Kuta, you will witness one of the most intense party scenes in South East Asia. Your eyes will be blinded by the neon lights, your ears will have to deal with loud club music, and your nose will be perturbed by the smell of garbage sitting in a dark alley. And if you come here and expect otherwise, you will be disappointed!
Even though its roots suggest that Bali was once a backpacking haven, over the years, the island has been increasingly marketed as an upscale resort destination. Travel costs including accommodation and dining at other beach districts on the island have been rapidly increasing. But what I like about Kuta is it remains somewhat defiant to this change. This rebel district continues its merry way by providing backpacker accommodation, cheap beer and affordable dining. It is in Kuta, where you can find stores offering a variety of second-hand travel books. It is the district to go to if you want to rent a motorcycle for a day for around two or three dollars after some negotiating. Kuta's basic rooms, which are offered by homes-turned-guesthouses, make it possible for a wandering shoestring traveler to stay on the island for weeks and even months.
Because of Kuta' bare bones and dynamic nature, it is only fitting that younger traveling souls are drawn to stay around this district. Older people or families who want to still be close to the action tend to stay in the neighboring districts of Legian or Seminyak.  Kuta's streets are narrow. As tourism grows, traffic here is becoming more and more unbearable. The best way to get around the area is by walking.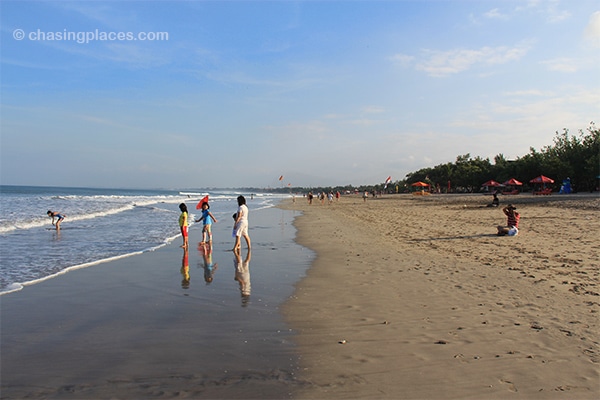 Travel Checklist: Do you have everything you need?
The biggest attraction in town is Kuta Beach.  Although the sand on this beach is not white, it has a nice powdery texture to it. Long, wide and charming, Kuta Beach was the real reason why the district developed into the tourism powerhouse it is today. With powerful rips and tides, it is a true-blue surfing beach. It's not a bad beach for sun tanning either. Swimming is possible when the current is not too strong. There's a lifeguard presence on the beach and they usually place swimming flags to guide swimmers. Unfortunately, the sea water around Kuta Beach is not entirely clean as it is surrounded by built-up communities and high tourist numbers.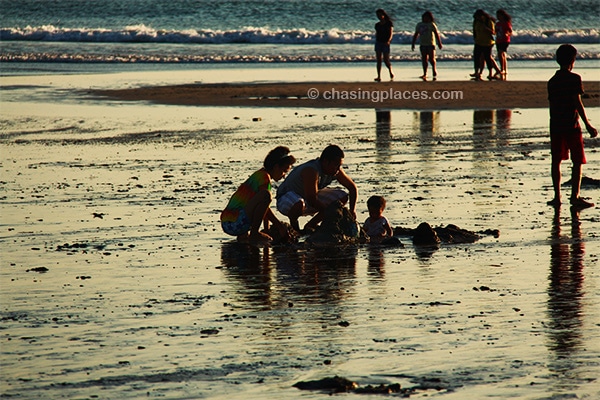 When we visited Kuta Beach, I instantly fell in love with it. There's something about the shape and length of the beach and the people on it that made it very appealing to me.  Maybe it's because I noticed that people, both locals and tourists, were genuinely happy to be here. Kuta Beach is also known for its magnificent sunsets, so I made it a point to stay and see this attraction, and I was completely blown away. The few minutes of sunset was incredibly beautiful and somehow peaceful. Kuta, with its sunsets and dedicated surfing crowd, captivated me. I guess it has this distinct personality. It exudes a sense of community, an air of defiance and confidence.  It was not trying to be anything it's not.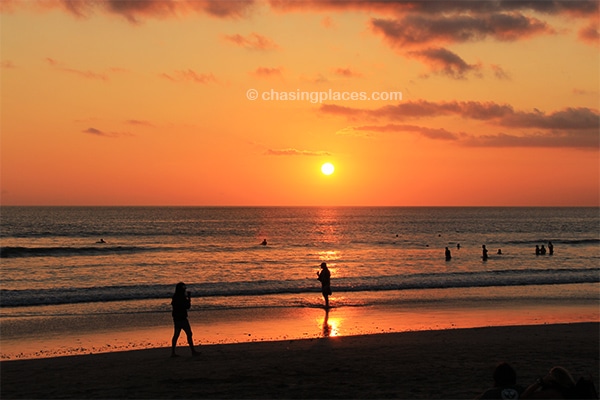 A friend of mine told me that he absolutely hated Kuta because it was crowded and dirty. It's quite interesting how we had a completely opposite experience. Perhaps, it was the timing of our visit that spelled the difference. But as the Lonely Planet travel guide puts it: Kuta can inspire strong opinions. It is not for everyone.  It's either you love it or hate it.  But I cannot help but form a great sentiment for this rebel district.  I feel that it has the right to exist as serene yoga resorts on rice terraces also have the right to exist. Having said this, I hope that the local community will make constant efforts to improve the town and preserve the beach, as they are truly special.
Want to find the best room in Kuta?
It comes as no surprise that Kuta and the surrounding beach area is loaded with accommodation choices. They pretty much have everything in Kuta from five star excellence to some of the worst hostels in Southeast Asia! Therefore, I recommend using a large booking provider so that you can quickly compare previous guest reviews while getting cheap prices.  We used www.agoda.com for some of the nights we stayed in Indonesia and were quite satisfied. Another option we have used in Indonesia is www.hotelscombined.com.  This is our preferred price comparison site which saves valuable time (and money!). You can quickly compare and book rooms in Kuta or anywhere for that matter using this link: www.hotelscombined.com.
If you're booking your rooms in Indonesia well in advance, then www.booking.com might be the best option due to their excellent cancellation policies and wide selection. This will provide more flexibility while planning your trip to Bali. Many of our North American and European readers book their rooms exclusively with www.booking.com.
As always, we encourage our readers to ask or comment below if you seek additional information! Enjoy Indonesia!