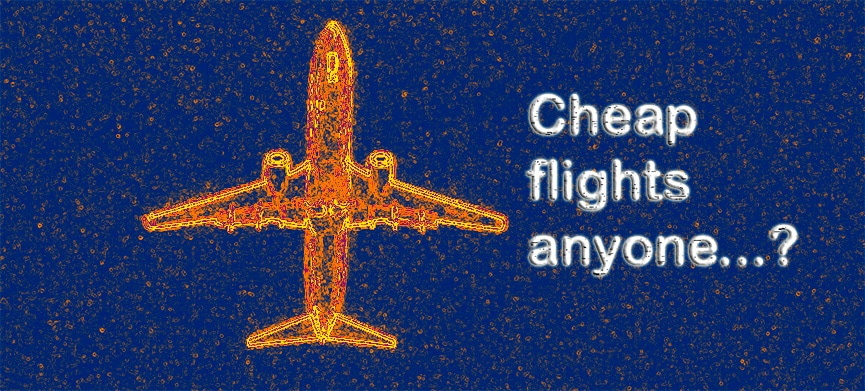 Have you ever booked an online flight ticket only to hear from someone else a few days later that they purchased a seat for the same flight but much cheaper? So how do you get the cheapest flight tickets after all? I think these are hard questions to answer.  There are so many variables that come into play that affect flight prices including: demand, route, day of the week, number of passengers, holiday seasons, etc.  You can't control all these factors, but you can try some strategies that can increase your likelihood of getting the best available price for the route you want. Here are some suggestions on how to get the cheapest flight tickets:
10. Book flights that depart on Thursday instead of Friday.
If you are flying out just for a weekend trip and you can get Friday off work, then it may be worthwhile to take the day off.  If the demand for seats spikes on Friday then be prepared to shell out a lot more for the same route. Flying back to your home base on a Monday will also save you some cash opposed to Sunday afternoon or evening.
9. Collect and redeem reward miles.
Regardless of what information you get from airlines, reward flights are never completely free or complimentary.  You first have to earn points by purchasing products or flights.  Then, in most cases, you have to pay incidental fees and airport taxes when you get your "free flight." Despite these downers, collecting flight reward miles is a smart and practical way to save money on future flights.  If you are a frequent flyer you have to make the effort to accrue points.
8. Avoid peak season travel.
For many of us it's impossible to avoid peak season travel.  That's exactly why it is peak season in the first place. If you have some freedom in terms of your annual holidays, then keep in mind that many overseas destinations have excellent weather when you would never consider taking leave in your own country. For example, the spring months (March-May) in the northern United States and in Canada are usually characterized by damp and chilly weather.  Travellers want to avoid the Caribbean at this time because of hurricane season, so most people wait to the summer months (June-August) to take leave. Why not check out Southeast Asia during the spring for a fraction of the cost if you have the time?
7. Refer to budget airline sites before booking.
Have you ever noticed that some of the largest flight booking companies around the world sell tickets for only elite airlines opposed to budget carriers? In Southeast Asia, for instance, there are numerous budget airlines that sell tickets for the same routes for a fraction of the cost. Always double check with budget carriers in your region first. You might even be able to get a flatbed chair with a budget airline for cheaper than an economy seat with an elite carrier. It makes you wonder how some airlines stay in business with the emergence of reputable low cost carriers such as Air Asia?
6. Fly on Wednesday.
Many people continue to debate the claim that Wednesday is the cheapest day of the week to fly. It isn't always the case, but it seems like it is true for many routes with different companies. Middle of the week versus the weekend – you do the math!
Travel Checklist: Do you have everything you need?
5. Use price comparison websites to enhance your search results.
For flight routes that are serviced by only non-budget airlines then save yourself some time and start your search with price comparison websites such as farecompare.com and skycanner.com.  If you notice that a specific codeshare flight is on sale on both sites then take note of the airlines servicing the route. Always check the home site of the airline before booking with a third party site to see whether the commission-free price is cheaper.
4. Embrace layovers, don't avoid them!
One of the biggest factors that influences the price of your flight ticket is the layover time built into the itinerary.  Direct flights are convenient in comparison to flights with connections, but they come with a premium.  If you plan it right, a 24 hour layover in a city can be a great way to enhance your trip while saving money.
3. Book early and save.
Last minute deals appear to becoming harder and harder to find these days. In most cases (especially during peak periods), booking early results in significant savings. This is definitely true with budget airlines. Booking with elite airlines is more challenging to predict the lowest fares, but six months before super peak periods and one to two months before low season would be a good starting point.
2. Learn when seat sales get released to the public.
If only a few airlines service the route you are planning to take then monitor their websites for a while to see when they release their promotions.  If they release their sales on Sunday night and usually have valid travel dates extending six months in advance then keep that in mind.  When a sale is released there are usually only a few seats offered at the lowest price listed.  Once those seats are taken, the price will shoot up with increased demand.
1. Be a registered member of as many airline programmes as possible.
A quick online search will reveal tonnes of so-called cheap flight tickets.  You may even find the cheapest ticket available worldwide during your first search. Booking right away may or may not be a good decision depending on how the price will fluctuate leading up to your departure date.  Ultimately, you won't really know how good a price is until you have benchmark values to compare to. For example, a really good round trip flight price from Southeast Asia to London in the U.K. is around $900 USD taxes included. How would you know that unless you looked at sales and prices from different airlines?
After your Flight has been Booked.
Suggestions: Finding the Cheapest Rooms?
Booking your flight is the first step to travelling the world.  Next comes accommodation. Here are some links to the sites I have been using over the years for booking rooms around the world.
www.agoda.com – excellent selection of rooms and great rewards programs
www.booking.com – the best customer service in the industry and the best cancellation policies
www.hotelscombined.com – the world's best hotel room price comparison site.