If you would like to check out some of the best historical attractions in Dubai, then one of the top things you should see is the Al Ahmadiya Heritage House of Dubai.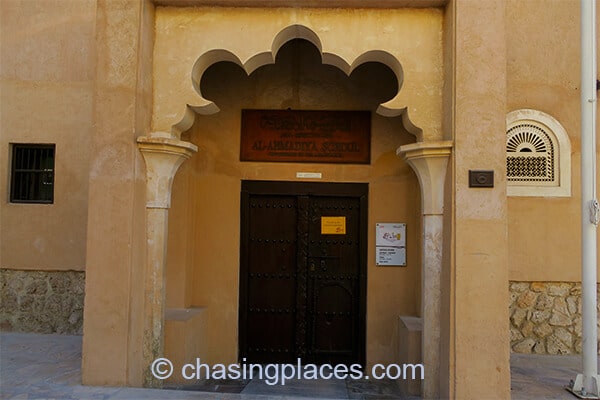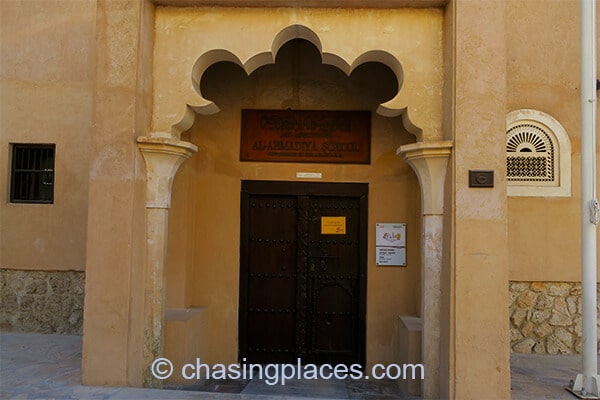 What makes Al Ahmadiya so special?
Al Ahmadiya School is the first national semi-regular school in the Dubai Emirati.  Founded by the late Sheikh Ahmed bin Dalmouk, the school was established in 1912. It continued to serve as a school for the thousands of future scholars and scientists from all over the Arab region until the year of 1958.
Today, Al Ahmadiya School is an official historical museum, and has been one ever since 1994 when it was restored by the local government.
Al Ahmadiya School highlights the development of education in Dubai and the United Emirates as a whole.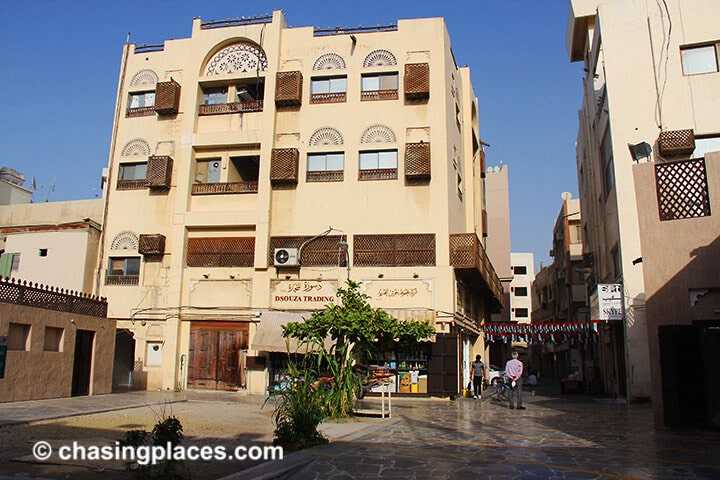 During your visit, you can get a glimpse into the facilities, education style and learning materials used by this institution throughout the decades that it functioned as a school.
Al Ahmadiya was a place where the important historical figures poured in their support to develop an environment for learning and to foster communication and collaboration among the local and neighboring communities.  
Al Ahmadiya is located in the Al-Ras area of Deira – one of the oldest neighborhoods in all of Dubai.
Admission is completely free! During certain times, a free guided tour is also offered. So there is no reason not to drop by and see the first school in Dubai.
If you're not convinced, take note that the Gold Souk and other traditional souks are within walking distance to Al Ahmadiya Heritage House.
Opening times: Saturday to Thursday 8:00 am to 7:30 pm
Fridays – 2:20 pm to 7:30 pm
Once you make the decision to visit Al Ahmadiya Heritage House, the next question to ask yourself is how should I get there?
This is the step-by-step guide on how to get to Al Ahmadiya Heritage House in Dubai Using the Dubai Metro:
Go to the nearest Metro Dubai station to your hotel in Dubai.
 You will need to get onto the Green Metro Line. Therefore, if you are on the Red Line, then you need to transfer trains at either Union or BurJuman Station, whichever is the closest to you.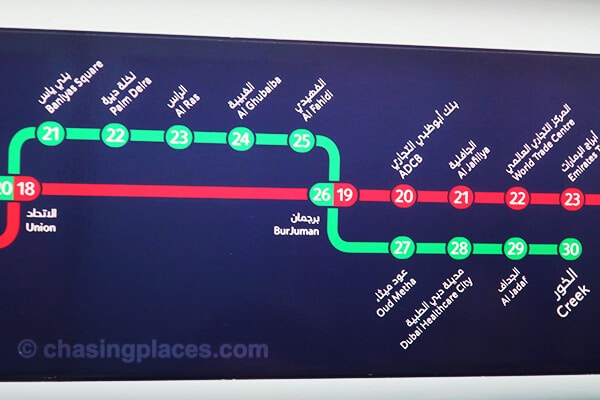 3. Get off Al Ras Station. From Al Ras Station, you will need to walk about only 3 minutes to reach Al Ahmadiya School.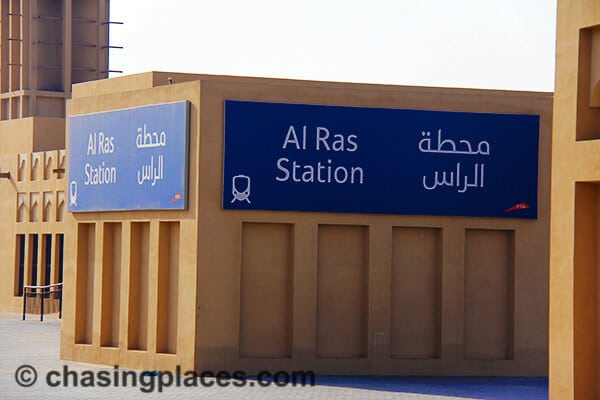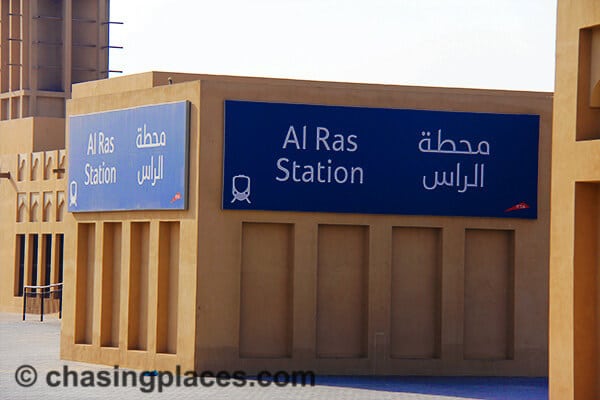 The walking distance between Al Ras Station and Al Ahmadiya is only about 210 meters. You will just need to walk via Khor Street. Here is a map illustration to give you a better idea: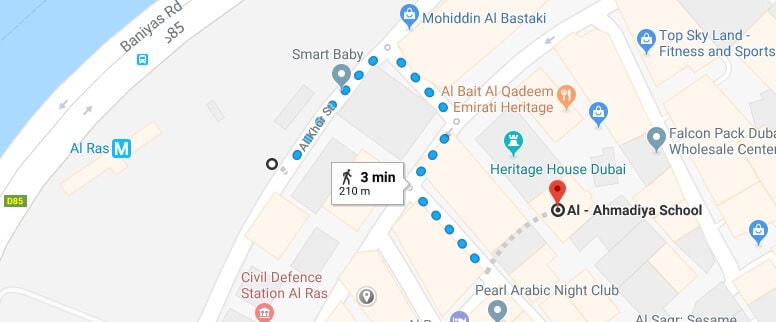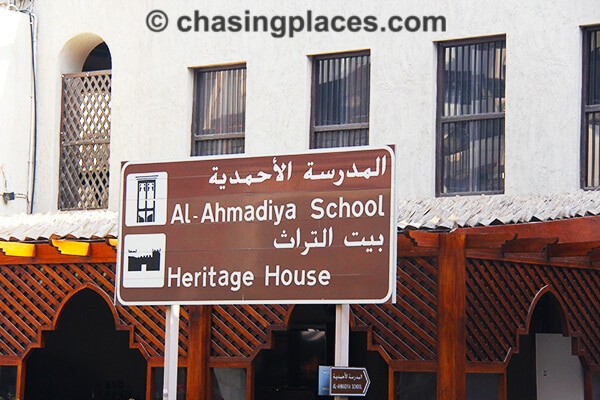 Travel Checklist: Do you have everything you need?
Attractions Near Al Ahmadiya Heritage House of Dubai.
As mentioned previously, Al Ahmadiya is conveniently located in an area where other prominent Dubai attractions are located, and within walking distance. If you do have the time, go for a half-day tour of the Deira neighborhood, it's really worth it!
Attractions:
Where Did We Stay in Dubai when we visited Al Ahmadiya?
The Dubai Metro provides greater connectivity to important Dubai attractions within the city's downtown area. So if you wish to stay near Dubai downtown, you can take the metro to get to Al Ahmadiya (Deira).
However, in our case, we decided to cut down commuting time and stayed at a hotel within the Deira neighborhood.  We already stayed at the Ibis One Central in the Financial District during our first few days in Dubai. But when we decided to explore the older neighborhoods of Deira and Bur Dubai, it made more sense for us to stay at a much closer hotel.
Thus, we chose to stay at the Ibis Al-Rigga, which is only a few meters walking distance away from the Al Rigga Metro Station.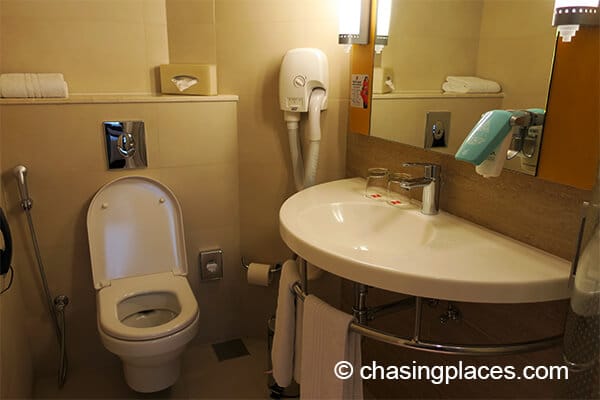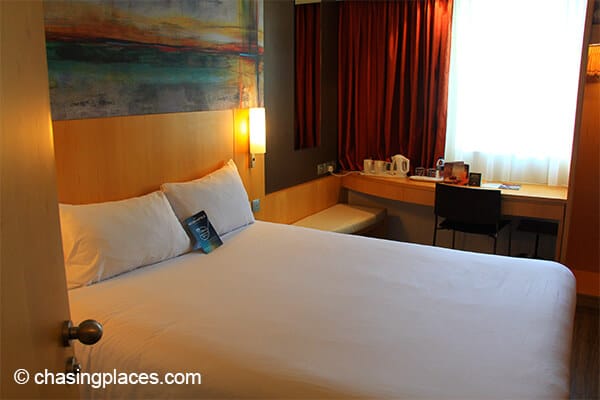 The Al Rigga Metro Station is the station next to the interchange station called Union. So all we needed to do was transfer from the Red Line to the Green Line at Union Metro Station, and then get off at Al Ras Station, which is only 4 stations away from Union Metro Station.
It worked out really well for us at the Ibis Al Rigga hotel. It had the location, price, and cleanliness to suit our needs. Thankfully, if you are looking for something more luxurious, there is a wide selection of hotels in Deira and other parts of Dubai to choose from.  
Read Our Full Review of One Ibis Hotel Dubai
This is a step-by-step guide on how to get to Al Ahmadiya Heritage House in Dubai Using the Dubai Metro. If you have any more questions about getting to Al Ahmadiya Heritage House in Dubai please send us an email or feel free to comment below.
Top Rated Hotels in Dubai Based on Verified Guest Reviews
Read More About Visiting Dubai