The Gold Souk (also spelled 'souq') is one of the most awesome places to see in Dubai.
Unlike many shopping centers and malls, the Gold Souk is not enclosed in a sleek modern building; instead, it is set up more like a traditional Arabian market as the name would suggest.  The Souk itself is mainly composed of a couple of narrow lanes lined up with hundreds of shops. There are tons of gold merchandise presented in the souk, and it's all real!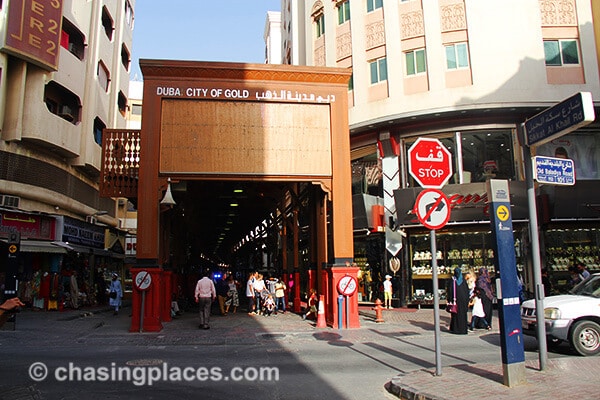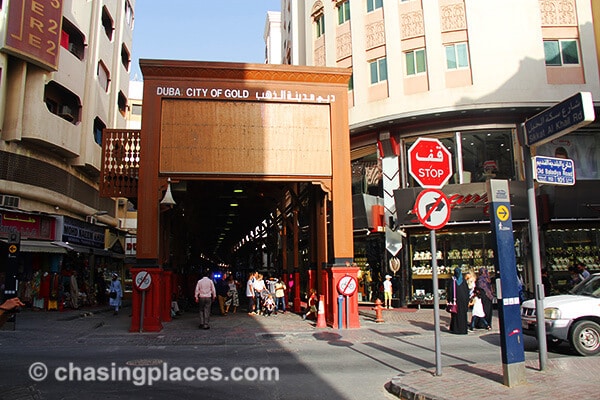 I have never seen a grander collection of intricate gold jewelry pieces than what is displayed throughout the shops in the Gold Souk. Even if you don't intend to buy anything, the window shopping experience is not at all bad because the jewelry displays are Instagram-worthy!
If you do plan to buy, this is a place where haggling can give you an excellent deal. Just make sure to deal with shop owners and not the lurking vendors on the streets. The government strictly regulates the gold sold in these stores, so rest assured, you will get the real thing.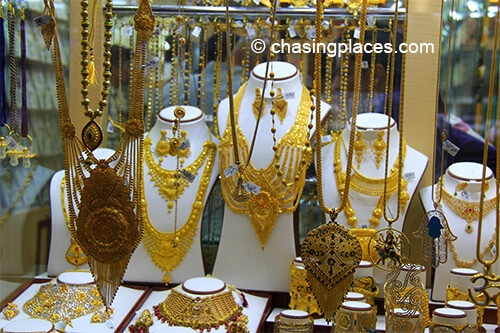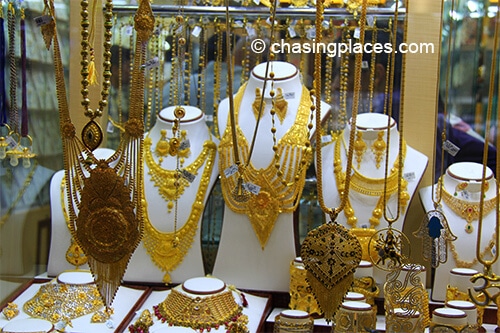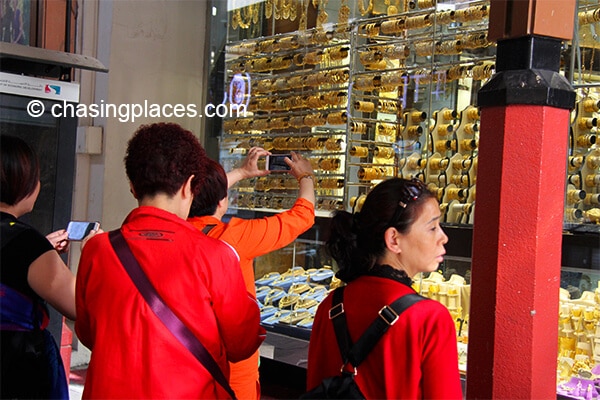 This remarkable market is appropriately located in the old neighborhood of Deira, away from the huge concrete blocks that made Dubai's downtown. And yet, it is so easy to reach the Gold Souk using the city's train network called Dubai Metro.  It is also very cheap! So if you have a few hours to spare, come and give the Gold Souk a visit. It truly is extraordinary!
More about the old Dubai neighborhood of Deira.
Here is a step-by-step guide on how to get to Dubai's Gold Souq using the Dubai Metro:
1. Go to the nearest Dubai Metro Station relative to your hotel.
2. Then look for the Green Metro line that connects to Al Ras Metro Station.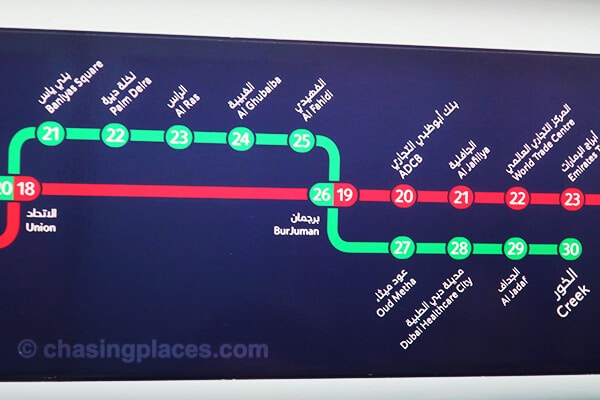 3. Make sure to take the train that goes to Al Ras Metro Station and then get off at this station.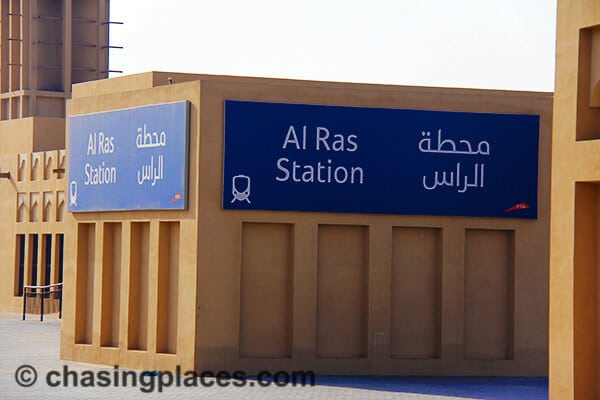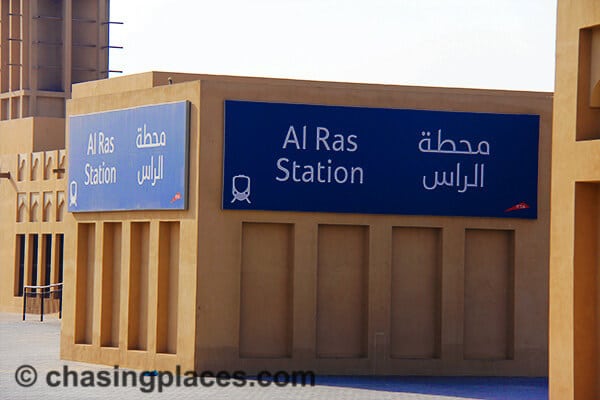 4. Al Ras Metro Station is on Baniyas Road. You need to walk over to Al Khor Street and head northeast towards Old Baladiya Street.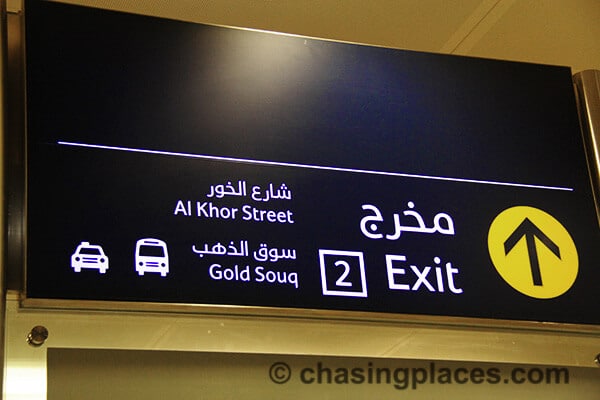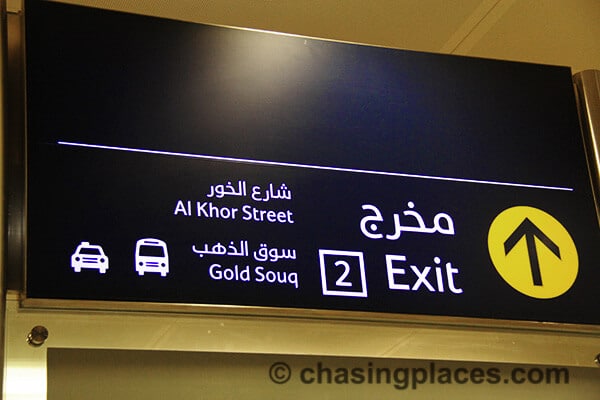 5. You then need to make a couple of right and left turns, check out the map below.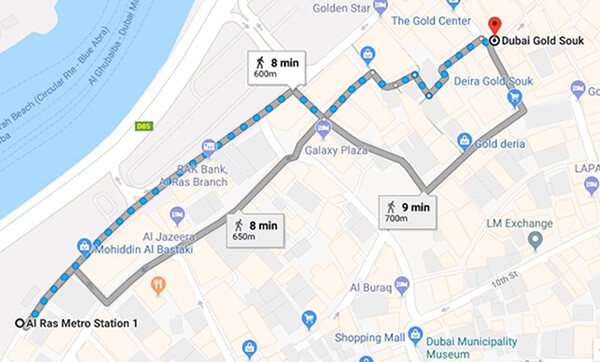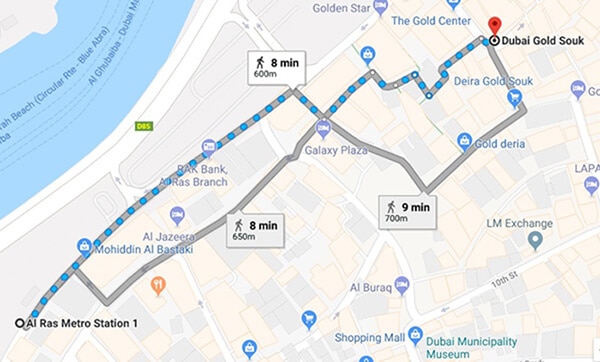 This walking route covers about 600  meters and takes about 8 minutes to complete. It's better to bring a printout of the map with you so you know where to turn. You may also ask locals if you don't have a map.  The locals helped us locate the Gold Souk during our visit.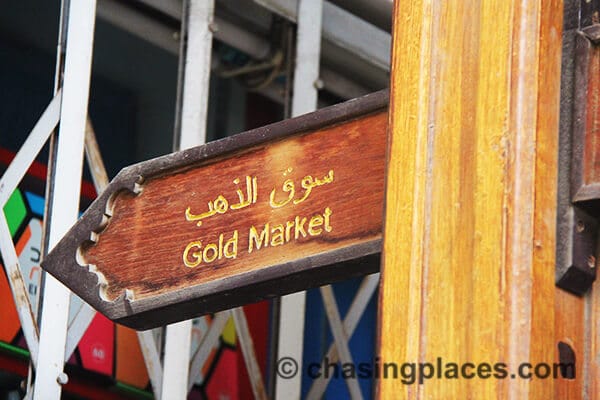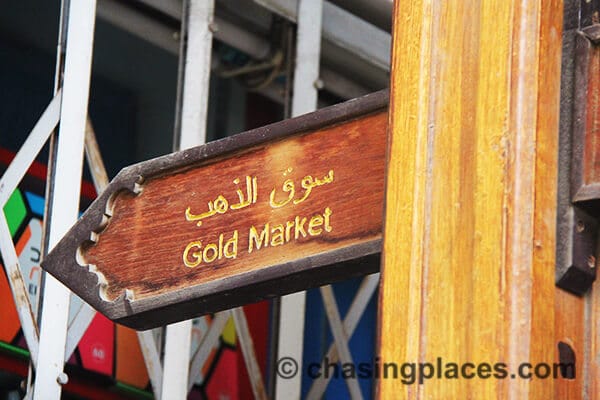 Opening Times:
The Gold Souk is open 7 days a week (except for special holidays like the Muslim Edil Fitri celebrations)
Saturdays to Thursdays: 10:00 am to 10:00 pm. Some shops will close in the afternoon at around 4:00 pm.
Fridays: 4:00 pm to 10:00 pm.
Travel Checklist: Do you have everything you need?
Valuable Tip: Purchasing a Dubai Metro Ticket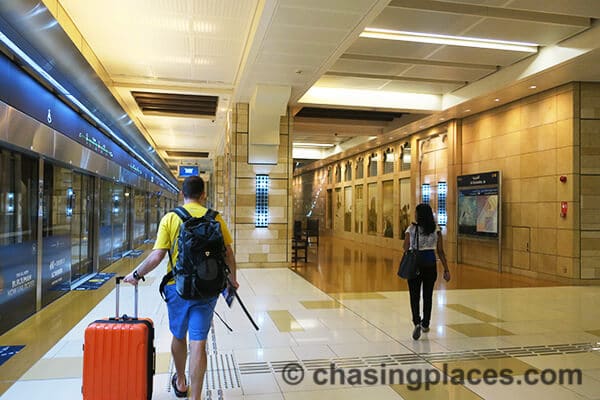 If you plan to visit several spots all over Dubai for one or two days, you might want to consider getting a NOL Card.
A NOL card is a contactless smart card you can use to pay public transport fees for buses, water buses and the Dubai Metro.
There are different types of NOL Cards but since this site is mainly catering to tourists intending to explore Dubai, we will cut to the chase, and recommend that you buy either a Red Ticket or a Silver NOL Card.
Once you have purchased either of the card, you can top it up for a day pass.  A day pass costs about 20 AED or approximately 5.40 USD.
If you are going around for 7 solid days, then opt for a 7-day pass. Otherwise, I would stick to a day pass.
This is a step-by-step guide on how to get to the Gold Souk in Dubai.  Have any additional questions or comments?  Feel free to post below.
Top Rated Hotels in Dubai Based on Verified Guest Reviews
Read More About Dubai