With Nara's close proximity to Kyoto, you would think that it is a 'no brainer' to sneak out for a day to visit the former capital of Japan. But Nara's accessibility is not the only reason why it should be in every person's travel itinerary. For starters, this small city is home to no less than 8 UNESCO World Heritage Sites. Thus, Nara, arguably, has some of the best temples not only in Nara Prefecture, but in the country. It may not be as prominent as its neighbor Kyoto, but it's a perfect step to a historically and culturally–rich visit to Japan.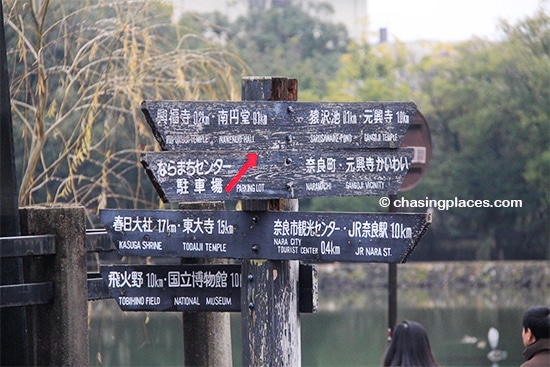 Here are some of the things that makes Nara a worthy Japanese town to visit.
1. Deer are Everywhere
The 'deer' is the most iconic animal in Nara. In fact, when you mention the name of the city to the Japanese, they immediately associate it with the deer. According to local beliefs, deer were the designated messengers of God before Buddhism flourished. Today, deer enjoy National Treasure Status; so they are not to be harmed in any way. This is why these adorable creatures freely roam the parks and streets of Nara. They became a tourist attraction in their own right especially for families who have children that appreciate petting animals more than visiting temples.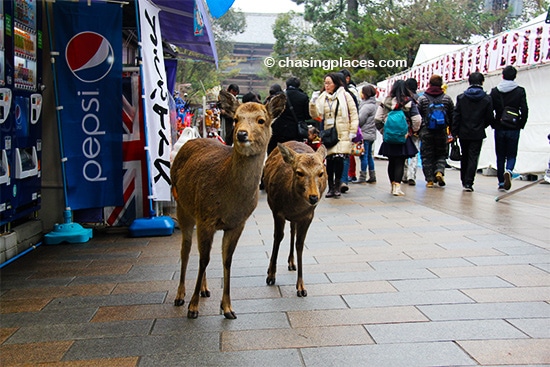 The deer in Nara are already domestically trained; so much so that they do not mind being close to humans. The only downside to the whole deer attraction is that these animals tend to search for food as you approach them. And who could blame them – they have been used to tourists feeding them junk food for years.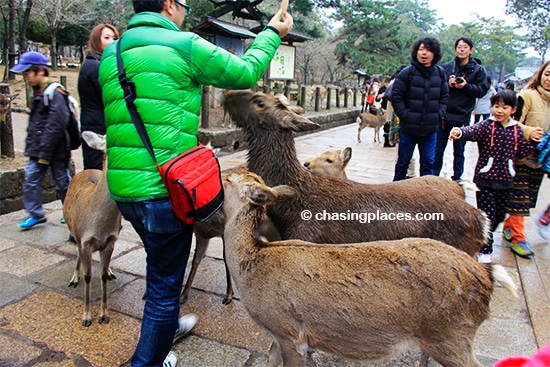 You will see signage near temples and parks that warn tourists about handling Nara deer. One of the warnings is to avoid giving them food as they can expect too much and become aggressive. I guess the city has had its fair share of "deer attacking tourist" incidents in the past. Thus, it's always safer to keep a safe distance from the deer if possible.
If you really can't resist the urge of feeding these adorable creatures, then you can buy deer biscuits (shi-ka-sembei) from nearby vendors. The biscuits should cost around 150 Japanese Yen.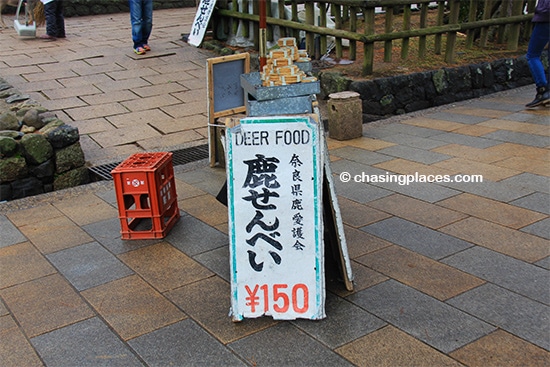 2. The Great Buddha
If there is only one monument you can visit in Nara, the Great Buddha or Daibutsu should undoubtedly be your choice. It is so iconic and impressive that it rivals the prominence of Mount Fuji and the Golden Pavilion of Kyoto. The biggest Buddha in Japan is housed in the equally marvelous Todai-ji Temple. Made mostly of wood, this temple is quite a spectacular site due to its enormity and architecture.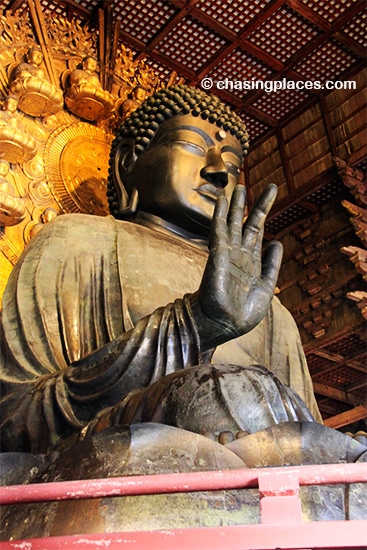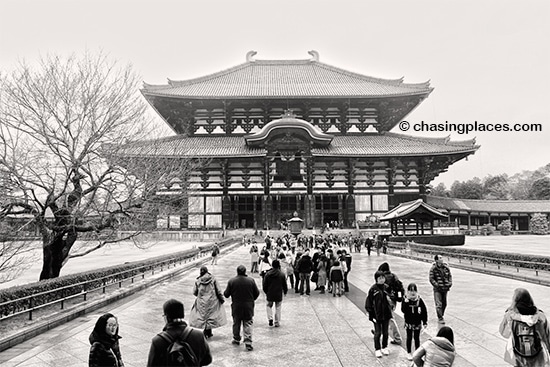 Travel Checklist: Do you have everything you need?
3. The Serene Park
Before reaching the entrance of the Todai-ji you will most likely go through Nara-koen Park, which is an attraction in itself, due to its lovely landscape and lush green surroundings. The more you stroll around the park, the more you will realize just how vast it is. According to travel books, there are more than 1000 deer living in Nara-koen. The park, which resides in the eastern part of the city, also houses the other major temples and shrines in Nara. If you don't mind hiking, a self-guided walking tour around Nara-koen is a great way to fully explore most of what the park has to offer.
4. The Kofuku-ji Temple
Even though it is second only to Todai-ji Temple in popularity, Kofuku-ji Temple still stands as an awe-inspiring site. It also has an intriguing history, being the family temple of the most powerful clan during Nara and Heian Periods—the Fujiwara. Back then, there were 150 buildings that made up the temple complex. Only a couple of structures still remain standing today; and they are the Eastern Golden Hall, the National Treasure Museum, the three-story pagoda and the five-story pagoda. It is absolutely free to roam around the temple grounds and take pictures of Kofuku-ji to your heart's desire. But if you want to go inside the Eastern Golden Hall or the National Treasure Museum, you have to pay the prescribed entrance fee.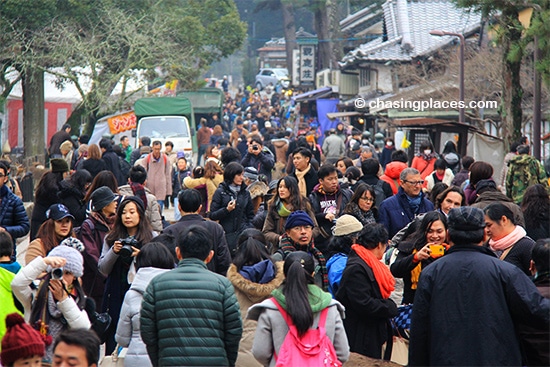 5. More Temples and Gardens
If you love Japanese gardens, then you should not pass on the chance to drop by the beautiful Yoshiki-en, located just next to the Isui-en and Neiraku Art Museum. If you have the time, try to check out the other interesting temples in the city, which include the 7th century Yakushiji Temple, Toshodaiji, and the Gango-ji Temple, which is originally called Asuka-dera – the oldest temple in Japan.
Where did we stay during this trip?
We visited Nara as part of a few day trips from Kyoto.  Therefore, we stayed in Kyoto at Santiago Guesthouse while in this part of Japan. It turned out to be a nice budget choice quite close to Gion – the Geisha district of Kyoto.  We don't have a direct affiliation with this property, therefore in our honest view we would stay there again. At the time of writing it had a score of 8.1/10 based on 481 verified guest reviews.
The top 3 rated properties in Kyoto at the time of writing based on a minimum of 50 verified guest reviews were:
Kyoto Yoko and Akira Guesthouse – rated an amazing 9.7/10 based on 180 reviews.
Arashiyama Benkei Ryokan – rated 9.2/10 based on 75 reviews.
Tsumugi Inn – rated 9.2/10 based on 69 reviews.
Want to find the cheapest rooms in Nara, Kyoto and Japan?
Most tourists that visit Nara tend to make day trips from nearby Kyoto. However, we think it's a great spot to spend a night or two to get away from Kyoto's thick tourist crowds. Feel free to browse for hotels near the tourist area of Nara here. Alternatively, if you want to stay closer to the high speed rail line in Kyoto, then click here to choose from a more extensive selection of accommodation choices. In general, there are three big booking sites that our readers prefer to book with: www.agoda.com, www.booking.com and/or www.hotelscombined.com. To save you time I have included links to their properties in Kyoto:
Rooms in Kyoto – www.agoda.com
Rooms in Kyoto – www.booking.com
Compare Room Prices in Kyoto – www.hotelscombined.com
Top Rated Properties on Kyoto Based on Verified Guest Reviews
Important: Mobile Users must swipe from left to right to see entire table.
Criteria:
Properties rated based on 'overall' review scores from each respective website's verified guests.
Minimum of 50 verified guest reviews required to be considered eligible for comparison.
All star ratings and verified guest review scores are tallied at the time of writing, and therefore, are subject to change.
 Regardless of where you decide to visit or stay, have a safe and enjoyable experience in Japan!