If you didn't not hear anything about Koh Phi Phi and you got the chance to see it, you would probably never believe that this was the same island that was devastatingly hit by the 2004 tsunami. After a couple of years of reconstruction and regaining back the island's tourism luster, Koh Phi Phi is back in full swing, attracting a wider variety of tourists than ever!
Here are other important facts about Koh Phi Phi that You Need to Know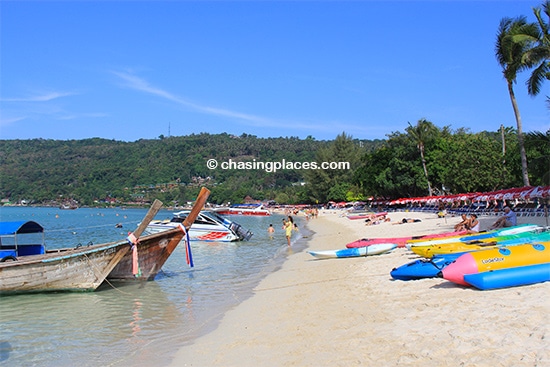 1. The Koh Phi Phi that people talk about, usually refers to Koh Phi Phi Don, which points to the bigger one of the two islands. The second island is called Koh Phi Phi Lei, which is actually uninhabited.
2. Sometimes people get lazy and call the bigger island just Ko Phi Phi (so don't be confused.)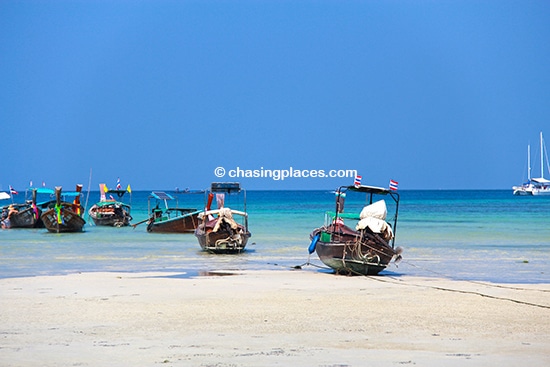 3. Koh Phi Phi Lei is where you can find Maya Bay (Ao Maya), made famous by being the set location of the Leonardo DiCaprio film "The Beach". You can easily book a half-day long tail boat trip to Phi Phi Lei, which also includes a stop at Maya Bay.
4. Koh Phi Phi Don is actually made up of two islands separated by an isthmus (a narrow stretch of land). On each side of this isthmus are the two main beaches Ao Ton Sai and Ao Lo Dalam.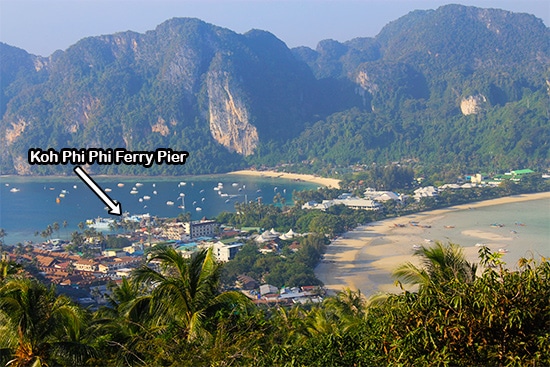 5. It is along Ao Ton Sai where you can find the pier where ferries come to unload passengers. Beyond the pier's concrete pavement, and towards the sandy path, you will see a lineup of tour offices, cafes, restaurants and shops. This extravaganza of small businesses goes all the way to an area called Hat Hin Khom.
6. In the middle of the sand bar, sits a collection of narrow streets packed with businesses. This section is aptly called "Tourist Village."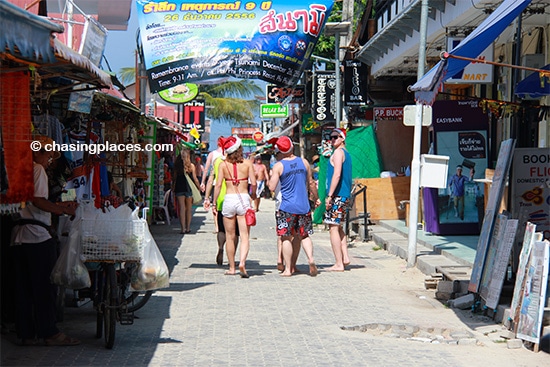 7. Ko Phi Phi Don is a part of Koh Phi Phi Marine National Park, making it an excellent snorkeling and diving destination. Some of the popular snorkeling spots include Hat Yao or Long Beach and the waters around Koh Phi Phi Lei. It is also convenient to find a diving shop that will give you lessons, certification and arrange diving excursions.
8. Phi Phi's Marine National Park designation prohibits any motorized vehicles to run on the island. (There are still ambulances though). Don't worry the island is small enough to travel on foot. Or you can just choose a beach and stay there!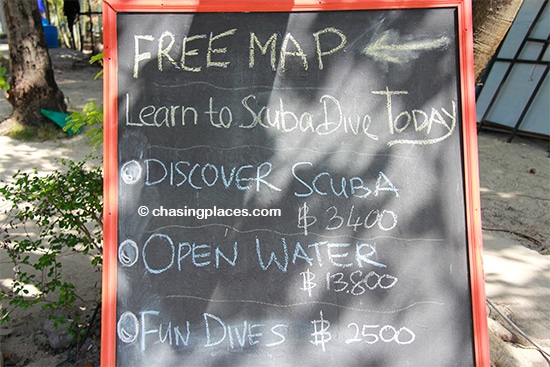 9. The island is NOT tout free. They will be there, once you get off from the ferry, offering all sorts of bungalows, and telling you accommodation is scarce. If you don't have anywhere to stay, then you will actually need to talk to them. We suggest to book your lodging ahead of time. This will ensure that you will not get overcharged. If you have heavy luggage or trolleys, you can arrange with your hotel to have a porter with a push cart to meet you at the pier.
10. If you're concerned about bringing enough money to Phi Phi, don't worry, there are ATMs on the islands. There are also money changers, but they only exchange major currencies like US Dollars, Euro and Japanese Yen.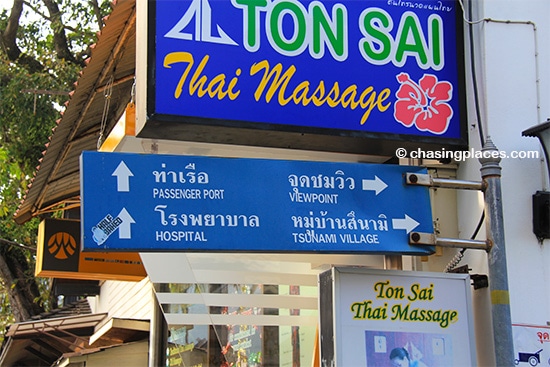 Travel Checklist: Do you have everything you need?
Is Koh Phi Phi for Backpackers or for Mid-Range Tourists 
With the rebuilding of Ko Phi Phi's infrastructure came the inevitable changes. The island we thoroughly enjoyed during our visit, as we have discovered, has become more developed and versatile. Ko Phi Phi, similar to some of the famous Thai southern gulf islands, started out as a backpacker hotspot. This was the island where cheap banana pancakes and booze were considered complete meals; and where sleeping on a hammock, in a shack or on the beach was the complete norm.
Ko Phi Phi still has its fair share of quaint guesthouses and small hostels to accommodate the budget conscious. But there is a growing number of decent-size bungalows and upscale hotels that cater to families, honeymooners, and all those who want to be comfortable with a clean bathroom all for themselves. There is no need to argue which travelers deserve Ko Phi Phi more. As we noticed, there is enough room for everybody. And with the island's pristine beaches and beautiful limestone karst-adorned vistas everywhere, it seems a little selfish not to share it.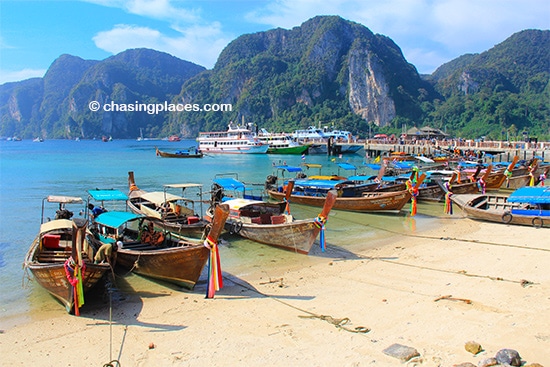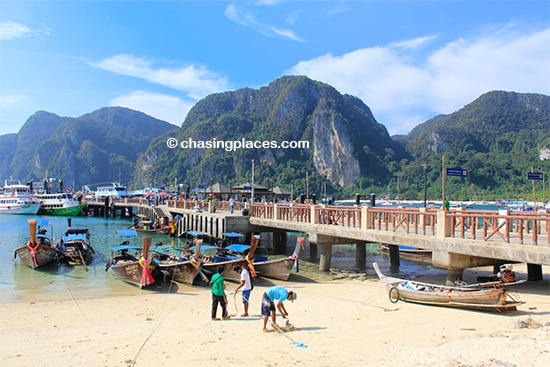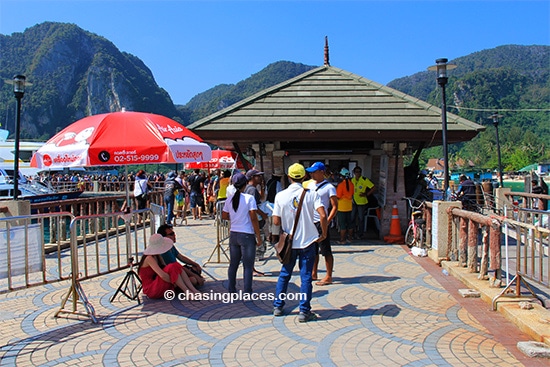 Is Ko Phi Phi a worthy travel destination?
In terms of sheer natural beauty, it would be hard not to put Phi Phi on the top of your itinerary, particularly if you are planning to visit Thai islands.  The more important concern is how big of a crowd are you willing to tolerate?  It is not a secret that the island can be very busy during high season.  But the good thing about Ao Tong Sai and Ao Lo Dalam is that they are large and wide enough to take in a lot of people without making you feel claustrophobic.  As the night sets in, Ao Lo Dalam transforms into this one big party spot.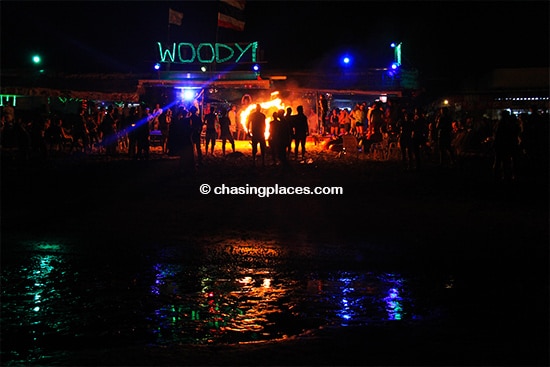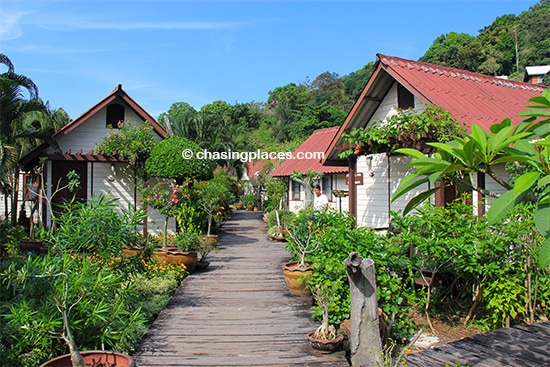 Here's the deal, if you do not like the neon lights, the fire shows and the pounding club music, there is still a place for you on Ko Phi Phi. In fact, there are spacious sections of the island that seem to be dedicated to the low key crowd.  These sections, including the eastern bays of Ao Lo Bakao and Hat Laem Thong, are occupied by high end resorts and a collection of sophisticated carefully candle-lit restaurants, where people can dine and actually talk.  During the day, the beaches welcome everybody with no discrimination.  With the party revelers still in their beds sleeping, the atmosphere is quite laidback on the sandy stretches. So whether you are in for a wholesome family vacation or you are ready to live it up, Koh Phi Phi's outstanding seascape will mesmerize you.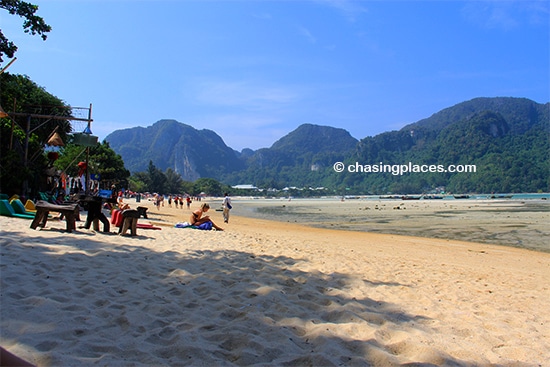 How to find the cheapest rooms on Koh Phi Phi?
If you are into partying then noise at night probably won't be a primary concern of yours.  However, many of our followers like a solid sleep, away from pounding speakers.  To get the best selection and the best price, I suggest using Thailand's number one room provider: www.agoda.com. At the time of writing Agoda had a stunning 151 rooms on Koh Phi Phi! Another solid alternative for a lot of visitors to Koh Phi Phi is Booking.com.  Here is a list below of the top rated properties on the island to speed up your search.
 Top Rated Properties on Koh Phi Phi 
Based on Verified Guest Reviews
Important: Mobile Users must swipe from left to right to see entire table. 
Properties rated based on 'overall' review scores from each respective website's verified guests.
Minimum of 50 verified guest reviews required to be considered eligible for comparison.
All star ratings and verified guest review scores are tallied at the time of writing, and therefore, are subject to change.
Accommodation Map of Koh Phi Phi: Top Rated Properties
Another solid option is using www.hotelscombined.com – the world's best price comparison site for hotels/guesthouses. Try your ultimate best to use their respective map widgets so that you are located close enough to the beach, but far enough from the sleepless nightlife.! Have a safe trip!
Getting to Phi Phi
Despite it fairly remote location, Koh Phi Phi is still very much accessible, thanks to Thailand's very comprehensive island transport system.   From other popular destinations like Phuket, Ao Nang and Koh Lanta, there is always a ferry service that will readily bring you to the island's doorstep.