So you have decided to go to Singapore – the business and commercial powerhouse of Asia. You want to see its famous skyline and ultra-modern infrastructure. You would like to know what makes this small country so great! All this excitement eventually provoked you to book your flights.  And everything is good and ready for the trip except for one thing; you don't know exactly where you're going to stay. For some visitors, finding comfortable accommodation is the priority, and choosing the right area to stay in the city comes in second. This is fine if you have the money and the time to commute to Singapore's major attractions. But, for time or budget-conscious visitors, Chasing Places suggests a more strategic approach to choosing your accommodation area.
When it comes to choosing the most convenient spot to stay in Singapore, travel savvy individuals would most likely choose between the Clark Quay and Chinatown areas.  These neighborhoods are very near each other, and are both served by Singapore's MRT purple line. You can even walk from one neighborhood to another.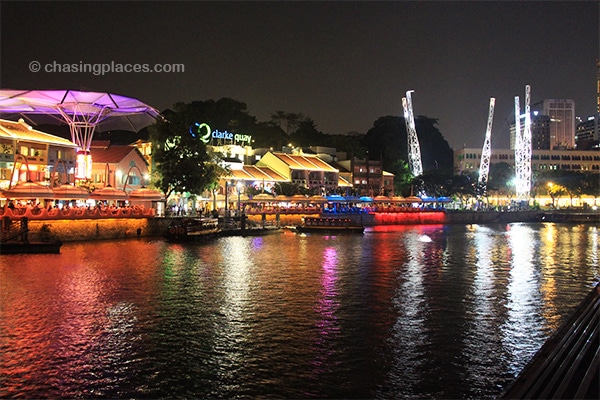 Both areas are considered to be attractions in their own right. Clark Quay is both a business and entertainment hub populated by corporate buildings and shops, but it also has it fair share of hotels. It is widely known for its upmarket nightlife scene.  Since the Singapore River runs through this neighborhood, it's naturally one of the more scenic places in the city. But the scenery became even more striking and upbeat when a large entertainment complex was built beside the river. This complex is populated by the best restaurants, cafes, bars and clubs in the city.  Everybody comes to Clark Quay to party, to see and be seen. If you prefer a more low-key and more intimate setting, Boat Quay, which is also filled with river-side pubs and restaurants, is less than a kilometer away.   Now, how is that for convenience?
Chinatown, as the name suggests is the Chinese cultural center of Singapore. Here, you will find traditional shop houses and temples. But in true Singapore fashion, this Chinatown is a little bit too clean and proper compared to its counterparts in other cities (e.g. KL's Chinatown). Nonetheless, coming here allows you to experience the vibrant and always enterprising Chinese community. Chinatown is the place to be when it comes to eating traditional dishes, people-watching and shopping for souvenirs and trinkets.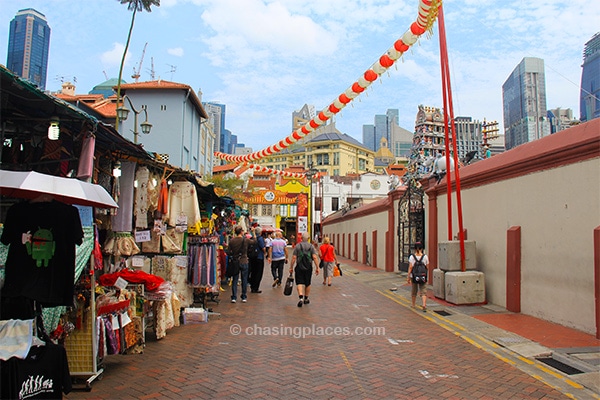 Travel Checklist: Do you have everything you need?
Because they are tourist attractions, both neighborhoods have a wide range of accommodation options. Singapore lodging prices are quite steep for the average backpacker.  But if you're looking for the cheap options, then Chinatown is one of your best bets. Take note, the Geylang District also boasts the cheapest accommodation costs in town but is not as centrally located.  For the mid-range travelers, Clark Quay is ideal as it has its fair share of boutique hotels ranging from $80 to $140. A couple of decent hostels are found in this area.
If you're staying in either the Chinatown and Clark Quay areas, MRT stations are always within easy reach. Singapore's public transport system is comprehensive and highly efficient. It can be argued that as long as you stay near an MRT station, you can go to all the major districts of the metropolis without any problem. But to save some valuable time, get a map and you will see that Chinatown and Clark Quay are only a few stops away from key MRT stations like the Esplanade, City Hall and Raffles Place.  The Esplanade station provides access to the War Memorial Park, the Esplanade Theaters on the Bay, the ArtScience Museum and the impressive Singapore Flyer. The City Hall station, on the other hand, is near the St. Andrew's Church and the Parliament House. And finally, the Raffles Places station is the gateway to the historic hotel of Ascott Raffles Place, the iconic Merlion Park and the Marina Bay Sands, Singapore's modern architectural masterpiece.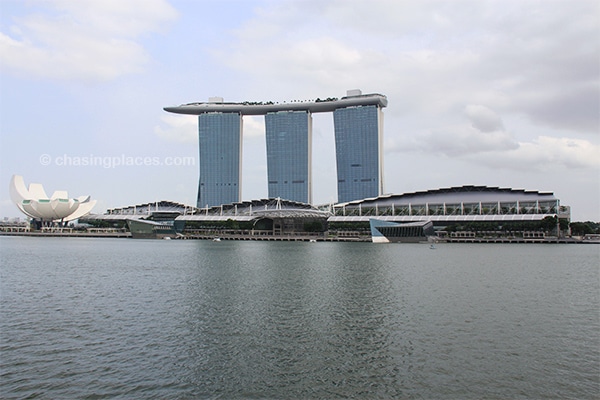 Feel like getting some exercise? You will be pleased to know that from Clark Quay, you can easily walk to Merlion Park and Marina Bay Sands. And if you're the adventurous type who wants to explore the outskirts of Singapore, the Clark Quay and Chinatown districts are still ideal places to stay in. This is because Dhoby Gaut Station, a major interchange station that serves most of the MRT lines, is the next stop from Clark Quay station.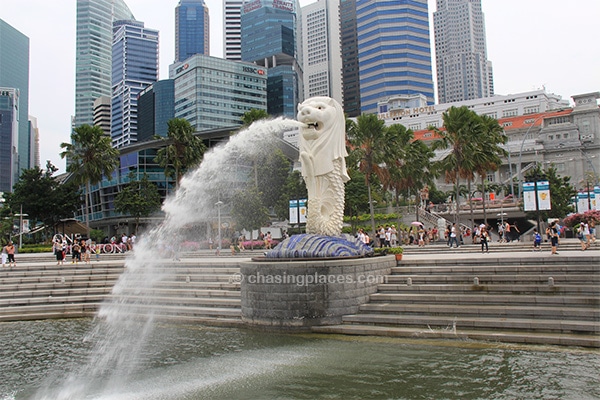 And so whatever your travel plans in Singapore may be, remember that booking a strategically located accommodation in Singapore is an important step to having an enjoyable and stress-free trip. 
I would suggest using www.agoda.com, www.booking.com, or www.hotelscombined.com if you're booking a room in the city. Based on my experience visiting Singapore, these are the best providers out there.
Top Rated Properties in Singapore Based on Verified Guest Reviews
Important: Mobile Users must swipe from left to right to see entire table.
Criteria:
Properties rated based on 'overall' review scores from each respective website's verified guests.
Minimum of 50 verified guest reviews required to be considered eligible for comparison.
All star ratings and verified guest review scores are tallied at the time of writing, and therefore, are subject to change.
Map of Singapore – Top Accommodation Choices
Based on verified guest Reviews