Dubai International Airport is one of the busiest airports in the world, being the home base of the popular 'Emirates' airline. Dubai's strategic position also makes it a perfect place for people booking flight layovers as they travel to Europe and North America from Asia (and vice-versa).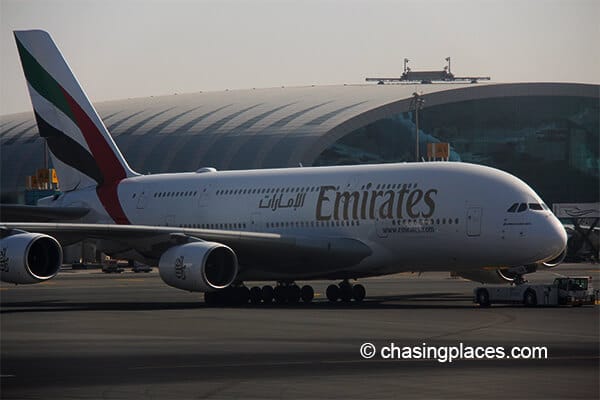 Downtown Dubai is home to the city's largest and most distinguished landmarks, which include Dubai Fountain, Dubai Mall and the Burj Khalifa. Not to mention some of the best hotels on planet earth. If you only have a couple of hours to spare in Dubai, this is a convenient and popular spot to visit. The modern complex that encompasses the landmarks mentioned, is situated along  Sheikh Zayed Road. To its south, you will find Dubai Creek and the Business Bay.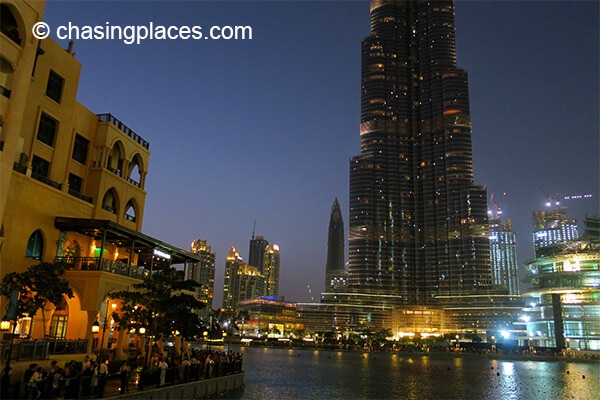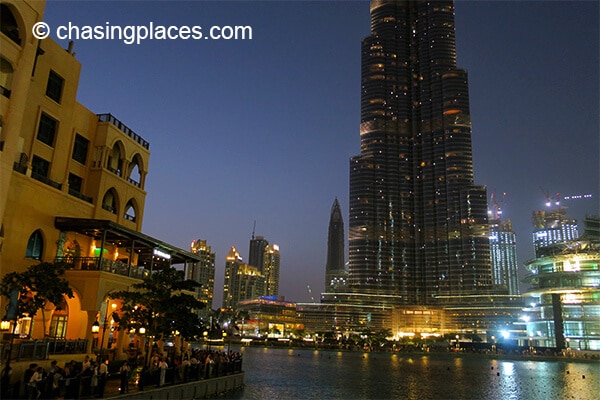 When it comes to getting to Downtown Dubai from Dubai International Airport, here are your transport options:
Option 1: Getting to Downtown Dubai by Train
Once you have booked your flight tickets to Dubai, the next thing to plan is how to get from the airport all the way downtown to your hotel. Dubai Metro is the most convenient way to get to downtown from the airport. Dubai's Red Metro Line stops at both Terminal 1 and Terminal 2. You can easily purchase a single or return journey from machines at the train station or at a manned counter.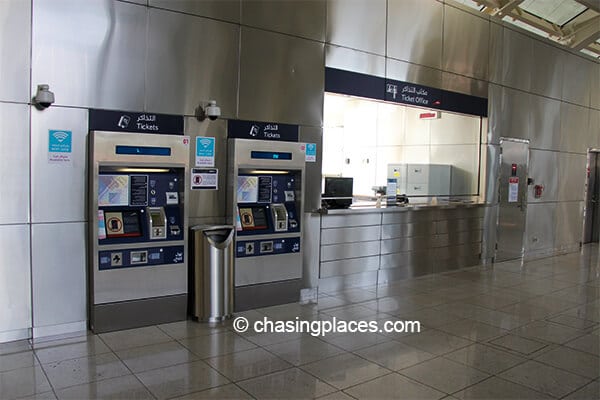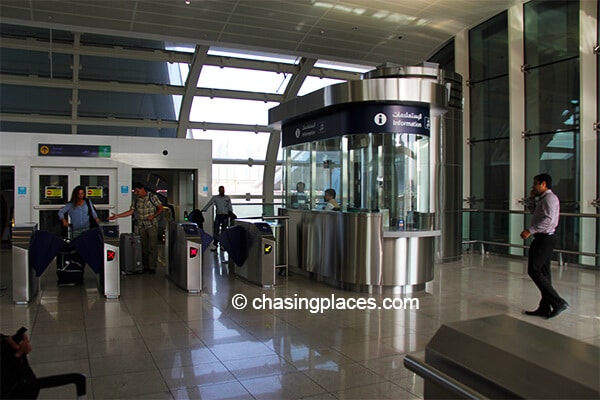 If you have a couple of days to spend in Dubai, consider getting one of the following:
Nol Card
This is a top-up card that can be used not only for the Dubai Metro but also for buses and water taxis. A trip using the Nol Card is less than a regular ticket and it will save you the time it would take to pay each and every trip. So if you're planning to visit a couple of sites, using a Nol Card gives you more value for your money.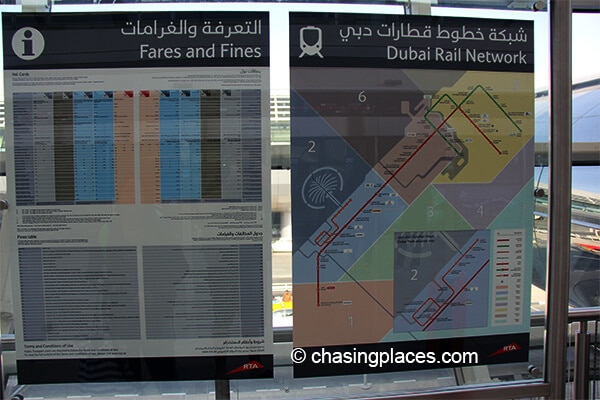 Day Pass
Dubai Metro offers one-day and multiple-day train passes, which allow you to take unlimited Metro rides within a designated period of time (1-day, 3-days) You may also purchase a day pass that is limited to just a certain line ( for example the Green Line).
The main disadvantage of getting a Day Pass is it can only be used for train rides and not the other transport options.
During our visit to Dubai, we opted to use a three-day pass because we were planning on seeing as many places as we could in the time frame.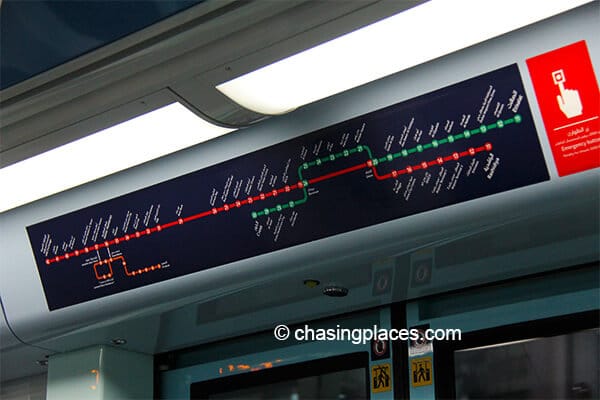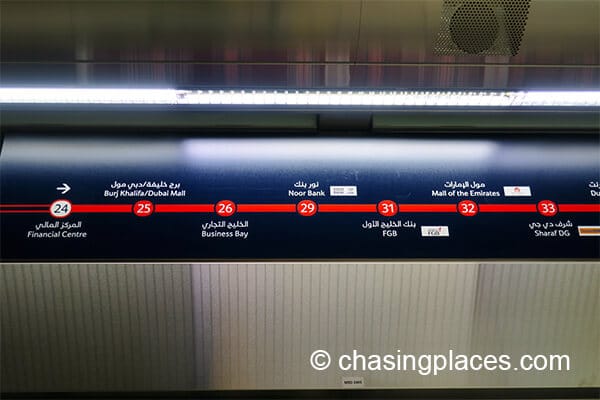 The Disadvantage of Taking the Dubai Metro
Taking the train from Dubai International Airport to the downtown area is convenient. If you want to take it to get to your hotel, make sure your hotel is walking distance from a Metro Station (check on the map widget). If this is not the case, consider other more suitable transport options.
Dubai Metro services end at midnight, so if your flight arrives after that, you will need to take another transport option.
Travel Checklist: Do you have everything you need?
Option 2: Taxi
Dubai taxis are reasonably priced compared to their counterparts in Europe and North America. But if you're coming from the airport, there is a taxi flag fall fare of 25 Dirhams. Taking the taxi is the fastest option if train services are not available.
As you may expect, taxis in Dubai are clean and well-maintained. Drivers are dressed decently and always go by the meter. One of the added advantages of booking a taxi is the convenience of getting dropped off right at your hotel.
Option 3:  Bus
Taking the bus is the other cheaper option for getting out of Dubai International Airport.  Although I would not recommend taking this if train services are available as buses are slower and subject to traffic conditions..
Bus services from the airport do not go directly to the Downtown Dubai complex. The CO1 bus goes to the Satwa neighborhood, which is the closest stop to Downtown Dubai. From there, you still need to travel around 15 minutes by car to get to Downtown Dubai.  
Important Reminder:  RTA (Road Transport Authority) Intercity Buses do not take cash onboard. You need to purchase and load a Nol Card prior to boarding a bus.  
Option 4: Hotel Shuttles
Reputable hotels in Dubai tend to offer free airport shuttle services to their guests. So after booking your hotel in Dubai, you may ask them if they offer such a service. This could potentially save you a lot of trouble making your way to your hotel. Some hotels might offer a service, but it might be chargeable.  In that case, always double check to see how much they charge per person to reach your hotel.
Option 5: Rent a Car
Rental car services are available at Dubai International Airport.  Dubai's roads are wide and well-maintained. Traffic is usually normal and jams happen only during peak hours (morning and afternoon).
Dubai drivers tend to drive quite fast on highways.
For more convenience, book your car rental ahead of time. You may make this arrangement through rentalcars.com.
Where did we stay in Dubai? 
And why…??
We decided to book rooms in different areas of Dubai to maximise our time and to cut down on commuting costs from one end of the city to the other. Dubai is a massive city that extends for kilometres so you might want to consider this idea as well.  So we solved the problem by staying at two different properties: The Ibis One Central Hotel and then the Ibis Al-Rigga Hotel.
While downtown we stayed at the Ibis One Central for three main reasons. They are listed below:
Ibis One Central Dubai
Cheap Room Price:  It is clean, safe and very affordable by Dubai accommodation standards.
Location is Key!!! This hotel is only 3 stations away from the Burj Khalifa-Dubai Mall MRT Station. This allowed us to access the Burj Khalifa in less than 25 minutes which is great. Some taxis spend 30 minutes in traffic just trying to get close to the Burj.
Positive Guest Review Scores from Verified Guests on sites like Agoda and Booking.com: What other guests say really matters. This is particularly true if the property has had over 100 reviews. This property has a review score of 8.1/10 based on over 250 verified guests.  We simply don't book rooms unless they have a score above 7.5/10.
Read more…our unbiased review of Ibis One Central.
We then moved to the old region of Dubai to see another side of the city. We stayed in Deira at – Ibis Al-Rigga Hotel. Since it's in a completely different area we stayed here for different reasons:
Ibis Al- Rigga Hotel
Extremely close to Dubai International Airport: It's only a few minutes from the airport. Super convenient.
Easy Access to the Historic Areas of Dubai – Bur Dubai and Deira: These multicultural, vibrant and affordable areas of Dubai are a must see for any visitor to the city.
The Ibis One Central has an overall review score of 8.1/10 whereas the Ibis Al-Rigga has an overall review score of 7.8/10.
***Please note that these hotels have not paid us anything to write about them. We never accept money direct from properties for hotel stays anywhere. They didn't even know that we were staying there!!
How can you find the cheapest room prices in Dubai?
We used these sites for our UAE hotel bookings : www.booking.com and www.agoda.com. Both are cheap and have lots of properties to choose from. The cancellation policies and customer service are probably better on Booking.com so that's something you might want to consider, but Agoda was slightly cheaper.
Booking a Room Based on Preference
I want to book the cheapest room right now: www.agoda.com or www.booking.com
I want to compare prices first before booking: www.bookingbuddy.com
See below the accommodation spreadsheet that I made to help you navigate through all of Dubai's hotels.  Did you know that Dubai literally has more than 3 thousand properties to select from. Speed up your accommodation search. It's arranged from 5-star properties all the way down to 1-star properties. If we had an unlimited budget (which we don't), we would stay in the Burj Al Arab Jumeirah. It's one of the best hotels in the entire world.
Top Rated Hotels in Dubai Based on Verified Guest Reviews
Accommodation Map of Dubai: Only the Top Rated Properties
(Based on Verified Guest Reviews)
Read More Posts on Dubai