Kobe may not be as popular to tourists as Kyoto or Mount Fuji, but it is known as one of the most beautiful modern cities in Japan. It helps that Kobe is perched on a hillside with a view of the sea below. This Japanese city is small yet contemporary. There is a lot of impressive modern architecture that you can marvel at once you're in Kobe, and of course, the main highlight of a visit is its wide and crisp-looking harbor.
If you are landing in Osaka (because it is a transport hub), consider visiting Kobe even for a day. The two cities are well-connected by train and it's not too far from each other.  Taking the train is the most convenient way of connecting between these two cities.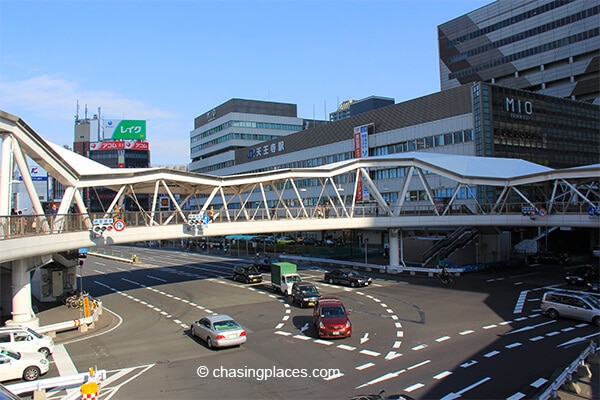 Here is a step-by-step guide on how to get from Osaka to Kobe:
The first thing you need to know is that there are FOUR train services that connect Osaka to Kobe.
Option 1: JR Rapid Train Service
This option has two advantages:
The first one is that you can use your Japan Rail Pass (JR Pass).
The second is that the JR service goes to Kobe's Sannomiya Station, which is conveniently located in the center of the city.
Follow these steps:
1. Go to JR Osaka Station, which is in the Umeda district of Osaka. This is the most convenient station to go to especially if you have a Japan Rail Pass. Take note: Osaka Station and Umeda Station are located in the same area, so don't be confused.
2. Take the JR Rapid Train Service. The trip takes about 22 minutes. If you do not have the JR Pass, you can easily buy a ticket for about 400 Yen.
3. Arrive at the Sannomiya Station, which is in the center of town.  There is a tourist information office inside Sannomiya, don't be shy take a map! Many nice hotels are near this station. Kobe is not hard to figure out… it's small and pretty.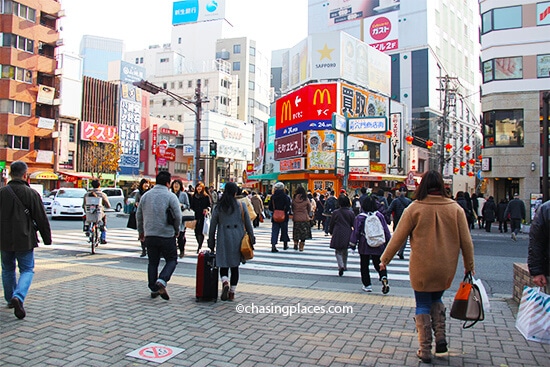 Option 2 and 3: Hankyu and Hanshin Railways (private companies)
Advantage: Hankyu and Hanshin Railways are cheaper than JR but they are also a bit slower.
If you decide to take either of the two, follow these steps:
1.Go to Umeda Station. This station is beside the JR Osaka Station in the Umeda District.
2. Buy your ticket from the machines at the station. There is a language option for English.
3. Get off at Kobe's Sannomiya Station.
Travel Checklist: Do you have everything you need?
Option 4:  JR Shinkansen line, also known as the bullet train.
Advantages:
You can use your JR Pass for this service without additional costs.
This is the fastest way to reach Kobe from Osaka. Travel time takes only 10 MINUTES!
However, take note that this train service goes to Shin-Kobe Station, which is NOT situated in Kobe's city center.
If you choose this option follow these steps:
1.Go to Shin-Osaka Station, which is NOT in the same area as JR Osaka Station!
However, you can easily go from JR Osaka Station to Shin-Osaka Station as the two stations are a subway stop away.
2. Purchase the ticket. Look for the Sanyo Shinkansen line platform. This line goes to Shin-Kobe and terminates at Hakata Station.
Important Note: We were able to use the JR Pass to get on one of the JR Shinkansen trains, BUT not all types of Shinkansen trains are covered by the Pass. You need to double check with your JR Pass Manual which Shinkansen trains are covered.
3. Arrive at Shin-Kobe Station, which is in the northeast district of Kobe City.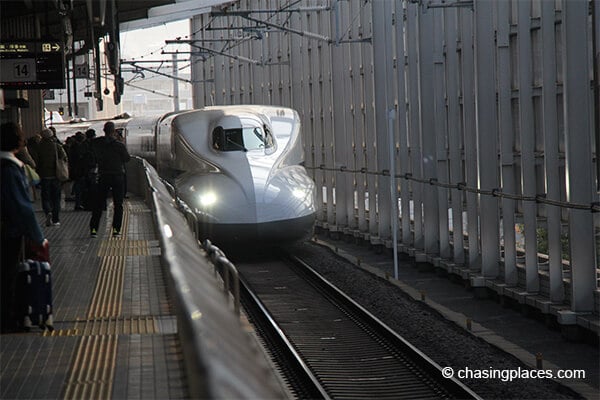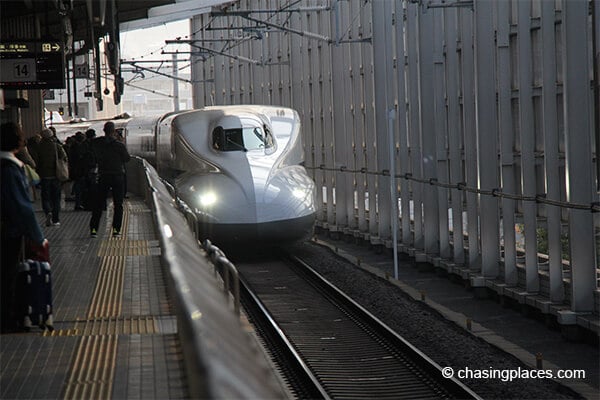 With all these railway services available, you might be confused by now.  If planning transfers is giving you a headache, make it SIMPLE, and choose one train service and focus your research on it.  During our trip to Japan, we bought a JR Pass and used JR services as much as we could. Some routes are exceptions of course, but it made planning transit so much easier.
Where We Stayed in Kobe and Osaka
When we visited Kobe, we opted to stay one night because we wanted to take some time to visit the sites. But as I mentioned, you can visit the city as a day trip. Based on my opinion, while Osaka is a much bigger city than Kobe, Kobe is more picturesque than Osaka. This is why we spent an equal amount of time in the two cities.
In Kobe, we decided to stay close to the public transport lines. We stayed at Hotel Sunroute Sopra Kobe. It turned out to be a clean, affordable budget hotel. It's about 400 meters from the nearest train line and walking distance to the waterfront area and Chinatown.  At the time of writing it had a score of 7.6/10 based on 155 verified guest reviews. We do not have a direct affiliation with this property, but we would still say that we would stay there again.
In Osaka, we chose to be in the Umeda District. We wanted to be close to the major train station as the best way to move around Osaka is by train and subway. We stayed at Hotel Raizan North.  I can still recall that this was one of the cheapest hotels in all of Osaka when we stayed there.  Our room was large and clean with a shared bathroom. Due to its welcoming vibe and cleanliness it was a great spot to stay for the price.  We don't have a direct affiliation with this property.  At the time of writing it had a score of 7.8/10 based on 346 verified guest reviews.
How to Find a Room in Kobe?
One of the most convenient ways to get accommodation in Kobe is to book online with big hotel providers like agoda.com and booking.com.  To save you time, here are the links to rooms in Kobe:
Top Rated Properties in Kobe Based on Verified Guest Reviews
Important: Mobile Users must swipe from left to right to see entire table.
Criteria:
Properties rated based on 'overall' review scores from each respective website's verified guests.
Minimum of 50 verified guest reviews required to be considered eligible for comparison.
All star ratings and verified guest review scores are tallied at the time of writing, and therefore, are subject to change.
You can also go to hotelscombined.com to compare prizes of different hotel providers. You can use the search box below: