It's a fact that hundreds of flights land in Tokyo every day. This is not surprising as the city is not only the transport hub but the capital of Japan. Aside from being the landing city, there are many reasons why any tourist should explore Tokyo. The Japanese capital has a great mixture of attractions and let's not forget about the world class culinary scene in throughout the city. But Tokyo is not the most treasured historical and cultural destination in the country. That distinction belongs to Kyoto. After all, Kyoto was the capital of Japan for many decades.
Fortunately it is easy to get from Tokyo to Kyoto.  Here is a step-by-step guide on how to get from Tokyo to Kyoto:
1st Option: Take a flight – Tokyo to Kyoto
Kyoto does not have an airport close to its center. The nearest airport is Itami Airport in Osaka. Most flights from Tokyo to Itami depart from Haneda Airport and NOT Narita Airport. Therefore:
1. Book a flight from Haneda Airport in Tokyo to Itami Airport in Osaka. The flight time is 1 hour.
2. From Itami Airport, you have to ride a bus for an hour to reach Central Kyoto.
2nd Option: Take the train – Tokyo to Kyoto
Japan's railway services are some of the best in the world. For some people it is a Japanese travel experience in itself.
1. Choose either the regular train line OR the bullet train called Shinkansen. 
2. If you take the regular train line getting to Kyoto from Tokyo will take about 10 hours.   If you only have a week or less to explore Japan, this is not considered overly practical.
To maximize your time, we recommend that you take a Shinkansen train – one of Japan's famous bullet trains.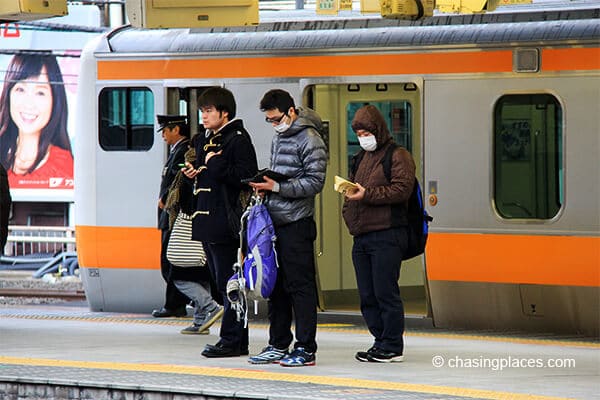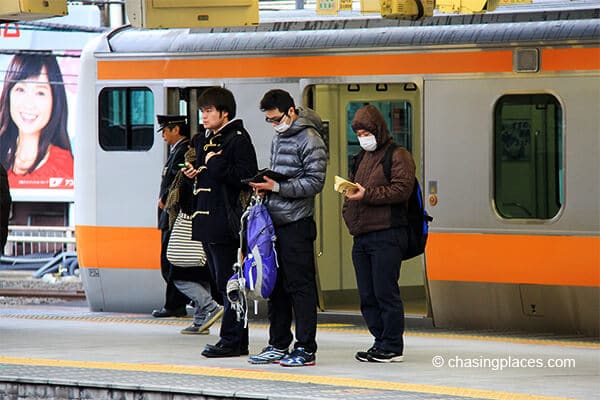 Here are the steps on how to get from Tokyo to Kyoto by  Train (Shinkansen):
1. Go to Tokyo Train Station.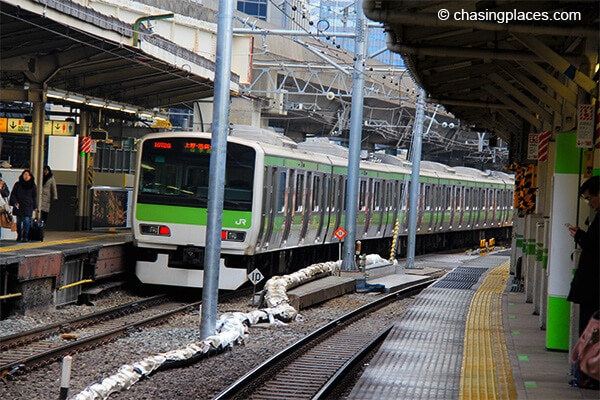 2. Look for the JR Tokaido Shinkansen Line
Important Note: There are three types of trains on the JR Tokaido Shinkansen Line. They are:
Nozomi Train: This is the fastest train to reach Kyoto. The journey time is around 140 minutes
Hikari Train: this is the second fastest train to Kyoto, serving more train stops than Nozomi. The journey time is 160 minutes.
Kodama train: The slowest train to Kyoto from Tokyo. It stops at all the stations along the JR Tokaido Shinkansen Line. Journey time on Kodama is around 4 hours.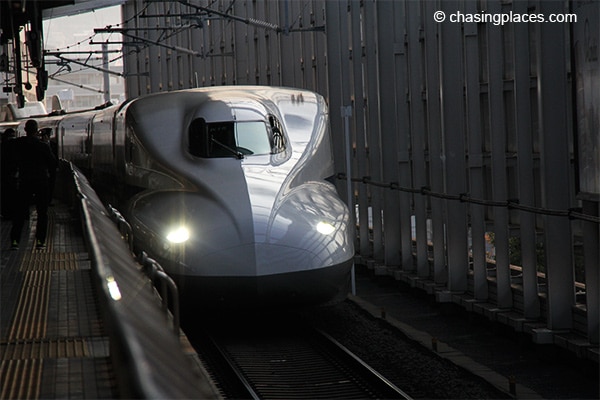 Travel Checklist: Do you have everything you need?
3. Buy your ticket. Regular one way non-reserved tickets from Tokyo to Kyoto cost around 13,080 yen. Reserved seats, which require an advance seat reservation, are 13,500 yen.  You can buy your ticket at the ticket counter or at the bilingual (English and Japanese) vending machine. Ticket counters and vending machines accept cash or credit cards.
Important Tips:
If you purchase a Japan Rail Pass, which is a pass that allows you take JR train services all throughout Japan, you don't need to PAY EXTRA to take the Hikari and Kodama trains. There are 7-day and 14-day Japan Rail Pass available online.
Getting a Japan Rail Pass will certainly save you money especially if you are planning to visit multiple destinations in Japan within a certain period. In addition, you can make seat reservations for FREE with a JR Pass.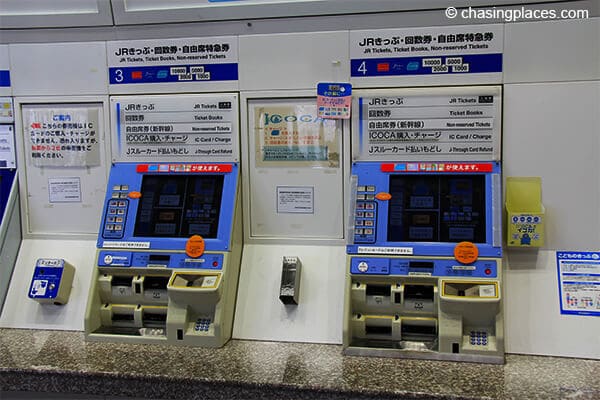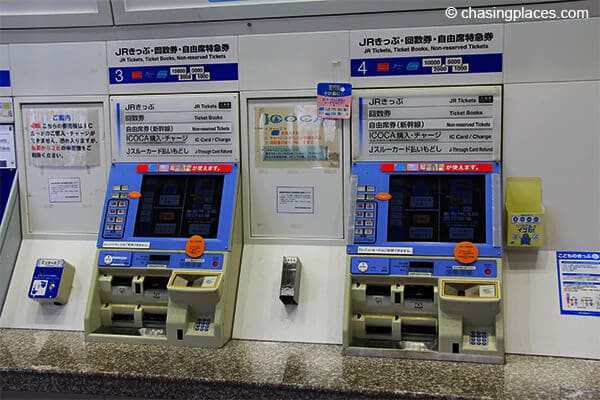 4. Pass through the regular ticket gate and then the Shinkansen ticket gate (Remember that the Shinkansen is a special JR line).
5. Go to your designated Shinkansen platform. There are bilingual signs everywhere so don't worry.
6. Find your cart using the displays on the platform. The display will indicate the cart numbers and whether they are reserved, non-reserved or green (first-class).
7. Arrive at Kyoto Station. This is a massive futuristic-looking station complete with shops and restaurants. It has two tourist information centers, one on the 2nd floor and the other 9th floor (International Information Center).  Many respectable hotels are located within walking distance of the station.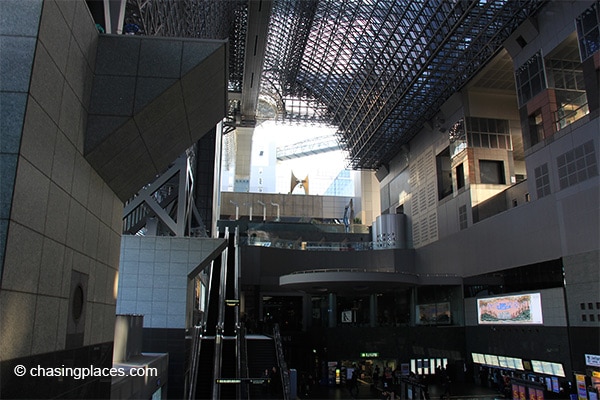 Where did we stay in Kyoto?
Our main priorities for our room booking in Kyoto were 1) to stay close to public transport services in the city while 2) maintaining an affordable budget near the 3) Gion (Geisha) district.  We satisfied these preferences by staying at Santiago Guesthouse Kyoto. We don't have a direct affiliation with this property.  Therefore, our honest opinion of the place was pretty positive.  It's about a ten minute walk to the Geisha district and some the other top sites. It's clean, welcoming and the staff were nice. If you are looking for something relaxing with more privacy, then you might want to shop around as this is more backpacker focused.  At the time of writing it had a respectable score of 8.1/10 based on 488 verified guest reviews.
How to find the cheapest rooms in Kyoto?
Kyoto is loaded with accommodation choices, therefore you could literally spend hours roaming different sites.  We have consistently used these three providers for our travels in Japan and we have been very satisfied in terms of price and selection: www.agoda.com, www.booking.com and www.hotelscombined.com. I have created links to their respective property lists for Kyoto to save you some time:
Top Rated Properties on Kyoto Based on Verified Guest Reviews
Important: Mobile Users must swipe from left to right to see entire table.
Criteria:
Properties rated based on 'overall' review scores from each respective website's verified guests.
Minimum of 50 verified guest reviews required to be considered eligible for comparison.
All star ratings and verified guest review scores are tallied at the time of writing, and therefore, are subject to change.
Alternatively, the search box below will quickly find you the cheapest rooms for your intended dates in the city: