How to get from Johor Bahru to Melaka?  Well, we recommend utilizing Malaysia's public transport system to save money for this journey (especially if you don't have your own wheels).
As you may have already heard, Melaka is one of Malaysia's prime tourist destinations. Tourists tend to visit Melaka for a broad range of reasons, but probably the main reason is to explore the UNESCO listed historic region of the city. Recently we booked a flight to Johor Bahru (try Momondo or BookingBuddy), visited the city and then we travelled to Melaka. Below is a step-by-step guide on how to get from Johor to Melaka by bus:
1. Depending on where your hotel is in Johor your first step will be to make your way to JB Larkin Bus Terminal. JB Larkin Bus Terminal is the Johor's main bus terminal and it is located roughly 5 km outside of the city.
The most convenient way to get JB Larkin Bus Terminal from central Johor is by taxi.  This of course will cost significantly more than travelling by bus. During our trip we opted against taking a taxi. Instead we hopped on a public bus directly in front of Johor Bahru City Square to JB Larkin Station.
2. Expect to pay under 2 RM (roughly $0.75 USD) to get to JB Larkin Station from downtown Johor Bahru using public bus.  The trip took us approximately 10 minutes with no traffic, but this could vary significantly depending on the traffic.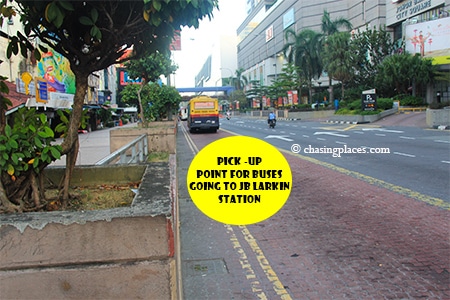 3. If you didn't book your bus ticket from Johor to Melaka online, then your next step will be to purchase a ticket from one of the desks at JB Larkin terminal.
During our trip, it was very busy and quite hectic at JB Larkin, so expect the same during peak times.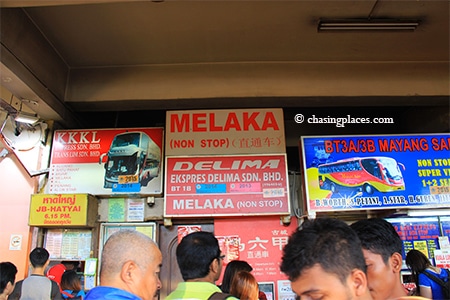 4. Expect to pay anywhere from 21 RM (roughly $6.50 USD) to 30 RM (roughly $9.00 USD) for the bus ticket from Johor to Melaka. If you have the time browse around to see the most convenient time for your trip.
Travel Checklist: Do you have everything you need?